Posted on
Thu, Apr 11, 2013 : 5:16 p.m.
Ann Arbor schools Superintendent Patricia Green resigns
By Danielle Arndt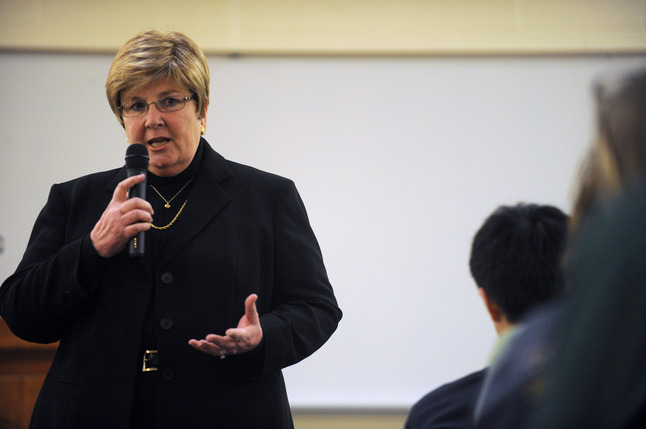 Ann Arbor Public Schools Superintendent Patricia Green resigned Wednesday, district officials announced in an email about 5 p.m. Thursday.
She submitted her resignation to the Board of Education, according to letters from both Green and Board President Deb Mexicotte. It's effective 90 days from Wednesday, April 10.
In her letter, Green shared her plan to retire this summer after 43 years as an educator, administrator and superintendent and her plans to do some "reflective writing" about her experiences in the profession.
The Ann Arbor Public Schools hired Green in March 2011 on a five-year contract. She receives a salary of $245,000.
School board Vice President Christine Stead said the board found out this news early Thursday morning, after Wednesday's regular board meeting had adjourned. She said the news is still new and she is still processing it, but she wasn't "entirely surprised."
"I know it has been a really difficult time. ... Being in public education in Michigan is really difficult right now. Making the kind of cuts we're having to make ... it's a challenging environment for everybody," Stead said.
"When anybody in a leadership role decides to retire and move on to something else, you of course want to thank them and acknowledge all their good work. ... And she did work really hard for our district and made a lot of impact in a lot of less public areas, in the administrative pieces and processes."
Stead said she is sad and "definitely disappointed." She said when Green asked for a five-year contract when the board negotiated with her in 2011, Stead believed she was committed to the Ann Arbor community and the district.
Board President Deb Mexicotte said she was surprised and found the retirement "unexpected."
"I think Dr. Green saw Ann Arbor as a district to come to as a capstone of her career," she said. "I think she always thought she would be here as long as she could be. ... I just thought it would be longer and would have liked it to have been longer, considering the great progress that we've made under Dr. Green."
Green told AnnArbor.com in March that she would accept a cut to her $245,000 salary to help balance the budget. Updated AAPS budget projections indicate about $8.67 million will need to be cut from the district's operations for the 2013-14 school year. Spending for 2013-14 is projected to be $192.66 million. There are about 16,269 students in the district.
Green began serving as superintendent of North Allegheny School District of May 2002 after working as acting deputy superintendent for instruction for the Prince George's County Public Schools in Maryland, according to previous AnnArbor.com reports. She has a bachelor's of science degree in elementary education, a master's degree in human development education and a doctorate in philosophy in education policy, planning and administration from the University of Maryland.
Read Green's letter to the community:
Dear Colleagues and AAPS Families:

Last evening, I gave President Deb Mexicotte a letter in which I asked her to accept my resignation as Superintendent of Schools of the Ann Arbor Public Schools, effective 90 days from yesterday. I shared with her that I plan to retire during the summer after 43 years as a professional educator in public education. I have been blessed to have truly enjoyed my 43-year career and I thanked her and the Board for the opportunity to serve the Ann Arbor community during these past two years.

To all my colleagues in Ann Arbor Public Schools, it has been a privilege to work with you and I wish you well as you continue to maintain the highest of standards for all of our children in the future. Ann Arbor is truly an outstanding school district with so many dedicated staff members who care enormously about children. Your commitment and dedication are beyond compare!

As I retire, I hope to do some reflective writing about my many experiences in education, do some traveling, and reconnect with family and friends who I have neglected over the years!
Danielle Arndt covers K-12 education for AnnArbor.com. Follow her on Twitter @DanielleArndt or email her at daniellearndt@annarbor.com.