Posted on
Sat, Jul 27, 2013 : 5:58 a.m.
Ann Arbor superintendent search: District still waiting for Osborne's decision
By Danielle Arndt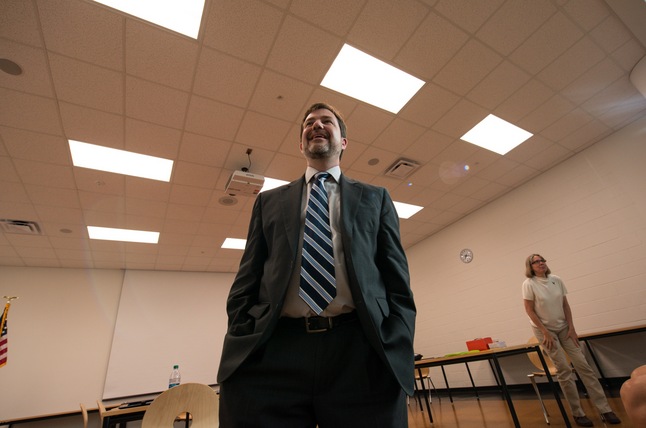 Courtney Sacco | Ann Arbor.com
Previous coverage:
One week ago, the Ann Arbor Board of Education offered New Jersey Superintendent Brian Osborne the position of leading its university-town district of 16,600 students.
But to date, Osborne has not responded to the board with a decision on whether he will accept the position.
The board voted 7-0 July 19 to extend a job offer to Osborne, superintendent of South Orange-Maplewood School District in New Jersey, and to enter into contract negotiations with him.
Osborne has been in discussions this week with board President Deb Mexicotte, whom trustees authorized to begin the negotiations with Osborne on their behalf.
Mexicotte told AnnArbor.com Monday formal negotiations have not begun at this time, but both she and Osborne "committed to making a good decision as soon as possible." On Friday, Mexicotte said there is no update and conversations are continuing, but nothing formal yet.
During their discussion during the weekend, Mexicotte said Osborne asked questions about operations and amenities in the school district.
Some members of the community have begun getting anxious about Osborne's delay to say he will be accepting the position, provided an agreement on his contract can be reached.
Ann Arbor parent and public schools advocate Steve Norton is surprised it's taken Osborne so long to think over the board's job offer.
"I would have imagined that if you were a finalist for a job somewhere, you'd be pretty far along in the process of considering what it might be like to move there," he said, adding that in everything he heard and read from Osborne, it seemed like Osborne had an intense interest in the district and did a significant amount of research and homework on the Ann Arbor Public Schools.
"So that makes me much more than a little surprised," Norton said. "A week might not be an unreasonable thing, but I would think in a very short order an answer ought to be given."
Osborne's board in South Orange-Maplewood also recently approved a $12,001 salary increase to try to keep him in the district. The salary increase would only be good for a year. When Osborne's contract expires in June 2014, a salary cap recently instated by New Jersey's governor will take effect and his pay will drop from $220,001 to $167,500.
But while community members are beginning to fret about Osborne's silence, trustees have faith in the process they've established. However, Vice President Christine Stead said if Osborne does not give Mexicotte a more definitive answer by Monday, she thinks it could be time to discuss next steps or back-up plans.
"If we haven't heard from him by then, then it'd be my expectation that that should trigger some kind of touch-base, regroup with the board around do we want to put something more formal in place in terms of a deadline or our expectations (for accepting the position)?" Stead said.
Stead added she is not that worried that the board has not received a decision from Osborne yet.
"I'm OK. I want this to be a good decision for him and his family that they are actually excited about," she said. "If they are uncomfortable or unsure at all... it's a big deal for them (moving), so hopefully they're thrilled and looking forward to it."
Trustee Glenn Nelson said he "quite deliberately" has not thought much at all this week about the superintendent selection. He said he's chosen to honor the delegation the board made to Mexicotte for this step in the process.
"In my view, negotiations are a very delicate thing. And we've delegated that to Deb," Nelson said. "I have complete confidence in her. ... I expect to hear from her when there is something definite to hear.
"Deb hasn't told me I should be concerned (about Osborne not taking the position). She also hasn't told me I should be relaxed," Nelson said, chuckling. "But I choose to live life optimistically."
On the idea of putting a deadline or timeframe on Osborne's decision, Nelson said he would defer to the board president and expect other trustees to do the same.
Teachers union president Linda Carter has seen the district hire 12 superintendents during her nearly 40 years with the Ann Arbor Public Schools, she said. She did recall one time a candidate taking a week to respond to the board's decision to offer him the superintendency.
But Carter said she understands the process of selecting a superintendent is a challenging process and accepting this position in Ann Arbor is a "major move."
"Ann Arbor is a very high-profile district and we do a quality job in educating children, but being able to come here and hit the ground running requires a thoughtful commitment," she said. "... Whoever the person is coming in, the spotlight is shining on them and it's challenging."
Carter hesitated with regards to setting an acceptance deadline, stating she does not want the district to come across as being threatening or desperate. But from the standpoint of the teachers union, Carter would like to see the board complete the superintendent hiring process and get someone in here prior to opening day for staff, she said.
Danielle Arndt covers K-12 education for AnnArbor.com. Follow her on Twitter @DanielleArndt or email her at daniellearndt@annarbor.com.