Posted on
Sat, Jul 20, 2013 : 5:58 a.m.
Superintendent candidate to enter negotiations with Ann Arbor; home district approves pay bump
By Danielle Arndt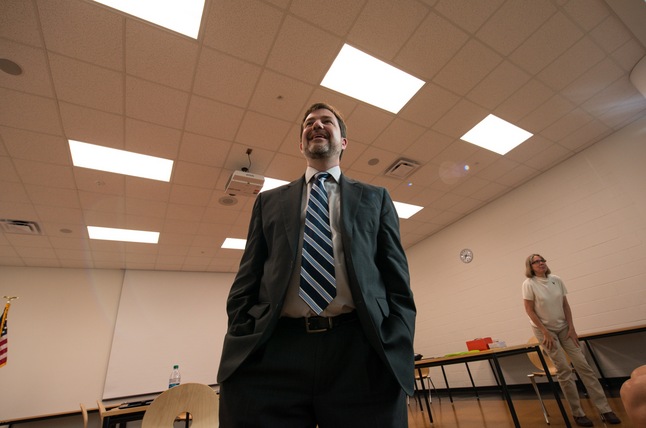 Courtney Sacco I AnnArbor.com
Previous coverage:
Editor's note: The amount of Brian Osborne's salary increase in his home school district has been corrected in this story. This figure was reported incorrectly in the Orange-Maplewood Patch.
The Ann Arbor Board of Education voted unanimously Friday to enter into contract negotiations with the superintendent candidate it felt was the best match for Ann Arbor: Brian Osborne.
School officials and a representative from consulting firm Ray & Associates called Osborne Friday to inform him of the board's 7-0 vote to offer him the position. He did not immediately state that he would accept the position, provided the parties can reach an agreement. However, he expressed he was looking forward to the negotiations, board President Deb Mexicotte said.
Jeanice Kerr Swift, the assistant superintendent of instruction, curriculum and student services for Colorado Springs School District No. 11, was the other finalist the board interviewed and considered for the position.
Board members also praised Swift as an extremely high-quality candidate and were appreciative of her time. Trustee Christine Stead said Swift was very warm and welcoming, enthusiastic and polished, and "did every aspect of the interview process very, very well."
Swift told AnnArbor.com in a phone call Friday she was grateful and honored to have had the opportunity to meet with the Ann Arbor schools community and staff.
"It was a wonderful experience to participate in the process and I of course wish the community of Ann Arbor, Dr. Osborne and the schools team all the very best as they start this next chapter," she said. "I know it will be a great chapter to continue to enhance the education of children and the excellence that the district is already known for."
Osborne did not return multiple phone calls from reporters seeking comment Friday night.
Trustees also voted Friday to give Mexicotte the authority to, along with AAPS' legal counsel, enter into contract negotiations with Osborne on behalf of the board.
The contract will be brought back to the full board for approval following the negotiations, which will include items such as salary, benefits, longevity incentives and possibly some "relocation needs that are unique to a husband and father bringing his family across the country," Mexicotte said.
"We have to be very sensitive to those (needs)."
Mexicotte said this process will play out during the next few days to, perhaps, a couple of weeks. "But we are very hopeful that we are going to come to a really satisfactory contract ... and see Dr. Osborne in our community this fall."
If Osborne turns down the position, although that is not what the board expects will happen, Mexicotte said trustees will reconvene and come back and discuss in open and public forum what to do next.
Osborne blew trustees away this week with his background; breadth of knowledge; commitment to transparency; quick-study skills in learning so much, so quickly about the Ann Arbor Public Schools; his thorough and straightforward answers to questions; and his "tough truths," board members said Friday at their meeting. They also said the feedback from the community was overwhelmingly in his favor.
Mexicotte called Osborne a realist and an optimist, and said she personally would use the same terms to describe the community of Ann Arbor — realistic and optimistic, she said.
But what sealed the deal for Mexicotte was three things that reverberated throughout all of Osborne's rhetoric Wednesday when he was in town for his final interviews: innovation and excellence in teaching, equity in access to educational opportunities and improving outcomes for all students, and meeting financial challenges.
Danielle Arndt | AnnArbor.com
"These were the three things he highlighted in his 90-day plan and at every forum he spoke at," she said. "And I thought: 'These are the things I care about, that the community cares about.'
"... He talked about how these are what the threads of his career have been, and how they dovetailed with what he sees Ann Arbor needing right now."
Trustee Simone Lightfoot liked that Osborne was more willing to admit tough truths: "I thought his direct honesty was refreshing."
However, Lightfoot was the only board member to express some resistance to hiring Osborne, despite thinking he was the best fit of the two finalists.
She described her hesitancy as stemming from a feeling that he may not be "hungry" to be here in Ann Arbor.
Lightfoot said Osborne's current school board, in the South Orange and Maplewood School District in New Jersey, voted this week to give him a raise that puts his salary for the 2013-14 academic year at $100 above what Ann Arbor schools set its salary range at for the position. So Lightfoot said she got the impression that things for him leaving South Orange-Maplewood are not as settled as trustees would like.
According to Maplewood Patch.com, the South Orange-Maplewood Board of Education voted unanimously Monday to award Osborne a "bonus" that increased his salary from $208,000 to $220,001. Patch reported that salary would drop to about $167,500 after Osborne's contract with the district expires in June 2014, due to the New Jersey governor's recently initiated cap for superintendent salaries.
A June report from NJ.com says one quarter of New Jersey's superintendents planned to retire or seek employment elsewhere this summer. That figure is twice as high as last year's attrition rate, NJ.com reported.
The AAPS board voted in April to set its superintendent salary range at $180,000 to $220,000. Now-retired Superintendent Patricia Green, whom Osborne will replace should he accept, earned $245,000 per year.
Lightfoot said another aspect that concerned her is the possibility of Osborne not being able to start with AAPS on the first day of school due to a 90-day clause in his current contract with South Orange-Maplewood.
The clause, Mexicotte said, calls for Osborne to give a 90-days notice prior to leaving. But Mexicotte said the board knew this was a possibility when it set out with its quick-timeframe search and talked about it again when discussing an interim superintendent.
Trustee Andy Thomas, who was out of town for the meeting but participated via a telephone conference call, said Green also had a 90-day clause in her contract, but her former district worked with her to set a more reasonable end date. He said Green was still available to the district and "made good use of that time."
Additionally, Osborne outlined in his 90-day entry plan — which he presented to the Ann Arbor community on Wednesday — a pre-entry plan he dubbed "S and S: Study and Skype." He said this would include Skype conversations with principals, board members, secondary student leaders and parent leaders, as well as studying and researching district policies, data, state laws and more.
Another concern Lightfoot raised was about a comment Osborne made to another trustee on whether an adjunct professorship at the University of Michigan was something he could obtain while superintendent of the district. Mexicotte said, while she was not the trustee he asked about this, it is her understanding he asked whether that was something that could potentially benefit the district.
Stead said she is "not afraid of ambitious people" and doesn't share Lightfoot's concern about this.
Lightfoot said in an interview following the meeting, she was satisfied with the board's decision to offer the position to Osborne, despite the concerns she raised. She said no one is perfect and added those concerns are "able to be overcome."
"I'm good now because I was good with the candidate," she said after the meeting. "He had always made my top four from the very beginning of the process. My concern is I'm not sure we had the best pool to begin with."
So because the board already might have to wait 90 days before Osborne can join AAPS, why not start another search and take our time? Lightfoot asked.
To her, a better, more perfect fit for Ann Arbor would be someone who had "knowledge of what our issues here in Michigan are." Lightfoot said the candidate would not necessarily have to be local or just Michigan-based — they could have been from Ohio with some Michigan experience or worked in both Michigan and someplace else — "just some sort of understanding," she said.
On the issue of Osborne obtaining an adjunct professorship, Lightfoot said she simply saw it as his interests possibly being elsewhere.
"That's unique, and my thought was how does he not see the gravity of this in the community?" she said. "… He's a smart guy, a Harvard guy. I think he'll be OK, but that wasn't about our district to me, that was about him."
Mexicotte says just the opposite it true.
"Our superintendent would be part of a professional community of learners," she said in a post-meeting interview. "... This is exactly the kind of relationship in the education (world) ... that brings benefit to our standing not just in the community, but in the state and nationally.
"It's the kind of thing that is often in superintendent contracts. And the kind of service and aspiration and inspiration we would expect from a community leader in a town like Ann Arbor."
Osborne is very interested in working with stakeholder partners whenever he can to build relationships and create additional "synergy" around the district's educational leadership in the state, Mexicotte said. She added AAPS already has partnerships with the University of Michigan that could only grow and improve if Osborne were to take on an adjunct professorship there.
Danielle Arndt covers K-12 education for AnnArbor.com. Follow her on Twitter @DanielleArndt or email her at daniellearndt@annarbor.com.