Posted on
Fri, Mar 22, 2013 : 5:10 p.m.
Ann Arbor teachers approve tentative agreement that could result in 3-percent pay cut
By Danielle Arndt
Previous story: Ann Arbor teachers union voting on tentative agreement authorizing 3-percent pay cut
The Ann Arbor Education Association ratified a tentative agreement with the school district Friday taking a 3-percent wage concession. The school board still needs to approve the agreement, before it would take effect.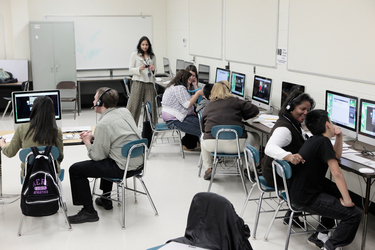 AnnArbor.com file photo
According to an email obtained by AnnArbor.com, the AAEA Elections Committee reported the agreement passed with 91 percent of the union's membership participating in the voting process. The AAEA represents approximately 1,200 teachers.
How many members voted "yes" and "no" on the agreement is not known at this time. AAEA president Linda Carter said she cannot speak about the contract until the Board of Education also votes on the tentative agreement.
Union members voted at their buildings starting Wednesday after school and the election continued through Friday morning with all ballots due by noon.
According to union members, the tentative agreement includes:
A 3-percent salary reduction for all teachers for the 2013-14 academic year.
New MESSA insurance options for teachers that will coexist with the current health care offerings at no additional cost to the district. MESSA is a Michigan Education Association insurance provider.
A slightly revised district calendar.
A clause affirming the union's right to collect dues and shielding it from the Right to Work legislation that takes effect March 27.
The reinstatement of a curriculum council with teacher involvement.
The development of a science teacher and administration problem-solving group to address science class size issues and overfilled science labs.
It is the district's practice not to comment on collective bargaining until the negotiations are complete. Superintendent Patricia Green declined to comment on the tentative agreement at a school board meeting on March 20.
The Board of Education will conduct a closed executive session at 5:30 p.m. Wednesday for the purpose of discussing the agreement with the teachers. A regular board meeting will follow at 7 p.m. The board could place the tentative agreement on its regular meeting agenda and conduct a vote in open session that evening if it decides the terms and conditions of the agreement are amenable and no further negotiations are required.
School officials have said they are in the process of renegotiating contracts with all of the district's employee collective bargaining units right now. Across-the-board salary reductions have been targeted as one way to help the Ann Arbor Public Schools cut $17 million to $20 million for the 2013-14 academic year budget. Green also has pledged to take a pay cut.
Danielle Arndt covers K-12 education for AnnArbor.com. Follow her on Twitter @DanielleArndt or email her at daniellearndt@annarbor.com.