Posted on
Tue, Feb 26, 2013 : 5:59 a.m.
Teachers union president calls for superintendent pay cut as Ann Arbor considers salary reductions
By Danielle Arndt
As the Ann Arbor school district looks at across-the-board pay cuts for staff, the teachers union president is calling for Ann Arbor Public Schools Superintendent Patricia Green to be the first in line.
Salary cuts for all school employees — including both teachers and the superintendent — "are not off the table" for fall, said Board of Education President Deb Mexicotte.
The Ann Arbor district faces the need to cut $17 million to $20 million in costs in order to balance its 2013-14 academic year budget. Among the proposed reductions is a 1-percent, across-the-board salary decrease.
The salary reduction would save the district an estimated $1.3 million, according to a December budget report.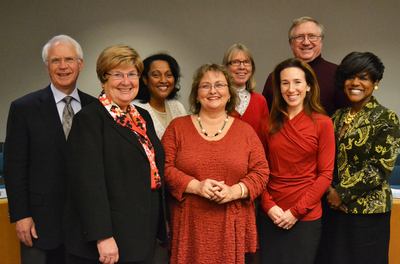 From Ann Arbor Public Schools
To proceed with any wage reductions, the district would have to open up for negotiation its contracts with the district's unions, including the
Ann Arbor Education Association,
its teachers union, and the
Ann Arbor Administrators Association,
which includes building principals and assistant principals.
The last wage reductions at AAPS were in 2010. At that time, teachers agreed to concessions of $4.5 million and increased their number of unpaid furlough days to four, according to previous reports.
Custodial wages were cut by 46 cents per hour, and the custodians now pay $400 more for health insurance. Bus drivers also saw wage reductions of $1.59 per hour in 2010, when AAPS signed up for consolidated bus service through the Washtenaw Intermediate School District.
Report outrages union leader
As the district and its teachers union ponder possible cuts, a new report on superintendent salaries has thrown a spotlight on the salary of the superintendent.
AAEA President Linda Carter called Green's salary "absolutely asinine" last week after the Mackinac Center for Public Policy published a report showing Green's $245,000 salary is the highest base salary among superintendents in the state. Carter called for Green to take a voluntary pay cut.
"She needs to come back down here with the rest of us," Carter said.
Board members, however, said they stand behind Green's salary. The figure is what was needed to attract a qualified, experienced candidate at the time Green was hired, they said.
The database compiled by the Midland-based free-market think tank put Green's total compensation at $273,551, eighth highest in the state. However, the most recent salary and compensation report, released Friday by the district, shows Green received a total compensation package of $308,433 in 2012. Her package included $10,247 paid in Federal Insurance Contribution Act taxes, $58,244 contributed toward her pension, $2,912 in life insurance and $1,080 in long-term disability benefits.
In 2010, the year before Green was hired, teachers in the union took a 2-percent decrease to their salaries and agreed to delay their step raises to prevent 191 of the district's newest teachers from being laid off, Carter said.
She said because the union took this pay cut, which totaled about $4.5 million, she is "in disbelief" that Green's salary was set at $245,000 less than a year later.
At the Feb. 13 regular Board of Education meeting, Carter invited the trustees and Green to ride along with her in her pickup truck as she visited the schools. On Thursday, in an interview with AnnArbor.com, Carter retracted the invitation to board members and upped it to a challenge for Green.
"Forget about the board members! What I want is for the superintendent to take me up on the offer I made last Wednesday night to come out with me and to talk to members of the Ann Arbor Education Association," she said. "She can ride in my Ford F150. I'll bring her a juice box. Because if you're hanging out with Carter, the teachers will talk to you — and honestly."
Carter said Green is the 12th superintendent she has worked with during her 38 years as an educator in the Ann Arbor district. Carter also has served as the teachers union president or vice president for the past 18 years. She said most previous superintendents joined her in visiting buildings and talking to staff at least once a school year; however, Green has yet to do this.
"My members are saying, 'Well Carter, we really haven't seen her. We would love to see her,' or 'We've seen her, but we'd love for her to spend some time talking with us,'" Carter said.
She said teachers would like to get their message out about the kinds of things they do every day and about many of the "nuances" they've embraced as public schools educators in budget-crunched times.
Carter said whatever reductions the AAPS administrators intend to ask for, "they will need to come to the bargaining table to have the discussion."
"And the (administrators) at the Balas Administration Building are going to need to take a cut in the same amount, if not more. … Because if they are making six digits to my five, they really need to step up to the plate. ... We teachers took the pay cut last time," she said.
Board: Salary needed to attract the best
Mexicotte said she is "comfortable" with the way the school board made Green's salary decision and is comfortable with the way the district has addressed compensation since then. If the board approves a salary reduction for 2013-14, it likely would be "across the board or nearly across the board," she added.
Some of the district's lowest-paid employees could be excluded, school officials said.
When the board hired Green in 2011, trustees wanted to attract the best candidates in the country and worked with a superintendent search firm to set the salary scale, benchmarking Ann Arbor against other districts in university towns.
"During that time, the only thing people knew about Michigan was we had the highest unemployment rate in the nation, it's a cold place to live, the economy wasn't looking so great, and maybe they knew some things about Detroit, but that doesn't reflect very favorably either," said Board Vice President Christine Stead.
Mexicotte added AAPS also wanted to attract a sitting superintendent who had a lot of experience.
"We couldn't see training someone into the position because of the challenges we were going to have in the coming years," she said. "… We also looked at the fact that we knew there would be no time in the immediate future where we'd be looking at salary increases for them, but that there might be times we'd have to look at salary cuts."
Stead also noted the previous superintendent, Todd Roberts, left the district to take a position at a school with about 650 students where he is making $210,000. Roberts made $175,000 at AAPS.
Stead said she feels setting the superintendent's salary at $245,000 was "absolutely" the best decision at the time. She added even if the board got rid of everyone at Balas, it only would save the district around $3 million.
National data from the 2010-11 academic year, the most recent year for which data is available, reveal Green's salary is above the national average for superintendents by $83,008. Salaries paid to the district's deputy and assistant superintendents, as well as building principals, are more in line with national average salary statistics, data show.
According to a 2011 article from "District Administration" magazine, which cites a nationwide survey by Educational Research Service, the average salary for superintendents that academic year was $161,992.
The magazine article says salaries of more than $225,000 were seen in school districts with more than 25,000 students enrolled and in cities with populations greater than 400,000 people. Ann Arbor has about 16,600 students.
The article also notes that even if a superintendent of a large city school system is paid $300,000, "that same person in the private sector leading a company of (similar) magnitude would make well over $1 million."
Educational Research Service (ERS), a nonprofit organization existing since 1973, ceased operations in fall of 2011, according to a report in Education Week. For 38 years, ERS conducted an annual national survey of public school salaries and wages.
According to the 2010-11 salaries and wages report, the "mean maximum" salary for districts enrolling 10,000 to 24,999 students was $178,404 — $66,596 less than Green's salary. The mean maximum salary for medium urban communities, a category that includes Ann Arbor, was $183,955 — $61,045 less than Green's salary.
The mean maximum salary refers to the average high end of the salary range for a superintendent position in districts nationwide.
National data also show that in 2010-11, the average mean salary for deputy superintendents in the U.S. was $138,061. Ann Arbor Public Schools increased two of its deputy superintendents' salaries to $140,000 in December 2011. Prior to the raises, Deputy Superintendent of Operations Robert Allen was paid $130,556, and Dave Comsa, the deputy superintendent of human resources and legal services, was an assistant superintendent making $124,542. Comsa received a title change with the pay increase.
Assistant superintendents in the U.S. had an average mean salary of $122,333 in 2010-11. According to Ann Arbor's most recent salary and compensation report of employees making more than $100,000, which was based on 2012 W2 tax information, the district's three assistant superintendents made $108,515, $118,108 and $127,221 last year.
Ann Arbor's director of finance, Nancy Hoover, received a salary of $102,369 in 2012. The national average mean salary for this position in 2010-11 was $101,347.
The salary range for high school principals in Ann Arbor currently is set at $113,220 to $127,840, making the mean salary $120,530. The district's salary and compensation report of employees making more than $100,000 shows its high school principals received salaries of $107,453, $108,121, $123,103 and $124,000. The national average mean salary for high school principals in the U.S. in 2010-11 was $102,387.
The national average mean salary for middle and elementary school principals was $95,426 and $89,951, respectively, in 2010-11. Recent information provided by the district shows five of the six middle school principals in Ann Arbor made more than $100,000 in 2012. Their salaries ranged from $100,524 to $115,137.
Per the AAAA contract, the established salary range for middle and elementary school principals is $96,975 to $109,515.
Fifteen of the district's 19 elementary school principals, including the leader of the Preschool and Family Center, made more than $100,000, according to their 2012 W2 forms. Their salaries ranged from $101,034 to $107,559. Preschool principal Michelle Pogliano made $100,284.
The "District Administration" comparison of principals' salaries included no information about building size and enrollment.
Teachers with a bachelor's degree at AAPS earn $39,540 to $65,662, according to the current contract. Teachers with a master's degree can earn $44,539 to $78,333 at AAPS. Teachers with a doctoral degree can earn $49,919 to $86,913. There also are stipulations in the contract for educators with 10 or more years experience in the district to earn 1 percent to 2 percent more than the highest step in their salary range.
Danielle Arndt covers K-12 education for AnnArbor.com. Follow her on Twitter @DanielleArndt or email her at daniellearndt@annarbor.com.