with gallery:

New AATA bus routes for high school students glitch-free on first morning

Posted on Tue, Sep 4, 2012 : 1:11 p.m.
The new Ann Arbor Transportation Authority bus stops for Ann Arbor high school students were smoothly executed this morning and everyone arrived at school on time, according to district and AATA officials.
The AATA partnered with Ann Arbor Public Schools in July to eliminate three high school bus runs for the 2012-13 academic year and replace them with public transit routes for an annual savings to the district of about $45,000.
AATA employees were out at the various stops Tuesday morning making the rounds to ensure none of the students had any questions about their newly issued passes. Students eligible to be served by the AATA routes received bus passes paid for by AAPS. The passes are valid on TheRide's regular direct route service, Monday through Friday, during the academic year.
The AATA reported a "good mix" of new and experienced public transit riders, said district spokeswoman Liz Margolis.
"The radio talk with the drivers was that everything was smooth and they deemed it a successful morning," she said, adding there were no delays in getting high school students to class for the first day of school.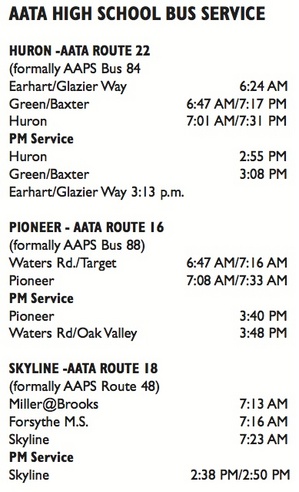 From AAPS
Each of the three bus runs offered a late and an early pick-up time for students. AATA officials reported an average of 10 kids used the early bus runs, while significantly less used the late runs, which got students to school much closer to the final bell.
AATA spokeswoman Mary Stasiak was out at the new Pioneer bus stop on Waters Road near the Target. She said eight students used the early bus, while three used the late bus, for a total of 11. Stasiak said she gave students using the early bus a brief explanation on how to use their passes.
"The kids who boarded there, they all seemed to be ready to go. They had their passes… ready to swipe it through," she said.
Margolis said the district likely will get actual morning and evening ridership counts from the AATA at the end of the week. But generally, there are more parent drop-offs in the first two weeks of school than the remainder of the year.
Sarah Pressprich Gryniewicz, AATA's community outreach coordinator, also said it has been public transit's experience that a vast number of students will catch a ride to school but take the bus home.
Pioneer High School junior James Sazyc, who lives in a neighborhood off Waters Road, will have to take the public bus as a result of the new AATA partnership. He said it is "not at all a big deal" to have to ride the transit to school.
He is excited about having been issued a free bus pass that's good for any route, not just his route to school. He said he will be able to put the pass to use and likes that he will no longer have to pay out of pocket to ride the bus anywhere.
The biggest complaint the district has received about the new AATA bus runs was exactly that, Margolis said — "How come my child is not eligible?"
She said the district paid-for passes are available only to those students who rode one of the eliminated Ann Arbor school district runs.