Posted on
Sun, Jul 29, 2012 : 5:57 a.m.
Ann Arbor school trustees wary of new state requirements for superintendent evaluations
By Danielle Arndt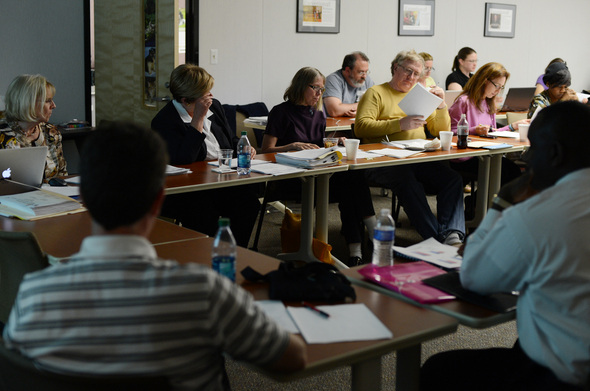 Melanie Maxwell I AnnArbor.com
Despite signs that Michigan's new teacher tenure reform law will require school districts to evaluate employees using a written ratings system,
Ann Arbor
school board members say they see little reason to abandon their discussion-based model of evaluating the superintendent.
Currently, Ann Arbor school trustees do not fill out or retain any documents to evaluate the superintendent.
Patricia Green's first performance assessment was fleshed out in a five-hour closed session last month. The only resulting document was a summation statement that was put in her personnel file and submitted to the news media.
A new law mandates the creation of a statewide rating and evaluation system and establishes a new set of requirements to be implemented by the 2013-14 academic year. But while the Michigan Council on Educator Effectiveness is focused on applying the law to teachers, school board members — who essentially are community volunteers — are left to grapple with how best to evaluate the superintendent, their primary oversight responsibility.
Spotlight on student achievement
In July 2011, Gov. Rick Snyder signed into law Public Act 102, part of a package of bills known as Michigan's teacher tenure reform law or the Revised School Code.
The focus immediately became how to develop a fair evaluation process that accomplishes Snyder's mission of eliminating the "last in, first out" practice of schools basing staff decisions solely on seniority in favor of protecting the most outstanding and enthusiastic teachers, regardless of seniority.
But teachers are just one piece of Snyder's plan to elevate accountability in Michigan schools.
Administrators and superintendents are included in P.A. 102, which calls for the annual evaluation of all employees who impact instruction on a scale from "ineffective" to "highly effective" in various categories. Like teachers, 25 percent of superintendents' effectiveness ratings must be based on student growth data starting in the 2013-14 academic year, with the additional requirement of student attendance rates affecting their scores.
By 2014-15, 40 percent of evaluations must be based on student achievement. The following year, that percentage increases to 50 percent.
At its board retreat Wednesday, the Ann Arbor Public Schools Board of Education will begin what it anticipates will be a year-long discussion to develop a new superintendent evaluation that accommodates the data and reporting requirements of the new law.
Christine Stead, the school board vice president who was charged with leading the evaluation discussion of Green, said she hoped the state would have provided some guidance by now.
The Michigan Council on Educator Effectiveness was supposed to release a document in April that defined how local school districts should determine student growth and achievement, said Dick Dunham, director of superintendent search services for the Michigan Association of School Boards. It also was supposed to have finalized teacher evaluation standards and moved on to administrators.
"But that's fine," Stead said. "We'll just put something together ourselves and then maybe we can share our stuff with the state… I think that's possible if we do a good job this year of really understanding what (data) is meaningful for superintendent evaluations. Because I don't think we'll be getting anything from the state in time to apply it for next year."
"It's not like we're going to forget"
When Ann Arbor school board members evaluated Green on June 27, they unanimously approved a glowing review, congratulating the new superintendent on a successful first year.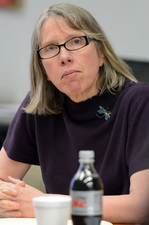 But the summation statement trustees submitted
was criticized
by some members of the public as vague and lacking transparency. Some questioned how an evaluation that lasted more than five hours could result in a less than 350-word summary. Others wondered why there was no mention of what Green could do to improve.
"That document was vetted and worked on by the entire board," said board President Deb Mexicotte. "That was the culmination of our discussion… Anything that was not in there was because the board didn't think it was significant enough to be there."
The summation statement was approved in a 7-0 vote, and there would have been dissent if any trustees thought the summary was inadequate, she said. Superintendent summaries have ranged throughout the years from two sentences to a page in length, depending on the will of the board, added Mexicotte, who was first elected in 2003.
Bob Rorke, a former school board member who left the board in 2003, said trustees did fill out individual evaluation forms during the time he served, with a subcommittee responsible for developing the questions each year. There was a numerical scale for each question and a place for comments, so trustees could explain their ratings, he said.
Now, in preparation for the evaluation, a community stakeholder survey is sent to various members of the public, teachers, administrators and others who may work with the superintendent. Each of the seven Ann Arbor school board members selects a handful of people whose input they believe could be valuable to the discussion. The superintendent also can suggest people.
Stead said the district mails out the surveys on behalf of the board members. Respondents are asked to follow specific instructions, such as returning it in a sealed envelope and not putting their name on the survey, to secure their anonymity.
"The practice has been, when we solicit the public and administration for feedback, we assure them absolute confidentiality," Mexicotte said.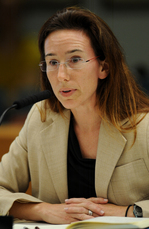 The sealed survey envelopes are returned to one or two trustees in charge of managing the evaluation, and they prepare a summary for the board to use as a basis for its conversation the night of the evaluation. The school board members themselves do not fill out the survey, Stead said.
The district destroys the community survey responses and preliminary summary each year, along with the mailing list, as soon as the evaluation process is complete, she said.
Trustees are encouraged to prepare for the evaluation meeting in any way they see fit and can take notes of each year's discussion if they believe it will help them in their future dealings with the superintendent, Mexicotte said.
"The state obviously thinks there are better ways," Mexicotte said. "How much micro-management they actually need to do is a discussion for another time. But obviously they think districts have been inadequate or they wouldn't be insisting on changing (the evaluation process)…
"If the board wanted to do something different, as it stands right now, the board could. It has the purview… So obviously, the board thinks it's doing a fine job and that it's evaluating the superintendent appropriately and is able to make judgments based on this evaluation."
When asked how the board gauges improvement from year to year or during a single school year using its current evaluation process, Mexicotte said the board looks at its summation statement from the previous year, "recalls" the points that were addressed and talks about what progress was or needs to be made.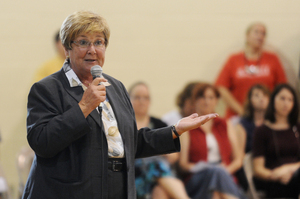 "And it's not like we're going to forget what we thought at the beginning of the year, at the end of the year," she said. "The board also doesn't turn over in huge hunks anymore."
Asked how effective the current process is for analyzing whether goals are being met, Mexicotte replied: "The board must feel it's effective or else it would have been changed by now."
The superintendent is an at-will employee, she added, so it's not necessary to document the superintendent's strengths, weaknesses or achievements — or any complaints about her — to terminate her contract.
"If four of us (on the board) decided we'd lost confidence in the superintendent, we could vote and decide to (fire her)," Mexicotte said.
State uncertainty
A number of unknowns surround how the Michigan Council on Educator Effectiveness will address administrator evaluations, and the piece about student performance data appears to be slowing down the development process as a whole.
Jennifer Hammond, a principal at Grand Blanc High School and member of the council, published a blog post recently asking for feedback on implementing student growth measures. She posed several questions:
Should the state's evaluation data — Michigan Merit Exam test scores, the Michigan Educational Assessment Program, Smarter Balanced, etc. — be the only source of student growth data?
Should local models that measure student growth be allowed?
How could officials ensure that local models are rigorous and legitimate?
If multiple measures of student growth are allowed, what percentage should be given to each of them?
The council is responsible not only for creating the framework for a statewide evaluation system, but also for developing a process to analyze and approve local teacher and administrator evaluation tools.
According to P.A. 102, schools must adopt and implement the state's evaluation tools, unless they develop their own tools that are "consistent" with the state. But whether local student growth models can be used is still up in the air.
Cori Mehan, project manager for the council, said members of the council "appreciate" the timetable Snyder and the Legislature have set, but they also "understand the importance and seriousness of the tenure issues they are tackling" and do not want to put something out there without it being fully vetted.
A year-long teacher evaluation pilot program to start in the fall got the green light from Snyder in May. Those supportive of the pilot said the one-year time frame is imperative to developing a "fair, transparent and feasible" evaluation system for both teachers and administrators.

Mehan said she doesn't know when the student growth piece will be complete but added the council hopes to proceed with administrator evaluations by late fall.
The final remaining question is whether superintendent evaluations can or will differ from the method used for principals, assistant principals, curriculum directors and other administrators.
"To my knowledge, (the council) is not addressing the superintendent individually," said Linda Wacyk, director of communications for the Michigan Association of School Administrators. "Our understanding is this will be (the same) for all those (administrators) who have a direct impact on instruction."
MASA is developing a research-based evaluation guideline for districts to use, if they chose. Wacyk said the organization will release this guide within the calendar year.
Differing tools
The Michigan Association of School Boards developed a sample evaluation form in 2011 that school board members can use. It employs a point system (1 point for "ineffective" and 4 points for "highly effective") to score a superintendent in 11 categories, such as staff relationships, business and finance, educational leadership, personal qualities and community relations.
Each category is weighted to meet the state mandated percentages for student achievement data. A total score is tallied by each trustee.
An average of all the trustees' scores would equate to an overall rating for the superintendent. A score of 85 to 100 percent is deemed highly effective, 68 to 84 percent is effective, 50 to 67 percent is minimally effective and less than 50 percent is ineffective.
"I don't see us ever developing something that is all metrics like that one is," Stead said of Ann Arbor. "A tool can't replace the kind of in-depth conversation we tend to go and have."
Mexicotte agreed, saying the board may be forced to use a set document at some point. But until then, she doesn't see it happening.
Stead said the board might choose to tweak its community stakeholders survey to include the state's effectiveness language. She said it could include this language in its summation statement to satisfy the Revised School Code.
Determining the logistics around student growth data will consume much of the board's focus throughout the next school year, Stead said.
While the MASB is a proponent of a metric-style evaluation tool for the superintendent, the Michigan Association of School Administrators is not. Wacyk said the guidelines that MASA will release "won't involve seven board members filling out a form and turning in seven separate evaluations."
She said superintendent evaluations should be based on the goals that have been set for the district and the goals specifically set for the superintendent.
"The straight out-of-the-box method that rates the superintendent on a list of criteria … while it might be nice to know if the superintendent is seen as visible in the school community, it will not help move the district forward," Wacyk said. "Unless the district has set a specific goal of being more visible… But ultimately, it doesn't matter if your superintendent is very visible if student achievement is still dropping."
The Saline Area Schools Board of Education currently completes an annual rubric-style evaluation but in addition, Superintendent Scot Graden gives quarterly presentations "sharing artifacts and data" on progress he has made toward his superintendent goals. These presentations are used as the basis for the board's evaluation, said President Lisa Slawson.
Each trustee also fills out a form, ranking the superintendent in various categories. Last year, the Saline board implemented the state's effectiveness language, so the only piece the board will need to tweak this year is accommodating for student achievement.
The board members score Graden on a point system of 1 to 4 and write feedback individually. Each board member's comments are added to a compiled document by Slawson and that comment sheet, along with an evaluation form showing the averaged trustees' scores in each category, is filed in Graden's personnel file.
"I don't see each person's individual evaluation sheet or comments to see who said or gave what," Graden said. "Just the composite version... If there are two similar comments, the president only says it once (in the composite), but otherwise I see all of the feedback."
Because the Ann Arbor Public Schools were in a transition period last school year, having just hired Green, the board did not set superintendent goals, Stead said. Trustees will set board and superintendent goals for 2012-13 at Wednesday's board retreat.
The retreat will begin at 4 p.m. Wednesday at the Skyline High School cafeteria, following a regular school board meeting at 3 p.m. Both meetings are open to the public.
Read the full summary of Ann Arbor Superintendent Patricia Green's 2012 evaluation here.
Read the complete text of Public Act 102 here and the Revised School Code here.
Staff reporter Danielle Arndt covers K-12 education for AnnArbor.com. Follow her on Twitter @DanielleArndt or email her at daniellearndt@annarbor.com.