Posted on
Thu, Jul 19, 2012 : 8:09 a.m.
Ann Arbor school board to set goals: zero-based budgeting will be top priority
By Danielle Arndt
Zero-based budgeting, student achievement data and the idea of establishing monetary incentives for well performing staff were among the topics Ann Arbor school board members decided would be discussed at their upcoming board retreat on Aug. 1.
The retreat, which traditionally occurs during summer, serves as a planning session for board members. They set goals for themselves and the superintendent at this meeting.
The board agreed to attempt to hire a facilitator for the retreat to guide and direct the conversation and to provide an outside perspective. At most, the district expects it will cost about $2,500 for this person.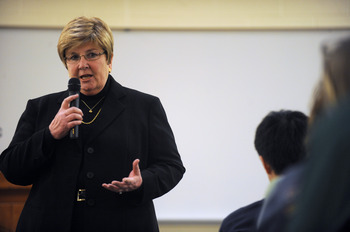 Superintendent
Patricia Green
unveiled her desire to have the school district start a zero-based budgeting practice by 2014-15 or, if possible, by 2013-14. She estimated she could save
Ann Arbor Public Schools
approximately $2 million right off the bat by doing this.
Zero-based budgeting is a method of budgeting in which all expenses must be justified for each new fiscal year.
Green told Deputy Superintendent of Operations Robert Allen it would take a full year to prepare and plan for the implementation of a zero-based system.
She went through the process in both of her two previous school districts, she said.
"People are going to realize, it is not as easy as you think," she said. "It is such a simple concept … but it requires a cultural shift. We also need to have the capacity, because this has to be done through technology … or you lose that historical perspective if it's not done electronically."
She said whether it will be ready for next year depends on how quickly all members of the district are able to embrace the drastically different mentality.
Green said once the district starts spending money from its recent $45.8 million technology bond to make software and infrastructure improvements in the finance department, it will be able to get going on the budgeting.
Green and the board identified two areas of serious need within AAPS. Green said the district has "lots of issues" with data and struggles to stay on the same calendar with the board as far as executive summaries and reports.
She said she discussed with her staff yesterday new ways to analyze data and how to track students over time rather than digesting straight Michigan Educational Assessment Program exam data. She added that as AAPS' technology becomes more fully developed, the district will be able to create more personalized data reports.
Additionally, Board President Deb Mexicotte expressed a desire to create a master calendar/agenda planning schedule for the year and to set presentations and summaries from administration well in advance.
Green said the administration should start generating certain reports for board members annually, if not routinely, on topics such as enrollment and facilities, the discipline and achievement gaps, reviews of curriculum and text books, personalized learning, human resources updates, capital funding and construction.
"The board capacity and administrative capacity must be linked," Green said. "(In administration,) we are building a higher capacity right now … and there is a lot of energy being generated around these reports and initiatives right now. … But we have, for example, high school start times that the board previously charged us with and can't have that all off our radar."
Green said if the board does not establish a master calendar, "we're going to be doing agenda planning all year long. And our hands will be (tied) behind our backs."
"Our capacity (to get work done) is only as good as we are as a team."
The final major item the board discussed in detail was potentially developing a scale as part of the superintendent's evaluation and teachers' evaluations and contracts to monetarily reward district employees for improving student achievement data.
Vice President Christine Stead said "getting the whole organization humming to a tune that is meaningful and really putting students at the center of our business model" could be great for the district. She said she doesn't know if that necessarily means an extra dollar amount or not.
Mexicotte acknowledged rewarding the people responsible for significant gains in student performances is something the board has talked about frequently, but also is something members have not hashed out philosophically yet.
"There is also the perception piece of rewarding anybody for anything in this economic climate that has to be considered," Mexicotte said. "We saw it recently when we put money toward a job well done or job retention. … I think we need to look at what do we mean by this."
The Ann Arbor school board's summer retreat is scheduled to start at 3 p.m. on Aug. 1. A location has not been set yet. A brief regular board meeting will take place at the start of the retreat.
Staff reporter Danielle Arndt covers K-12 education for AnnArbor.com. Follow her on Twitter @DanielleArndt or email her at daniellearndt@annarbor.com.