Posted on
Fri, May 3, 2013 : 8:20 a.m.
Class sizes, high school busing and 7th hour priorities at first Ann Arbor schools budget forum
By Danielle Arndt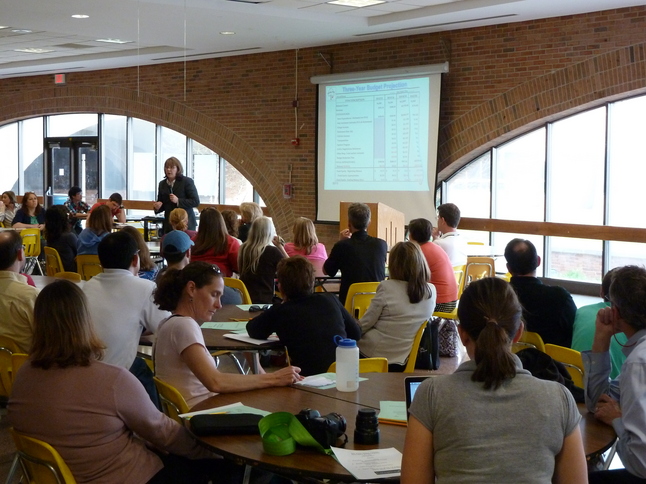 Danielle Arndt | AnnArbor.com
About 80 community members — including 20 high school students — told
Ann Arbor
school administrators and board members Thursday night that small classes, high school busing and seventh-hour options at Huron and Pioneer high schools should be priorities as the district struggles to balance its
budget.
Questions flew throughout the first hour of the forum Thursday at Huron High School. It was the first of two community meetings the Ann Arbor Public Schools' administration will host on the proposed 2013-14 budget.
The district needs to close an $8.67 million shortfall and has proposed, among other things, reductions to middle school athletics; eliminating 80 employee positions, 53 of them teachers; closing the middle school pools; and eliminating high school busing.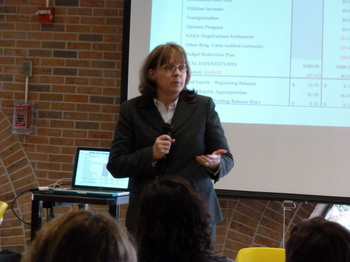 Danielle Arndt | AnnArbor.com
Superintendent
Patricia Green
had to interrupt the inquisitive audience members a number of times Thursday during Finance Director
Nancy Hoover
's presentation. The superintendent was attempting to get the crowd back on track and to ensure it had enough time to break up into smaller groups that would be more effective for gathering feedback.
Green said the purpose of the budget forums is to give community members the opportunity to hear the details of the district's projected revenues and expenditures and to hear administrators' recommendations on how to balance the budget. But she said the most important part of the forums is the feedback the audience gives on what should be preserved and what could be put on the chopping block instead.
There were more questions and interruptions from the audience Thursday than at last year's budget forums, which district Spokeswoman Liz Margolis said is because the "pain is here" this year. These are cuts that "really just are hitting home," she said.
Assistant Superintendent of Elementary Education Dawn Linden said it is not clear yet by how much class sizes could increase. She said in the elementary schools, there is an average of 25.5 children per class. She said from last year to this year, the overall average class size went up by just about 0.5 students per class in the elementary schools.
Director of Student Accounting and Research Services Jane Landefeld said, although average class sizes have remained fairly constant, it is now difficult for the district to deal with an influx of students in a particular grade. In previous years, if for instance, the district had a particularly large third-grade class, it might have been able to move in another teacher to help with that. Now, it's possible the district might have to accept having a class with 30 students due to budget constraints.
Also, Landefeld said, before Skyline was built, there were more students and teachers in Huron and Pioneer; and because of this, the district could divide up the numbers better to offer more sections of core classes and electives within a single high school building.
She also said students would no longer be permitted to take seven classes under the administration's proposed budget, if approved by the board. However, officials are looking at ways to still have seven hours but to only permit students to take six classes, which Landefeld said would still allow for the flexibility in scheduling that has proved helpful at the high schools in years past.
But students said Thursday they still would not be able to take as many advanced placement courses, music, art or foreign language classes prior to graduation. They said this is especially concerning given that most colleges now look for students to have had four years of a foreign language.
The students also said they did not want to see AAPS as a whole become weaker and less desirable. One student suggested possibly offering AP courses as part of the Community Recreation and Education Department program and to have students pay for the courses and instruction.
But school board Trustee Glenn Nelson, who served as the spokesman for another group following the community break-out brainstorming session, said his group had some concerns that the district is moving more and more toward an a la carte education model.
"We're still calling it public education, but we've taken on the mentality that if you want it, you have to pay for it," he said, adding this also is the case with some of the targeted giving the board has recently discussed.
All groups expressed concerns about eliminating high school transportation and the equity issues that could cause, as well as safety issues for students.
The second and final 2013-14 budget forum hosted by administration will be at 7 p.m. Tuesday at Pioneer High School. The Ann Arbor Board of Education has until June 30 to pass a balanced budget.
Danielle Arndt covers K-12 education for AnnArbor.com. Follow her on Twitter @DanielleArndt or email her at daniellearndt@annarbor.com.