Posted on
Thu, Feb 7, 2013 : 5:58 a.m.
Data show fewer students apply to Skyline, while Community High's waitlist continues to grow
By Danielle Arndt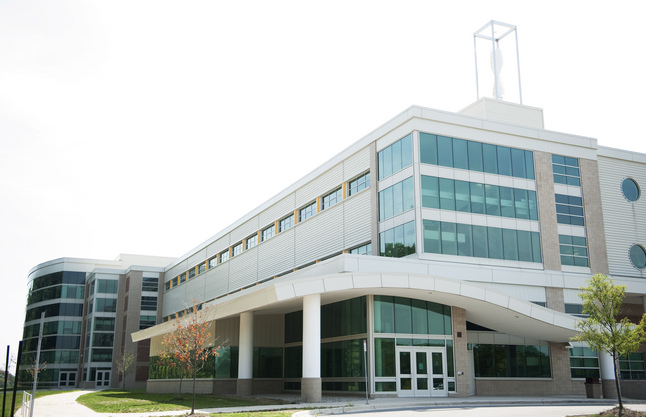 Daniel Brenner | AnnArbor.com file photo
Previous coverage:
Thursday and Friday are the final days for Ann Arbor to apply for out-of-boundary seats at Huron, Pioneer, Skyline and Community high schools.
Freshmen who live within the Ann Arbor Public Schools district can apply to any of these high schools this year, regardless of the high school attendance area in which they live.
Officials opened enrollment at Huron and Pioneer to 25 out-of-boundary students through in-district transfers for the first time. Skyline and Community again have open seats, 100 and 114 respectively, for fall 2013.
The deadline for students to apply to Huron and Pioneer is Thursday and the deadline for Skyline and Community is Friday. At Community, students are selected via lottery. A lottery also will take place at Huron, Pioneer and Skyline if more students apply than there are seats available.
Skyline sophomores hoping to participate in one of Skyline's four magnet programs also must apply by Friday.
Skyline's magnets and the school's structure for fall are in limbo due to the district's impending budget cuts.
Ann Arbor Public Schools faces a deficit of about $17 million for the upcoming school year. District officials have proposed changing Skyline from a trimester schedule to semesters like Ann Arbor's other comprehensive high schools.
It is unclear how the uncertainly of the trimester schedule and magnet programs could affect the number of applications Skyline receives for fall. However, the number of out-of-boundary students applying to and enrolling at Skyline has declined consistently since the school opened.
In 2008, 221 students applied to Skyline via in-district transfers; 100 students eventually enrolled. By 2010, there were 164 applications and 94 enrollees. For the current school year, 113 out-of-boundary students applied to attend Skyline and 72 enrolled.

From AAPS
District spokeswoman
Liz Margolis
said the district does not have any measureable data to support why Skyline's applications have decreased over time. She said it is hard to say because often students will put their names in at Community and Skyline, or one of the area's private schools; see where they are accepted; and then make their decisions.
In-district transfer students are responsible for providing their own transportation, so that also could play a role in whether an applicant ends up enrolling, Margolis said.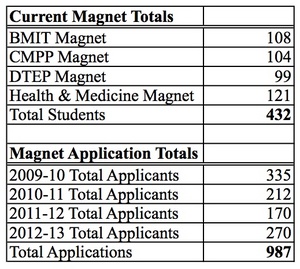 From AAPS
Thomas Pachera
, lead teacher for the Design, Technology and Environmental Planning (DTEP) magnet at Skyline, said the school's magnet programs do draw a number of open enrollment applicants. Many students apply as freshmen with the sole motivation of wanting to join a magnet as sophomores, he said.
He added the newness of the school, physical appearance of the building and technology access at Skyline also could be factors in someone choosing Skyline in lieu of another high school.
Currently, there are 432 students in Skyline's magnet programs: 121 in Health and Medicine; 108 in Business, Marketing and Information Technology; 104 in Communication, Media and Public Policy; and 99 in DTEP.
Thirty new students per magnet are accepted each year. If more than 30 apply, a lottery is conducted to fill the seats.
For the 2009-10 academic year, 335 students applied to one of Skyline's magnets. In 2011-12, 170 sophomores applied and prior to the 2012-13 year, there were 270 applications, according to data provided by the district.
Community High School received a record number of applications last fall, 440. Community, unlike Ann Arbor's three comprehensive high schools, is entirely a choice school. There is no residence boundary for Community.
To apply to Community, students must attend an orientation meeting. The last orientation meeting is scheduled for 7-8:30 p.m. Thursday at the school. Community's random lottery drawing will take place Tuesday.
Danielle Arndt covers K-12 education for AnnArbor.com. Follow her on Twitter @DanielleArndt or email her at daniellearndt@annarbor.com.