Posted on
Fri, May 24, 2013 : 5:59 a.m.
Eliminating high school busing: Trustee proposes morning-only option
By Danielle Arndt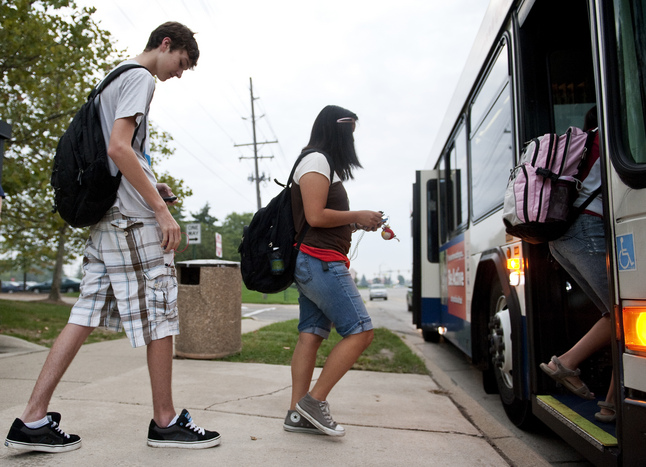 AnnArbor.com file photo
Editor's note: The percentage of eligible high school students who ride the bus has been corrected in this article, from 24 percent to 29 percent.
Ann Arbor school board members continue to weigh the possibility of eliminating high school transportation for fall.
The proposal to no longer provide high school busing could save the Ann Arbor Public Schools about $466,000 on its way to closing an $8.67 million budget gap for the 2013-14 academic year.
But the degree to which trustees are willing to pull the trigger on the service varies greatly across the board.
Two trustees, Simone Lightfoot and Susan Baskett, have said they would be willing to get rid of transportation entirely — for all grades K-12 — if it meant the district's piecemeal, cut-a-little-every-year approach to transportation would come to an end.
Lightfoot would like to see school leaders putting their time and energy into developing more sustainable and innovative ideas for transportation than this annual "slicing away" of one component after the other, she said on May 15. AAPS already has implemented fewer bus stops district wide and expanded its walk zones.
Administrators proposed the cut to high school transportation in April, and earlier this month board members agreed to leave the proposal on the table for now.
The board has until June 30 to finalize cuts and pass a balanced budget.
Cutting transportation is a controversial topic that has residents and board members alike concerned about the impact. Citizens against the cut say it's a budget reduction that disproportionately affects low-income and at-risk students.
"Getting all students to school safely and efficiently should be a priority," said Joan Doughty, executive director of Ann Arbor's Community Action Network and the creator of a MoveOn.org petition against the cuts to busing. "If students don't attend school, they cannot graduate. The future for high school dropouts is a bleak one; and ultimately, we all will pay a heavy price."
At Wednesday's regular meeting, board Secretary Andy Thomas asked district administrators to look into the savings that could be generated from offering just morning busing and not afternoon busing — the idea being that then students have a better shot at getting to school to learn.
District spokeswoman Liz Margolis told AnnArbor.com Thursday that the estimated savings would be half of $466,000, so $233,000. But district officials will need to explore the legality of this, to see whether providing one-way busing is allowed.
She explained the state's regulation of public school transportation is complicated. The state does not mandate that schools provide transportation for students. However, if districts do provide busing, they cannot charge for transportation. Districts also must provide transportation in a way that is equitable.
Margolis said about 1,270 students or 24 percent of all eligible riders at the high schools actually use the bus service available to them. Last year, as part of the budget cuts, AAPS cut three high school bus runs — one at each of the comprehensive high schools — and replaced them with Ann Arbor Transportation Authority routes, requiring students to take public transit to and from school each day.
Getting rid of those three runs in the end saved the Ann Arbor Public Schools about $37,500.
The district purchased AATA bus passes last year for those students that were affected by the change. AATA charged the district a discounted rate of 50 cents per ride, compared to the normal 75 cents per ride for students on AATA buses.
If all high school transportation is eliminated, the district would no longer be able to provide students on those three AATA routes with bus passes, Margolis said. This is because the district legally cannot provide free bus service to some students and not others, and most of Ann Arbor's high school students live outside of AATA's service area, she said.
If the school board decides not to eliminate high school busing, there are three more high school bus runs AAPS could cut and replace with AATA routes for some savings. Margolis said each bus run that is replaced would save the district $12,500. There is one middle school run that could be replaced as well, but Margolis said officials still need to explore how residents would feel about middle-schoolers using public transportation.
Doughty and the Community Action Network have a number of dogs in the fight for maintaining high school busing.
The organization, which provides housing stabilization and educational services for low-income adults and families in Ann Arbor, fears it would likely be faced with increased challenges with students skipping class and having to help families get their kids to school.
CAN's Green-Baxter Court neighborhood is located along the bus run to Huron High School that was cut last year and replaced with an AATA route. Doughty said by eliminating high school transportation and the AATA bus passes, the district is shifting the burden onto its low-income, underserved families and organizations, such as CAN, that already are striving to help students get to school and succeed in every capacity they can.
CAN provides tutors and homework help to teens, she said.
Doughty added most of CAN's families don't have cars and don't have steady employment. Even at the discounted student rate, AATA bus fares would cost families $25 to $30 per month to get their student to school and if a family has multiple students, that can be very expensive.
"Many of the families we serve are extremely low income. They'd run out of food at the end of the month if not for us," Doughty said, adding recently the organization looked at its Hikone neighborhood and of the 26 families living there, just six or seven have working parents. "The rest tend to have mental health or physical or cognitive challenges or disabilities."
Reggie Dalton, director of the Hikone Community Center, said at the Hikone neighborhood, of the 26 families living there, about 17 to 20 families have cars and at any given time, and maybe 8 to 10 of them work.
Hikone students attend Pioneer, and that's about a 3 mile walk if they don't take AATA. Skipping class already is a problem, as the high-schoolers right now are required to walk a mile to their bus stop, which is at Allen Elementary School.
"It's just going to give the kids another excuse not to go to school," Dalton said of transportation being eliminated entirely. "When it's 10 degrees outside and 4 inches of snow ... they're not going to go."
Danielle Arndt covers K-12 education for AnnArbor.com. Follow her on Twitter @DanielleArndt or email her at daniellearndt@annarbor.com.