Posted on
Thu, Sep 22, 2011 : 5:55 a.m.
EMU Board of Regents approves first-ever union contract for part-time faculty
By Kellie Woodhouse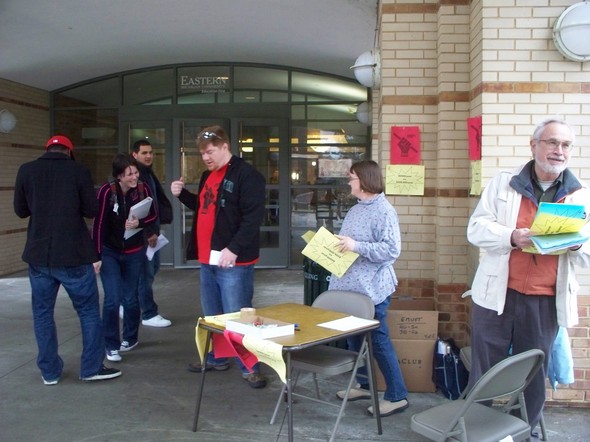 AnnArbor.com file
For Eastern Michigan University part-time lecturer Kay McGowan, it finally feels like her employer of 14 years is listening.
"Our voice has been silent for too long," McGowan said of EMU's part-time faculty, who teach 29 percent of classes on campus. "Now we have a say in some of the situations that affect us on campus."
McGowan's comments come after the EMU Board of Regents voted Tuesday to approve the first-ever contract agreement with part-time faculty.
About 800 contingent lecturers are represented by the new contract, which was ratified last week by the adjunct bargaining unit of the EMU Federation of Teachers. The contract increased and formalized pay and benefits for adjunct professors.
After 14 years of teaching anthropology part time at EMU, McGowan says the contract brings welcome stability.
Before the contract, "you didn't know from one semester to another how many classes you were going to be teaching or even if you were going to be teaching a class at all," McGowan said.
For an institution relatively "dependant on non-tenured faculty," the lack of a consistent pay scale or benefit package for contingent lecturers was remiss, McGowan said.
"We want education first, just like the EMU model says, but we want to be able to deliver that with some sense of job security," she said.
Part-time lecturers voted to join EMUFT during the summer of 2010. That academic year, the union launched a wide-scale effort to promote contract talks.
"The part-time faculty were committed to making known to the EMU administration that the working conditions before the contract were not conducive to the level of teaching that all these teachers wanted to provide," said EMUFT Staff Organizer Robert Vodicka.
Throughout the spring, adjunct faculty spoke at several regents meetings, held a sit-in at EMU President Susan Martin's office and held a rally outside EMU's administration building.
"They were a strong, vocal voice in campus," EMU spokesman Geoff Larcom said. "The union mounted a strong effort to show its interest in organizing."
Vodicka said that ultimately the efforts paid off.
"Without those kind of actions, there was not the progress that people hoped to see in bargaining," he said. "After the actions, there was more progress."
The new contract creates an official pay scale, increasing some part-time lecturers' pay from $600 a credit hour to at least $1,125 a credit hour. It also adds a longevity payment, which awards part-time faculty up to an additional $400 per semester, depending on how long they've taught at EMU.
Additionally, the contract establishes an evaluation process and sets new guidelines for employment terms and notification. If an adjunct has taught at EMU for a certain length of time, then that lecturer is given a longer terms of employment and more advanced notice.
"This affords the lecturers an important sense of stability," Larcom said of this contract. "To get this deal done is significant, given it's their first contract and given their extreme value of the students and the university."
Larcom said the addition of this new bargaining unit creates a total of eight union bargaining units representing EMU faculty and staff.
Kellie Woodhouse covers higher education for AnnArbor.com. Reach her at kelliewoodhouse@annarbor.com or 734-623-4602 and follow her on twitter.