Posted on
Sun, Jan 23, 2011 : 12:03 p.m.
Little Lake Learning Community: A Day in the Life
By James Dickson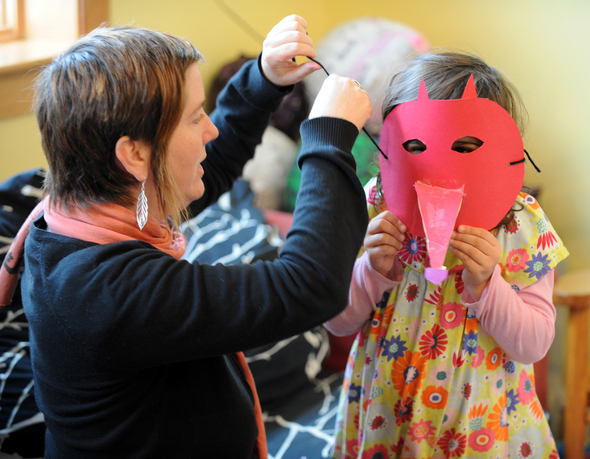 Lon Horwedel | AnnArbor.com
Can free schooling work?
At Little Lake Learning Community, an alternative school in Ann Arbor that opened its doors this fall, "free" means a lot of things. Students chart their own course of study, weaving in science and chess, Dungeons and Dragons with literature.
But in an era where many parents worry about high-stakes standardized testing, the model of education known as "free schooling" has a certain appeal, said Little Lake founder Melissa Palma.
Free-schooling, or schooling driven by the desires of the student and not state or federal standards, is nothing new. From 1971 to 1978, Ann Arbor Public Schools ran a high school, Earthworks, which operated on free-school principles. That was four decades ago.
Even so, you start throwing around the word free, especially related to schooling, especially when there are other free schools operating in town, and people get confused.
Palma and her husband, Rodolfo, who also teaches at the school, fielded so many queries about whether free actually meant no-cost that Little Lake Free School, as it was called when AnnArbor.com profiled it last June, was forced to change its name to the Little Lake Learning Community. The school does offer sliding-scale tuition, though, and discounts for parents who contribute their knowledge in the classroom.
Free also doesn't mean no-cost, though Palma explained the school offers a sliding-scale tuition, with a full-time student paying $733 a month, and would like to offer no-cost classes in the future.
Nor does free doesn't mean free-for-all. Students vote on rules at the school, which meets at the Episcopal Church of the Incarnation, 3257 Lohr Road.
Rules like: No toys allowed during school meetings (Rule No. 14). And: No destroying someone else's work (Rule No. 2).
On the left wall off the main entrance, past a quilt and before the pictures of the church's congregants, hangs the school's rules, which were drafted by students, Palma said.
Many show remarkable restraint for a school where the oldest student is only 14, such as rule No. 15's requirement that all school meetings be 30 minutes or less, or the ban on video game systems as a mode of play.
It's in the rules that the free-schooling philosophy shines through brightest: Kids can set parameters for themselves, given the chance and a voice in the process.
Little Lake's slogan is "Own Your Education." Its symbol is a dandelion. A flower that most people consider a weed, a flower with medicinal uses, a flower whose petals go in a million different directions when stimulated by the wind.
At Little Lake, students' curiosity is the stimulus and teachers the facilitators. But, kids being kids, curiosity can be fleeting -- the kid who wanted to learn how to play Chess 10 minutes ago is already wanting to play Monopoly by the time the board is set up. Asking that curiosity to hold across a 10 week period is much tougher. The challenge is balancing the free school philosophy with a child's shifting interests.
Students who express a particular interest, like Spanish or in World War II, sign a commitment sheet for that class, which says that they'll show up to sessions and demonstrate interest in the subject.
When a student signs a commitment but fails to follow through, he or she might be allowed to miss a class, but will be approached by a teacher afterwards, inquiring why the absence -- did he just not feel like coming that day, which is his right? Has she lost interest altogether and need another challenge?
"We don't force them" to follow through, Rodolfo said.
The school day officially starts at 9 a.m., but the first hour is more for free play among the arriving students. At 10 the day begins in earnest with an all-school meeting. The meeting gives students a chance to talk about what they'd like to learn for the day, and one student presents a brief show-and-tell called "All About Me," explaining a favorite toy or a personal fact. One girl brought in select toys from her doll collection to show the class.
After a class session or two, it's time for lunch at noon, and the students and teachers all eat together, the teachers helping students who bring food in need of preparation.
Most students have two or three more classes after lunch, with some play time mixed in. When 3 p.m. comes it's time for an end of day meeting and clean-up, and parents arrive at 3:45.
Rodolfo said the toughest part of the school isn't the teaching, which he and Melissa and part-time instructor Mary Getz have all done before. The toughest part, Rodolfo said, is implementing a free school paradigm that none of the teachers grew up in, and allowing students to go at their own pace - or not go at all, if that's what the child wants that day.
"You only have one 'first year,'" Melissa Palma said. "We're all trying to find that formula of how much to push and how much to let students go at their own pace."
Partly because it skews young, with only 3 of its 16 students over the age of 11, Little Lake can sometimes resemble a day care, with students running every which way, some inside, some outside, some learning, some playing games and no one required to do anything in particular.
But whether they're playing or learning, the students spend hardly any of their time watching on as an adult lectures. The short school day and kids' ability to play when they want means that the young minds are always being engaged, even if it's not in service of any particular curriculum or standardized test.
Despite having a son in the public school system, Kary Young feels that Little Lake is a better fit for her daughter Lucia, 4. She sounded a concern about the practice in public schools of "teaching to the test," rather than just teaching. She appreciates Little Lake's focus on development of the whole child - the moral child, the social child, the curious child - and not just on academics.
She feels Little Lake has been a great fit for her daughter, but her husband is still concerned about what Lucia might miss at Little Lake, which doesn't give grades or base its curriculum on state standards.
"It's a leap of faith," Young said of the Little Lake approach as she packed up her daughter. "I think kids need the individual attention they get here, but at home I've still got some convincing to do."
James David Dickson can be reached at JamesDickson@AnnArbor.com.