Posted on
Fri, Apr 19, 2013 : 12:08 p.m.
Ann Arbor schools budget discussions: More chances to participate planned
By Danielle Arndt
The Ann Arbor Public Schools has scheduled two community forums on the budget for May. Meanwhile, the last budget dialogue hosted by the Board of Education will take place Saturday.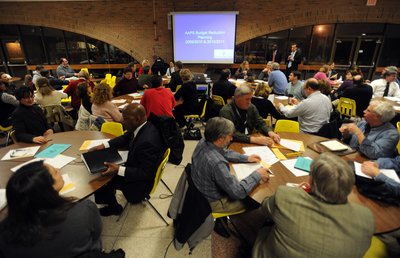 Melanie Maxwell | AnnArbor.com file photo
The Ann Arbor school board took a new approach to hearing from the community this budget cycle with a series of four community dialogues.
The dialogues have been spread out across the district at multiple schools and at various times of the day. Board Treasurer Glenn Nelson said the events have been well attended, with between 60 and 120 people showing up to each one.
He said the trustees leading the dialogues give a 10- to 15-minute introduction on the district's budget situation and the initial potential cuts that have been costed out by school officials. Then the group as a whole spends time talking about what community members came desiring to talk about, Nelson said, adding the dialoguess have been quite successful and the board appreciates the input it has received on the budget.
Saturday's budget dialogue will take place from 9-11 a.m. at Scarlett Middle School, 3300 Lorraine St. The trustees scheduled to lead the discussion are Nelson, Susan Baskett and Deb Mexicotte.
Central administration will present its proposed budget, complete with cuts, to the Board of Education at Wednesday's regular meeting, which begins at 7 p.m. at the downtown Ann Arbor District Library. According to the district's most recent revenue projections, AAPS officials will need to cut approximately $8.67 million from the district's operations in order to balance the budget for the 2013-14 academic year.
Initially, officials projected they would be working with a $17 million to $20 million hole plus a $2.5 million current-year deficit. However, Superintendent Patricia Green enacted a spending freeze for the remainder of the 2012-13 school year and decided not to fill the deputy superintendent of operations position after Robert Allen left. In addition, the teachers union agreed to about $3.4 million in pay cuts.
After the administration presents its proposed budget to the board Wednesday, it will offer two community forums on the budget:
Danielle Arndt covers K-12 education for AnnArbor.com. Follow her on Twitter @DanielleArndt or email her at daniellearndt@annarbor.com.