Posted on
Thu, Apr 11, 2013 : 5:59 a.m.
Revenue report: Budget outlook $8.67M brighter for Ann Arbor Public Schools
By Amy Biolchini
Editor's note: This article has been edited to clarify that the new budget projects include staff salary cuts. Updated revenue projections and staff salary cuts for the Ann Arbor Public Schools in the 2013-14 school year indicate the district will need to cut nearly $9 million less than it anticipated about six months ago, district officials said Wednesday.
Initial projections left the Board of Education and district administrators grappling with a $17 million budget hole that would need to be cut from its operations. New revenue estimates now indicate the deficit is $12 million, which has been partially offset by $3.4 million in salary cuts agreed to by district staff in March.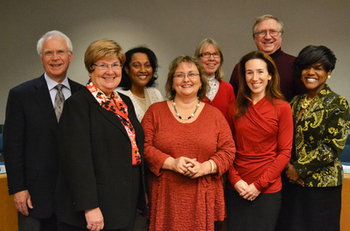 Courtesy AAPS
Updated budget projections indicate about $8.67 million will need to be cut from the district's operations for the 2013-14 school year, according to the district's Chief Financial Officer
Nancy Hoover.
The information was a part of a revenue report from Hoover Wednesday night at the Ann Arbor Board of Education's regular meeting.
It's the first of two reports on the 2013-14 budget outlook, as the next will be April 24 on expenditures.
"It is still nearly $9 million in cuts … I don't think we quite even know how we're going to get to $9 million," said school board President Deb Mexicotte, noting, "This is a much-improved outlook."
Budget proposals are being floated at the state level by Gov. Rick Snyder, the Michigan House of Representatives and Senate that each contain different levels of funding for schools in the state, adding a certain degree of uncertainty to Hoover's revenue projections.
Per-pupil state funding, or foundation allowance, is projected to remain the same as it has for the past three years at $9,020 per student. There are about 16,269 students in the district.
The district's $180.59 million projected revenue for its general fund in 2013-14 is comprised as follows:
$145.9 million in foundation allowance
$2.84 million from local sources, including $800,000 from pay-to-play and athletics, $1 million from the parking project and $500,000 in tower rentals at school facilities
$13.53 million in state sources, most of which comes from special education reimbursements and retirement funds
$18.32 million in inter-district and financing sources, most of which comes from special education reimbursements
Spending for 2013-14 projected to be $192.66 million. Of that figure, the district will save $3.4 million in concessions made by three unions, resulting in total net spending of $189.26 million.
Ann Arbor Public Schools Superintendent Pat Green thanked the union members Wednesday for taking salary cuts.
Green told AnnArbor.com in a March interview that she would accept a cut to her $245,00 salary to help balance the budget.
The principal's union has called for a $50,000 reduction to her salary.
In November, initial budget projections showed a $17 million deficit that would have to be cut from the district's operations.
The board had asked for an early budget projection at that time as it was concerned that the district would be facing a large impending deficit in the 2013-14 budget cycle and wanted to prepare accordingly.
"At that time we were told by our administrative staff, appropriately, that the revenue projections included a lot of unknowns. … We were following our due diligence in asking for a budget early in the year," said Trustee Andy Thomas, noting that even cutting $8.67 million instead of $17 million will still be tough.
Fluctuating state reimbursement rates for certain programs have accounted for the majority of the positive change in the revenue outlook for the school district.
AAPS administrators have yet to present a budget proposal and have not made decisions regarding programs or schools that would be up for elimination or reduction.
A number of music, theater and athletic programs, as well as school operations, have been scrutinized in the mean ime.
As operations at Roberto Clemente Student Development Center in Pittsfield Township are again under the magnifying glass during the budget development process for the district, school board members voted late Wednesday night to place an item on a future board agenda to discuss the school. The motion was made by Trustee Susan Baskett.
The revenue outlook could change once again for the AAPS as various state budget proposals have been floated.
Per-student allocations through the Best Practices Incentive Funds would be reduced from $52 to $16 under Gov. Snyder's proposed budget, which would also add more requirements for schools to meet in order to receive the money.
"We have had to jump through hoops to get the Best Practice Incentive Funds … and now they want to cut it down to $16 per student?" said Trustee Simone Lightfoot.
Lightfoot said she was concerned that meeting the additional requirements would cost the district more than it would receive through the program in 2013-14.
The reimbursement rate in the previous 2011-12 school year was $100 and had fewer stipulations than the number required now for receiving the funding.
The school district has been hosting a series of community dialogs on the budget to engage the public in the process. The final two are:
11:30 a.m. to 1:30 p.m. Tuesday, April 16 — Fourth Floor of the Ann Arbor Public Library, 343 S. Fifth Ave. Board members expected to attend: Irene Patalan, Glenn Nelson and Deb Mexicotte.
9 to 11 a.m. Saturday, April 20 — Scarlett Middle School Media Center, 3300 Lorraine St. Board members expected to attend: Susan Baskett, Nelson and Mexicotte.
Amy Biolchini covers Washtenaw County, health and environmental issues for AnnArbor.com. Reach her at (734) 623-2552, amybiolchini@annarbor.com or on Twitter.