Posted on
Thu, Mar 14, 2013 : 5:59 a.m.
Ann Arbor principals union: Reconfigure school buildings and reduce Green's salary by $50,000
By Danielle Arndt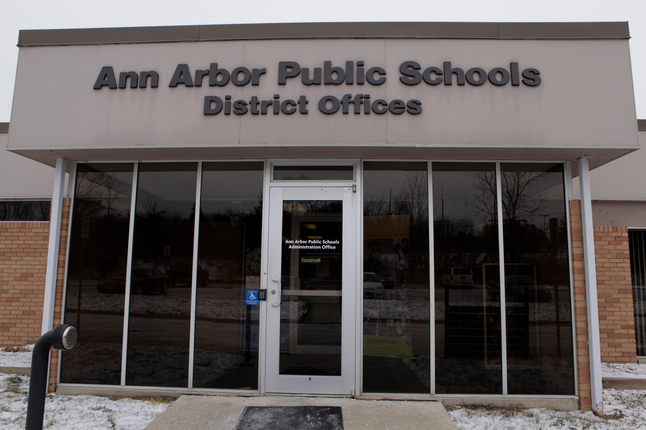 AnnArbor.com file photo
Building closures, redistricting, selling property to the
University of Michigan
, opening the teachers union contract and rescinding cabinet members raises were among 31 recommendations the Ann Arbor principals union presented at Wednesday's Board of Education meeting.
The recommendations come one week after Superintendent Patricia Green said she would not be recommending building closures or redistricting for the 2013-14 academic year. The second-year superintendent said it would take 18 months to properly assess and prepare for considering school closures.
Green said her staff is working on action plans for how to approach redistricting but that the measure would not be considered any earlier than the 2014-15 budget cycle.
But redistricting was the primary component of the recommendations co-president Michael Madison gave to the school board and central administrators Wednesday on behalf of the Ann Arbor Administrators Association.
The AAAA is comprised of about 50 principals, assistant principals and other building leaders in the Ann Arbor Public Schools. Madison said 75 percent or more of the union members supported the recommendations, which the group collectively asked district administration to "strongly consider" for the 2013-14 academic year.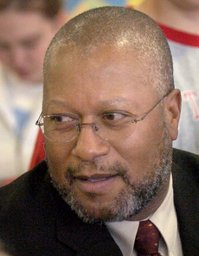 AAPS faces budget reductions of $17 to $20 million, and finance officials currently are in the processing of costing out a number of potential cuts.
Elementary principal sharing was on the most recent list of potential reductions. This move would eliminate an estimated 10 individuals or about 21 percent of all of the district's principals, according to recent budget documents. It would save an estimated $1 million.
Other possible reductions that could impact the AAAA would be salary reductions. District officials have expressed looking at 1-percent pay cuts across the board — all departments and positions — with the superintendent herself pledging to take a pay cut.
The AAAA leadership didn't address these specific potential reductions Wednesday night. But the recommendations did come on the heels of yet another unusual move from the generally quiet, behind-the-scenes union.
Earlier on Wednesday, the AAAA issued a public statement on administrators' salaries. The statement was published on AnnArbor.com.
Madison called the statement "a rarity in the past decade," but stressed a need to inform the public in light of the "massive financial reduction" the district is facing.
"This reduction will result in programming cuts that will certainly change the 'look and feel' of the district and impact the students and families that we serve every day," the AAAA statement said.
It highlighted that central administrators — the superintendent and her immediate cabinet — have received pay raises in spite of the economic downturn throughout the past two years, while AAAA members have experienced reductions in pay through local, state and federal mandates, as well as increased health care and pension costs.
The principals union called for the community to look for more sustainable measures for budget cuts.
Among those cuts that Madison presented Wednesday were rescinding the raises cabinet members received. The union also called Green to reduce her $245,000 salary by $50,000 — the equivalent of a 20.4 percent cut.
Green said after the school board meeting that Madison's presentation was the first she and her staff had heard the recommendations. She said administration would look at the items and take them into consideration.
"We like it when people give us ideas," she said.
Five of the ideas from the AAAA involved major building reconfigurations:
Redistrict to save on transportation costs. It was noted at a December school board meeting that some students, for example at Burns Park, are bused past multiple elementaries en route to school every day.
Take the elementary buildings and created grade-level targeted schools for K-2 and 3-4. This will restructure everyone and no one neighborhood will feel targeted, Madison said.
Sell Angell Elementary School to the University of Michigan.
Move the Roberto Clemente alternative high school program into a current underutilized elementary building that would become available through redistricting. Sell the existing Roberto building.
Decentralize central administration by placing staff in buildings throughout the district. Sell the vacant Balas Administration Building to U-M or to an investor for business use.
Balas staff was the target of several additional recommendations from the principals union. The union asked school officials to look at how many central office personnel were hired in the past 12 months and to "determine if they are really needed."
AAAA called for eliminating Deputy Superintendent for Human Resources David Comsa's position. Comsa was one of two cabinet members who received a raise in December 2011. The other was Deputy Superintendent for Operations Robert Allen, who recently left the district to take a job in North Carolina. Green has said she will not be refilling Allen's position.
Madison did urge Green to refill the district's two open principal positions as soon as possible. Because of the administrator cuts that could be on the horizon with elementary principal sharing as a possible budget reduction, the union encouraged the district to promote from within. Madison said he'd like to see AAAA members fill the vacant spots at Skyline High School and Clague Middle School "before bringing in more members from the outside."
The Skyline position was opened Tuesday to AAAA members.
Skyline Principal Sulura Jackson will leave AAPS in June to take a position in North Carolina, and former Clague Middle School Principal Cindy Leaman now serves as the principal of Pioneer High School. Former Pioneer Principal Michael White retired at the end of the last school year to take a job out of state. Leaman was selected in December as White's successor.
At the Feb. 27 meeting, it was made known that the Ann Arbor Public Schools is $2.5 million in debt for the current school year because of needing 29 more staff members than it planned for during the budget process. Twenty-four of those staff were teacher assistants that were required either for high student-teacher ratios in classrooms or for special needs students' Individualized Education Plans (IEPs), school officials said.
The Ann Arbor principals association strongly encouraged Wednesday that the administration examine the number of TA positions within the district and ascertain whether they are strictly being used for special education purposes.
Madison said full-time TAs are not always needed and ancillary assignments often are given to these TAs to fill up the TAs' time. He said some TAs could work with multiple special education students.
Madison also said Ann Arbor needs to prevent TAs from working when there are no students in session. He said AAPS is the only district that does this.
The AAAA also recommended eliminating all district coordinators, such as the volunteer coordinator; one of Ann Arbor's three assistant superintendents; and subject area department chairpersons to also further reduce central office staff.
Other new recommendations included:
Eliminate paper copies of student report cards.
Stagger start times for schools to reduce transportation costs by sharing drivers.
Add five to 10 minutes to each school day and end school two to three weeks early to save transportation and building operation costs.
Privatize grounds maintenance, such as snow removal and lawn care service.
Eliminate instructional service "luxuries," such as the U-M world languages program for third- and fourth-graders and the Partners for Excellence program that pairs schools with area businesses and organizations "to increase community involvement in the schools, enhance classroom learning and provide assistance with school improvement projects," according to the program's website.
Allow schools to send home "suggested supply lists" with students.
Eliminate the director of technology position and promote someone from within to assume the role with an additional $25,000 in salary.
Eliminate elementary noon-hour supervisors and replace with required teacher supervision.
Open the Ann Arbor Education Association contract and cut excessive language.
Reduce the number of substitute days given to teachers to a total of 10 per year and give incentive pay to teachers when they retire ($45 per day) for sub days not used.
Freeze all new hiring and promote from within.
Of the potential budget reductions already costed out and looked at by district officials, the AAAA affirmed one of the possible reductions: cutting seventh-hour at the high schools for a savings of $500,000.
The AAAA also recommended eliminating late busing at the middle schools. However, this busing is no longer paid for by the Ann Arbor school district.
The school board cut late busing, which is for transporting students home from sports practices and after-school activities, during last year's budget process. But this service was restored due to donations from both the Ann Arbor PTO Thrift Shop and the Ann Arbor Public Schools Educational Foundation.
Eliminating fifth-grade instrumental music is on the district administration's list of potential cuts for a savings of $500,000. The AAAA recommended instead moving the instrumental music program to sixth grade. It is not clear how this would impact the potential cost savings.
"Make no mistake about it," Madison said following his presentation of the group's recommendations. "When the dust settles, ... it will be the responsibility of the members of quad-A to greet parents and to greet staff. ... We will reassure all that everything will be OK."
Danielle Arndt covers K-12 education for AnnArbor.com. Follow her on Twitter @DanielleArndt or email her at daniellearndt@annarbor.com.