Posted on
Wed, Apr 17, 2013 : 10 a.m.
New bills would allow districts to spend sinking fund money on technology, transportation
By Danielle Arndt
Two new bills introduced in the Michigan House of Representatives would lessen restrictions on how school districts are allowed to spend sinking fund money.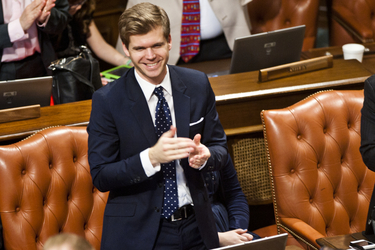 Mike Mulholland | MLive.com file photo
Ann Arbor
Democrat
Adam Zemke
and Dearborn Heights Democrat
David Knezek
introduced the legislation. If passed, the bills would permit sinking fund dollars to be used for technology purchases and upgrades, as well as transportation-related spending and busing repairs.
House Bills 4483 and 4515 are in addition to legislation introduced by Zemke in March (HB 4368) that would allow sinking fund expenditures to include security equipment and other school safety measures.
"These bills expand local control by giving school districts, and the people who live in them, more of a say in funding decisions," Zemke said. "Rather than simply accepting the decisions made for them in Lansing, community leaders can have another tool at their disposal to improve schools and give kids a brighter future."
Sinking funds may only be used for capital improvement or enhancement projects under existing laws.
"Many school districts find themselves unable to provide students with the latest technology as a result of the deep funding cuts that have been imposed over the past few years," Knezek said. "Technology in the classroom supplements a high quality education and ensures our children are ready to enter the 21st century workforce."
The Ann Arbor Public Schools district is preparing for a sinking fund millage renewal sometime within the next year. Planning a millage campaign was identified as one component of the board's financial goal for the 2012-13 academic year.
Ann Arbor's current millage collects 1 mill from district taxpayers and expires in 2014. It was last renewed by voters in 2008.
Passing a sinking fund millage has financial benefits that a bond does not, school officials said. A bond millage requires the district to borrow the full amount of the bond upfront from a third-party lender, whereas a sinking fund millage enables the district to spend taxpayers' money as it is collected.
State law allows schools to levy up to 5 mills in property taxes for no longer than 20 years.
Danielle Arndt covers K-12 education for AnnArbor.com. Follow her on Twitter @DanielleArndt or email her at daniellearndt@annarbor.com.