Posted on
Mon, Jul 29, 2013 : 5:59 a.m.
Ann Arbor elementary principal remains on paid leave after 4 months of investigation
By Danielle Arndt
Previous coverage:
Carpenter Elementary School students will start class this fall under the supervision of an interim principal while district officials continue to investigate claims of harassment involving Charles Davis Jr.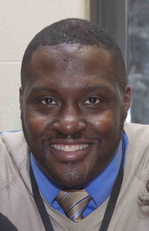 Davis was in his second year as principal of Carpenter when he was placed on
paid administrative leave
in early March. An investigation has been underway for nearly five months.
A letter from Human Resource Director Cynthia Ryan, informing Davis of his leave of absence, states there are allegations that Davis violated the Ann Arbor Public Schools harassment policy and "other potential violations."
Davis earns a salary of $96,975 as Carpenter's principal.
District spokeswoman Liz Margolis said Thursday there has been no change in Davis' employment status with the district; he remains on a paid leave of absence until further notice.
The district does not comment on personnel matters, Margolis said. The investigation by the human resource department is ongoing, and there is no time frame for when the investigation will be completed, she said. She added that from what she has been told, interim principal Ed Broom will be listed as the interim building leader on correspondences with parents about the beginning of the school year.
Broom has been an assistant principal at Scarlett Middle School for the past seven years. He was temporarily placed at Carpenter in March upon the news of Davis' leave. Jaye Peterson, a physical education teacher at Scarlett, will continue to serve as acting assistant principal at Scarlett in Broom's absence.
A May 2012 memorandum from central administration to Davis shows a history of concerns and complaints about Davis from teachers at Carpenter.
The memorandum describes a conference that took place in April 2012 and involved Davis, Assistant Superintendent for Elementary Education Dawn Linden, Ryan and Davis' union representation. The purpose of the meeting was to discuss the series of allegations regarding Davis' leadership at Carpenter.
In the document, which was obtained by AnnArbor.com, Linden detailed discussions of the meeting and the various allegations. The allegations included sharing negative impressions of teachers' job performances with other staff, being dishonest with staff members regarding changes to teachers' grade-level placements, creating a climate of fear and intimidation at Carpenter and making inappropriate comments to colleagues that contained foul language.
The memorandum suggests Davis pursued and questioned staff members seen talking to each other and their union representation.
"Teachers reported closing their doors and refraining from conversing together due to concerns about how their interactions will be viewed by you," Linden wrote in her 2012 memorandum to Davis. "In response, you shared that some teachers are rebelling against the high standards that you have set this year in your building, and are embellishing and in some cases being completely untruthful about your interactions.
"During our discussion, we talked about your intent versus teacher perception and the implications of 40 percent of your teachers sharing feelings of intimidation and fear."
Linden also warned Davis in the memo that he should "take great care" in conducting himself professionally and with integrity.
"... It is expected that you cultivate a positive school climate based on trust. School climate hinges on the perceptions of your constituents. Setting high standards and holding staff accountable are not exclusive to respectful relationships," Linden wrote. "Be mindful of your interactions and exercise sound judgement. ... You are in the process of defining your leadership style and this feedback should be seen as an opportunity to fine-tune your approach in building your team and enlisting them to help you achieve your vision."
In his most recent performance evaluation, which was in June 2012, Davis received an overall rating of "effective." He was scored on 43 performance measures and received an "effective" rating in 35 areas, a "highly effective" rating in one area and a "minimally effective" rating in seven areas. He did not receive any "ineffective" scores.
Linden, who conducted his review, recognized Davis' efforts to create a new vision of "becoming exceptional" at Carpenter Elementary. She also congratulated Davis on leading his staff toward an increased use of student achievement data in instructional planning and delivery, for improving grounds and building cleanliness and for reducing the number of student suspensions from 2010-11 to 2011-12.
AAPS hired Davis prior to the 2005-06 academic year as a resource teacher at Stone High School (the recently renamed Ann Arbor Technological High School). He spent three years as a math teacher at Stone before teaching fourth and fifth grade at Haisley Elementary School. During the 2010-11 school year, Davis served a stint as interim principal at Haisley, after which he was named principal at Carpenter.
Davis received all complimentary teacher evaluations dating back to December 2005.
Danielle Arndt covers K-12 education for AnnArbor.com. Follow her on Twitter @DanielleArndt or email her at daniellearndt@annarbor.com.