Posted on
Tue, Apr 23, 2013 : 5:58 a.m.
'Not on the backs of Pioneer': PTO rallies community to discuss budget proposals
By Danielle Arndt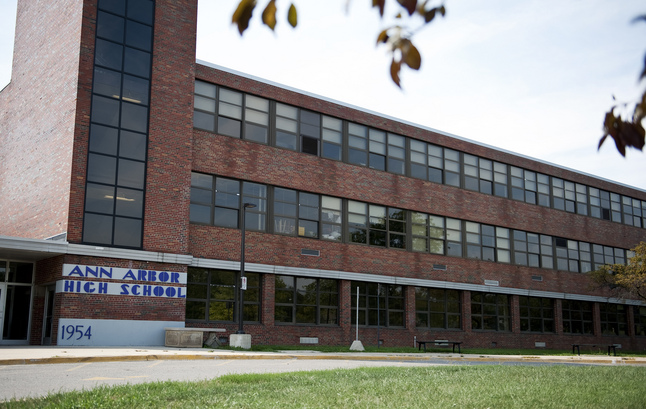 Daniel Brenner | AnnArbor.com file photo
The Pioneer High School Parent-Teacher-Student Organization has some concerns about the initial proposals the district administration has targeted to close its budget gap for the 2013-14 academic year.
And while budget reductions have occurred repeatedly for years now throughout the Ann Arbor Public Schools, stakeholders in the Pioneer community are growing weary of what they perceive as an unfair number of cuts affecting their building.
Many members of the Pioneer PTSO feel "Pioneer is the first one to take cuts and be accommodating," said group member and high school parent Maureen Frost.
"We recognize that cuts have to be made and that everyone has their own selfish issues and things they don't want to have happen, but we feel these kids have shared in the sacrifice."
The group is rallying staff, students, parents and other community members to discuss the proposals on the table this year, which include eliminating the seventh-hour option at Huron and Pioneer, moving the Roberto Clemente alternative program into Pioneer, eliminating or significantly reducing the funding for Pioneer Theatre Guild and cutting high school sports or increasing pay-to-participate fees.
These were among a preliminary list of possible budget cuts the administration proposed in December. Superintendent Patricia Green and her cabinet will make their formal recommendation on cuts for the 2013-14 academic year at Wednesday's regular school board meeting, which starts at 7 p.m. at the Ann Arbor District Library.
But before that, the Pioneer PTSO is hosting a meeting at 7 p.m. Tuesday in the school cafeteria to rally around their students.
"We are in education mode," an email the PTSO sent around stated. "We need to let families know what is happening and we need to let board members know that Pioneer is not always the school that has to make sacrifices to support other programs. We have to unite as a school, as a community, to work together."
The PTSO invited current ninth-, 10th- and 11th-grade families to participate in the meeting, as well as eighth-grade families from Tappan and Slauson middle schools, which feed into Pioneer High. Board members and central administrators also were invited to hear staff and parents' concerns. But as of Friday, PTSO leaders were unable to confirm whether any administrators planned to attend the event.
One of the biggest beefs Pioneer families have is being blindsided by the proposal from administration to move the Roberto Clemente Student Development Center alternative program to a wing of the comprehensive high school, Frost said.
She said the idea to move in Clemente was not communicated to the Pioneer community until the recommendation already had been made public. She added overcrowding continues to be an issue at the school.
Pioneer had a fall enrollment of 1,651 students, which is over its building capacity of 1,615 students. Huron's fall enrollment was 1,612 and Skyline's was 1,501.
Colleen Creal is a counselor at Pioneer helping to organize Tuesday's PTSO meeting. She said among the benefits administrators cited for housing Roberto Clemente at Pioneer is the alternative high school students would be able to participate in Pioneer's elective courses. However, as a counselor, she said scheduling for electives and even core classes is already an issue. And with the seventh-hour option on the table it is expected to become even worse, Frost added.
"There are a lot of important things the board has to decide, but not on the backs of Pioneer High School," Creal said. "We are bleeding staff and students and want to redefine ourselves but these changes aren't helping."
She said Skyline High School was constructed to help alleviate overcrowding at Pioneer. But shortly after the school began to see fewer students, the Community Education and Recreation Department was moved into the building. Then this year, the district opened up the school to in-district transfers for 2013-14, bringing in another 25 students to the already full building, Creal said. She added Pioneer's class sizes are larger than the other comprehensive high schools and the school had more in-district transfer requests than the other buildings.
The counselor feels as though the board is out of the loop and hopes Tuesday's PTSO meeting can repair some misconceptions.
"There are a lot of concerned parents, the morale in the staff is low... Every time we turn around, we are being asked to handle more students," Creal said. "We don't think the board knows some of this stuff, that it's not being communicated or that the central administration is not painting an accurate picture of how strongly the community feels."
Creal added that as a counselor, she recommends the Roberto Clemente experience each year for many students who are not able to be successful at Pioneer.
"... These are kids who would love to (succeed) here but for whatever reason, it's too much for some... I've seen kids leave here and do amazing things in a smaller setting," she said.
Danielle Arndt covers K-12 education for AnnArbor.com. Follow her on Twitter @DanielleArndt or email her at daniellearndt@annarbor.com.