Posted on
Fri, Mar 8, 2013 : 2 p.m.
Ann Arbor fields 81 applications in first year of allowing transfers to Huron and Pioneer
By Danielle Arndt
Previous coverage:
Editor's note: Incorrect information about freshmen from outside of the district being accepted through open enrollment to Skyline has been removed from this article. District Spokeswoman Liz Margolis said the only students accepted to Skyline from outside AAPS are freshmen of staff members.
The Ann Arbor Public Schools fielded 81 applications from incoming ninth-graders in its first year of allowing in-district transfers to Huron and Pioneer high schools.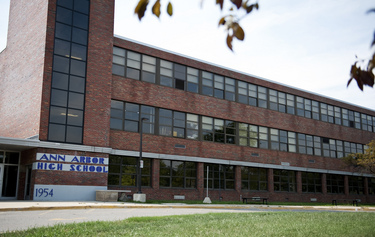 Daniel Brenner | AnnArbor.com
The school board
gave the green light
in December for district administrators to experiment with open enrollment at Ann Arbor's two largest high schools.
The district opened 25 seats at both Huron and Pioneer for students wishing to attend one of the high schools but who live outside of the schools' attendance boundaries.
Eight students from Pioneer and 23 students from Skyline applied to attend Huron High School in the fall, for a total of 31 applications. Pioneer received 50 in-district transfer requests, 25 from Skyline and 25 from Huron.
Because more students applied than there were seats available, a lottery was conducted at the comprehensive high schools. The extra 25 students who were not offered placement at Pioneer will be placed on a waiting list until September and could have the opportunity to enroll should students among the initial 25 end up not enrolling. The same is true of the six students at Huron.
District administrators are concerned about the 48 students from Skyline who applied for an in-district transfer. There appears to be a trend of declining enrollment at Skyline.
Data show that from 2011-12 to 2012-13, Skyline had 22 fewer students enrolled. The number of open-enrollment applications also has decreased since the school first opened.
How many students applied to attend Skyline for the 2013-14 academic year through the open-enrollment process has not been made available yet by the district. For the current school year, just 113 incoming freshmen outside of Skyline's attendance boundary applied, and 72 of those students ended up enrolling.
Whether Ann Arbor Public Schools will open up any of its buildings or grades to Schools of Choice for the 2013-14 academic year is not known yet. The Board of Education must approve the Schools of Choice seats annually. The board has not received a recommendation from administration for Schools of Choice yet for fall.
Last spring, the district allotted 170 seats for Schools of Choice. Traditionally, it has not permitted Schools of Choice at its high schools.
School officials said the district will need to look into why it is losing students at Skyline and why the school is not attracting applications from out-of-district students as was intended.
Community High School, Ann Arbor's purely choice high school that does not have an attendance boundary, has seen an increase in applicants in recent years. The school fielded a record 454 applications from eighth-graders for the fall.
Danielle Arndt covers K-12 education for AnnArbor.com. Follow her on Twitter @DanielleArndt or email her at daniellearndt@annarbor.com.