Posted on
Sun, Jun 9, 2013 : 5:57 a.m.
School board stipends: Fair compensation or a luxury of the past?
By Danielle Arndt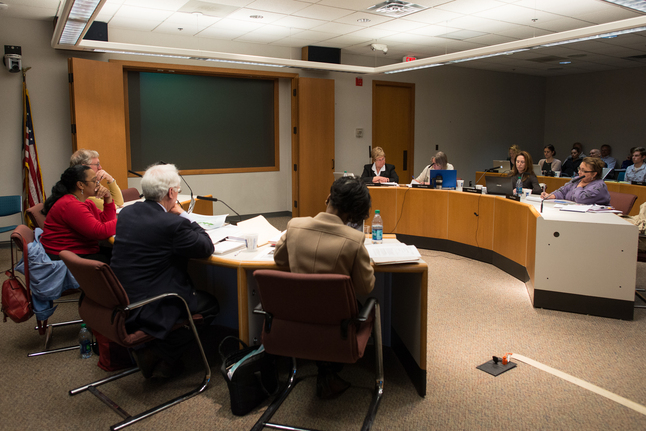 Courtney Sacco | AnnArbor.com file photo
Desperate times call for desperate measures.
It's a statement that recently has played out in school districts across the state of Michigan, as the number of traditional public schools facing staggering deficits and elimination of key educational services for Fiscal Year 2014 grows.
In Ann Arbor, high school transportation; more than 80 employees, including about 50 teachers; middle school pools; and several athletics programs are on the chopping block for the 2013-14 academic year.
However, one item not on the table is school board members' per diem stipends.
According to officials, trustees in the Ann Arbor Public Schools earn a stipend of $130 per month or $1,560 per year for attending meetings. Multiplied by seven school board members, and the cost to AAPS for board salaries is $10,920 — a pittance in reality, at less than 0.2 percent of the district's $8.67 million deficit.
But is eliminating these payments a necessary symbolic gesture in tough financial times? Some school trustees across Michigan have thought so.
The Michigan Association of School Boards doesn't know very many local districts that offer board members compensation anymore, said Communications Director Pam Jodway.
Brad Banasik, legal counsel for the MASB, said he wouldn't call giving up these stipends a trend, but added he has heard of it happening more and more frequently.
"First and foremost, the main reason boards do this is as a show of support to teachers and the community," he said. "Schools are making a lot of difficult decisions right now. And even though the board stipend is such a minute part of a school district's budget, some members believe: how can we expect teachers to make concessions and the community to accept layoffs and programs being cut (if we keep our stipends)?"
The idea of board sacrifice and symbolic gestures was debated recently in Ann Arbor, when the Board of Education agreed to slash $65,000 from next year's budget for discretionary food purchases for meetings and events throughout the district. And at the same time, the board expressed it would maintain a $5,000 line item for food for trustees and administrators during school board meetings. Only one trustee, Secretary Andy Thomas, has verbalized a desire to sacrifice the board's food expenditures.
Payment history
Board service in Michigan is considered a voluntary position and language that called for public school trustees to be offered per diem allowances was struck from the books in about 1996 or 1997, Banasik said.
"When the school code was revised, it was the intent of the Legislature to provide more local control to school boards," he said.
A section of the state's Revised School Code does still address payment for members of an intermediate school district board. This section states:
An intermediate school board member shall receive a per diem allowance for attendance at meetings convened in accordance with the bylaws of the intermediate school board or held pursuant to law. Except as provided … the intermediate school board, by resolution, may authorize compensation which shall not exceed $30.00 per meeting, subcommittee meeting or authorized duty, if the duty is related directly to the member's responsibility as a board member and if the duty is authorized in advance by resolution of the board. … A board member shall not receive compensation for more than a total of 52 meetings … unless the majority of the board votes to remove this limitation.
Banasik said this same language previously was applied to local public school districts as well. But because it isn't any longer, any compensation for local school boards would need to be outlined in their governing bylaws.
"… This was just one of the restrictions (the Legislature) took out (to give control back to the schools), but a lot of the boards went ahead and just continued that amount," he said. "I see no problem in allowing a stipend for local board members. Almost all public, elected officials receive some type of stipend for their work and service to the community."
Banasik said the MASB does not advise local districts one way or the other on the topic of stipends. He said the organization believes that's a local decision that should be made while considering the district's financial means and community values.
It is not clear how many school districts in Michigan still have provisions permitting school board member stipends. The MASB will conduct a survey "every so often" of school districts on the topic to see, Banasik said. But he added the most recent survey data is more than 10 years old.
Comparing local stipends
Despite a section in the Revised School Code allowing ISD board members to earn up to $30 per meeting, the Washtenaw Intermediate School District board has not earned an allowance since early 2010. WISD Communications Director Emma Jackson said the board voted at that time to suspend the stipend indefinitely.
But the Ann Arbor Public Schools is not alone in Washtenaw County in compensating its Board of Education members. However, it is the only district that receives a monthly stipend. Most of the other school trustees receive a per-meeting amount, some for just regular and special meetings, while others also are paid for subcommittee or standing committee meetings.
Broken down per meeting, AAPS trustees make about $43 per meeting, based on a schedule of two regular meetings and one study session or subcommittee meeting per month.
Saline school board members earn $30 for each regular and special board meeting they attend, payable at the end of each calendar year. Typically, Saline has 21 board meetings in a year — two per month, except July, August and December — so this equates to about $630 per board member or $4,410 in total annual cost to the district.
Plymouth-Canton schools in Wayne County pays its board members $30 per meeting, but it also pays for workshops and committee meetings. Plymouth-Canton is larger than AAPS with 17,998 students enrolled in fall 2012, compared with Ann Arbor's 16,635, according to the Center for Educational Performance and Information.
Trustees in Willow Run earn $25 per regular, special or standing committee meeting, according to current board policy.
The number of meetings Willow Run has conducted this past school year has exceeded the typical number as a result of the consolidation effort with Ypsilanti Public Schools, which does not give its board members a stipend. Prior to the merger being passed, Willow Run had two meetings per month, so board members would have earned $600 annually, at a total cost to the district of $4,200. However, several trustees do not accept the stipend or donate it back to the district, said Superintendent Laura Lisiscki.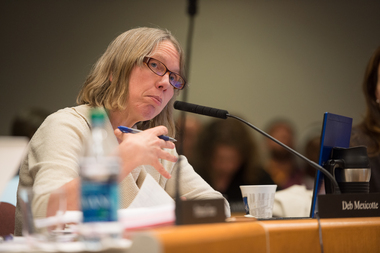 Courtney Sacco | AnnArbor.com file photo
Three Ann Arbor school board members - Deb Mexicotte, Christine Stead and Andy Thomas - also do not keep their stipends. They donate their board salaries to the
Ann Arbor Educational Foundation
. Several Saline trustees also donate their stipends to the
Foundation for Saline Area Schools
, officials said.
Chelsea School District board members also earn $25 per meeting that they attend and are paid at the end of the calendar year. They do not get paid for committee meetings. The Chelsea school board also typically meets about 21 times per year, so trustees earn $525 annually, which costs the district a total of $3,675.
Manchester Community Schools Board of Education members earn $5 per meeting. However, administrative assistant to the superintendent Pam Lee said all of the board members give the stipend back to the district by not accepting payment.
Lincoln school trustees cut their $25 per-meeting stipends and struck them from board policy in August 2006 in a round of budget reductions, said district administrative assistant Jean Fensch.
Ann Arbor board president Mexicotte said eliminating or reducing the board's stipend has been discussed on and off through the years since she was first elected in 2003.
"But no one ever brought a motion to the table," she said.
Mexicotte said she believes the board has a general "discomfort" in saying someone else doesn't need the money or deserve to be compensated for the work they do.
"On the one hand, it certainly isn't life-changing money. It's there for the purposes of making travel or incidentals that might go along with board service just a little easier," she said. "But we can't walk in each other's shoes. ... It's hard for people to decide that it's not appropriate or that someone else doesn't need that amount of money ... when we're all sacrificing our time and energy for the service of the district."
Mexicotte said donating the money or not accepting it should be a personal decision. As a whole, the board believes people should be appropriately compensated for the work they do — it's a concept the board applies when thinking about Ann Arbor's teachers and other staff. She said trustees spend typically 10 to 15 hours per week on board-related tasks and meetings. So it is similar to a mini part-time job, she added.
Board members also are expected to attend graduation and award ceremonies, as well as other events at the schools.
"The other hesitation is once it's gone, it's gone. We nor any other board will reasonably be able to vote to put (the stipend) back," Mexicotte said. "So you think about how that might affect people wanting to volunteer for board service in the future."
Danielle Arndt covers K-12 education for AnnArbor.com. Follow her on Twitter @DanielleArndt or email her at daniellearndt@annarbor.com.