Posted on
Fri, May 31, 2013 : 12:11 p.m.
Skyline High School hires 4 security guards for seniors' final week of class
By Danielle Arndt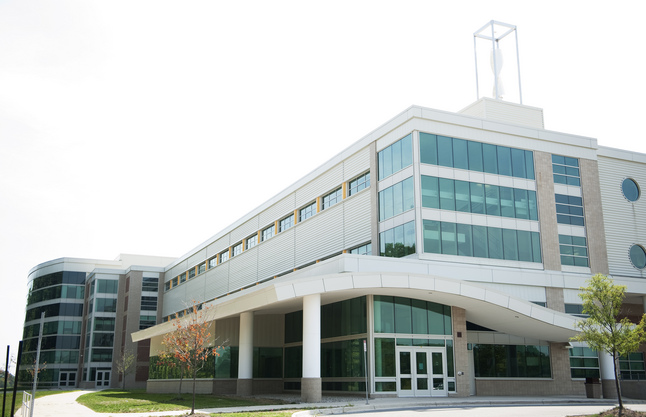 AnnArbor.com file photo
It's the final week of school for seniors at
Skyline High School
— and outgoing Principal
Sulura Jackson
hired additional security to deter students from engaging in senior pranks.
The principal, who will be leaving at the end of the month to take a job in North Carolina, hired four security guards to monitor school entrances and stairwells, said district spokeswoman Liz Margolis. She said the security guards have been at the school since Monday. Friday will be their last day of duty — it also is the last day of school for seniors.
Margolis said the security guards cost $1,000, and the bill was paid from Skyline's "trust and agency fund," part of the building discretionary fund that the principal maintains.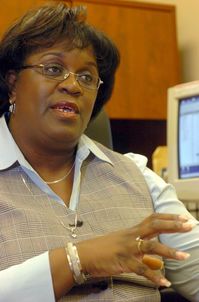 "One administrator is out this week, so they felt they needed to have extra bodies," Margolis said. "There has not been any damage or any sign of a nefarious senior prank. ... Ms. Jackson just felt she needed more presence in the building. She did notify parents about it."
Last year, the seniors staged a food fight in the cafeteria and other pranks, such as fire alarms being pulled and stink bombs set in the hallways.
Students did pull a fire alarm on Tuesday this week and dropped a number of "Class of 2013" balloons over the upper-level railings of the school into the common area below. There also was an attempted flash mob during second-period lunch Thursday, but the dance-off was quickly squelched.
Tuesday's incidents prompted Jackson to send an email to parents stating: "As a result of today's 'pranks' and misbehavior, additional security measures will be taken to ensure the safety and security of the Skyline learning community."
"Deliberately pulling a fire alarm endangering the lives of others is a crime and students who are apprehended will be both charged and disciplined," Jackson wrote. "To date, no senior 'pranks' have been approved, as they disrupt the learning environment and will not be tolerated. ... I am asking all Skyline parents to assist us with securing our learning environment by discussing the 'Code of Conduct and Consequences' pages in the Rights & Responsibilities Handbook with their student."
Margolis said there were no reported senior prank incidents at Huron or Pioneer high schools, which both dismissed last week.
Principals at all of Ann Arbor's 9-12 buildings send out emails annually to families in early May, informing them about end-of-the-school-year festivities for seniors. The emails encompass prom, graduation and safe practices to keep all students safe, Margolis said, adding the district did not do anything different this year from what it does every year.
"That's normal practice. They also hold senior meetings to discuss expectations of behavior," she said.
AnnArbor.com requested information on senior pranks from schools across Washtenaw County and how they handle such incidents. Skyline and Lincoln High School both had pranks in 2012 that resulted in a need for cleanup, although Lincoln's involved significant property damage.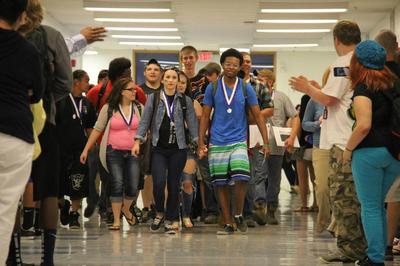 An unknown number of students at LHS spray painted vulgar terms and the hashtag
#LHS12
on the school, as well as smashed the windshields of a Chrysler PT Cruiser used for driver's education training. The
vandalism and graffiti
cost the district about $9,000 in cleaning and restoration.
But rather than drawing attention to last year's event and warning seniors against participating in pranks and other misbehaviors, Lincoln started a new tradition of honoring its senior class on their last day with a "senior walk."
LHS Principal Mandy Stewart said before the final bell on May 21, the seniors gathered and walked in procession through the school, as teachers and underclassmen clapped, cheered, hugged, cried with and congratulated the graduating seniors. She said the school played touching music that meant something to the students during the processional, and the seniors could make song requests.
"We really wanted to set a different tone in the building as the seniors were exiting. The feedback was amazing. Everyone said it was really cool and it actually made them feel special, and they liked getting to say good-bye," Stewart said. "Who wants to come back and (do something destructive) after they've been honored for what they accomplished?"
Danielle Arndt covers K-12 education for AnnArbor.com. Follow her on Twitter @DanielleArndt or email her at daniellearndt@annarbor.com.