Posted on
Tue, Mar 12, 2013 : 5:59 a.m.
U-M doesn't follow letter of the law on drills, says other safety measures are more effective
By Kyle Feldscher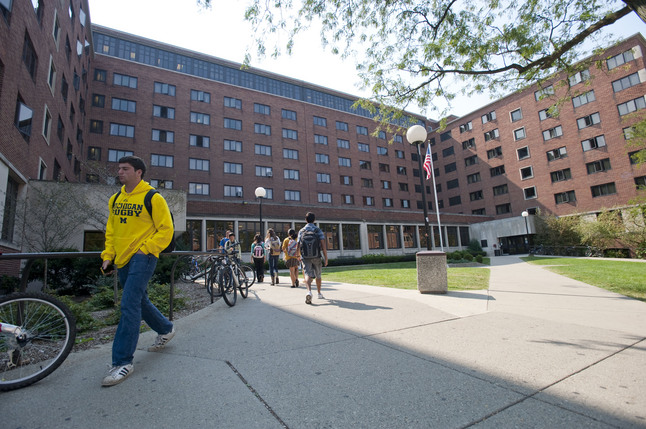 Courtney Sacco I AnnArbor.com
The University of Michigan did two fire drills per year in its dormitories during 2011, short of the state requirement of eight in each building.
University officials say that's not a problem.
"The University of Michigan is not at all like a typical K-12 school district," said Rick Fitzgerald, university spokesman.
"Our population, they don't stay in one building all day having a drill that's specific to a building, and having that drill over and over creates some muscle memory, if your will, in a K-12 district. Our students are all over the place and it's different from day to day."
State law requires universities and colleges to abide by the same law as K-12 school districts. According to law, eight fire drills are required every school year, along with two tornado drills
An MLive Media Group analysis of the number of fire drills and the procedures for following safety drills at Michigan's colleges and universities found many university officials are confused about the number of drills they should do and how they should do them. Compliance with the law varies widely by university.
According to statistics provided by Fitzgerald, in 2010, Michigan students participated in 31 fire drills in residential facilities, 213 fire drills in non-residential facilities and 34 severe weather drills in non-residential facilities. The next year, there were 36 fire drills done in residential facilities, 231 fire drills in non-residential facilities and 37 severe weather drills in non-residential facilities. U-M only did four tornado drills in residential facilities each of those years.
However, Fitzgerald said drills are not necessarily the best way for college-aged students to prepare for emergencies.
Housing security officers assigned to each residence hall are trained in emergency response situations and recently renovated residence halls have fire suppression systems that surpass code requirements, Fitzgerald said.
"Those are the kinds of things in residence halls that, for our population, make a lot of sense. Those are the kinds of things we need to do," Fitzgerald said.
In addition, the university has encouraged students, living both on and off campus, to sign up for the school's emergency text message alert system. That system allows students to be aware of emergency situations on campus and receive instructions on what to do almost immediately, Fitzgerald said.
The university also commissioned Filmic Productions, a student-run film production company, to produce a video teaching students what to do in a severe weather situation.
"People learn in different ways," Fitzgerald said. "We've learned video is a good medium."
The video is expected in the springtime, Fitzgerald said.
While the university is using various ways outside of drills to prepare its students for emergency situations, Fitzgerald did not shy away from the fact that the university is not in complete compliance with state legislation.
He pointed to the large age range of the people affected by the law — from kindergartners all the way to doctoral students — as a reason why the university feels comfortable with its stance.
"Those same methods may not be the most effective from pre-kindergarten to graduate school," he said. "There are things at the higher education level that are different approaches but accomplish the same goals, and that's kind of where we are on this."
He added, "I understand there are real specifics, but on the other hand, what you'd find us doing is going way beyond fire drills, because the fire drills themselves only capture where (students) are perhaps the least amount of time."
Kyle Feldscher covers cops and courts for AnnArbor.com. He can be reached at kylefeldscher@annarbor.com or you can follow him on Twitter.