Posted on
Wed, Dec 26, 2012 : 11:15 a.m.
EMU's full-time lecturers agree to 4-year contract
By Danielle Arndt
Eastern Michigan University's full-time lecturers union has reached a tentative agreement with the university for a new four-year contract, officials announced Wednesday.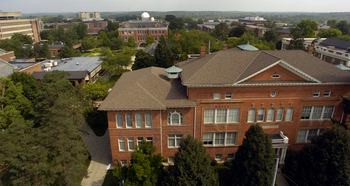 The current two-year contract for the
EMU Federation of Teachers
expires at midnight Dec. 31.
The new contract, if ratified by the union membership in January, will include incremental raises, changes to health care plans and a one-time base salary increase of $1,250 to help offset the greater costs of employees' health care plans.
The Federation of Teachers represents approximately 100 full-time lecturers. The tentative agreement spells out pay raises of 1.5 percent in the first year, which begins Jan. 1; 2 percent in 2014; 2 percent in 2015; and a 1.75-percent pay increase in 2016.
If the full membership votes to approve the agreement, the EMU Board of Regents would vote on the contract at its regular meeting Feb. 19.
EMU officials said the agreement comes at a time of significant momentum for the university. EMU welcomed its largest undergraduate class in its 163-year history this fall. The group is touted as the most diverse incoming class of freshmen in a decade.
"Mutual respect and an atmosphere of collaboration have been the driving factors in all of our recent labor negotiations," said EMU President Susan Martin. "This case was no different. I would like to acknowledge the important contribution our full-time lecturer faculty make to the educational experience of Eastern students."
Sonya Alvarado, president of the Federation of Teachers, is pleased with the new contract. She said it is a good and fair agreement for all parties.
"It was a pleasure working with EMU's negotiation team," Alvarado said. "Their commitment to working with our team to create this contract should be applauded."
EMU negotiated a new three-year contract with its chapter of the American Association of University Professors, representing about 700 faculty members, in August. That contract included an annual 2-percent raise and the relaxing of office-hour requirements.
Danielle Arndt covers K-12 education for AnnArbor.com. Follow her on Twitter @DanielleArndt or email her at daniellearndt@annarbor.com.