Ypsilanti pushes back school start times to save $500,000
Posted on Mon, Aug 27, 2012 : 11:46 a.m.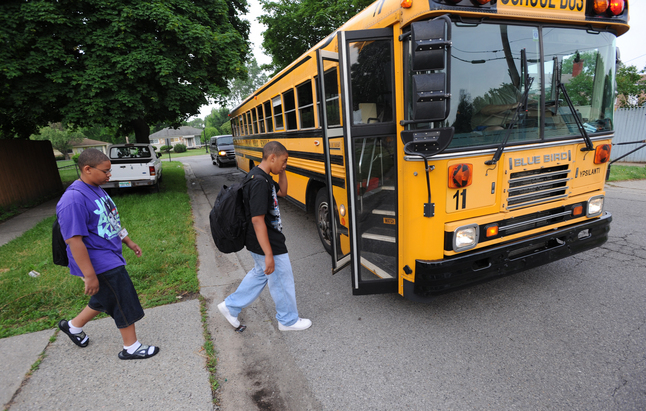 Lon Horwedel | AnnArbor.com

Students at Ypsilanti Public Schools will start class next week anywhere from 10 to 40 minutes later than last year, a move designed to save the cash-strapped district money.

Changing the start time will save YPS approximately $500,000 by reducing the total number of buses and drivers on the road and, ultimately, the amount of fuel and maintenance the district requires, said new Director of Facilities and Operations Scott Snyder.

Ypsilanti parent Audrey Muraviou found out about the time switch last week. Her daughter, who starts kindergarten at Adams School Sept. 4, will need to arrive at the school at 9:05 a.m. — instead of 8:25 a.m. and will be getting out at 4:07 p.m.

She said the timing of the announcement is "unacceptable." She understands the financial difficulties the district is facing, she said, but could not excuse the district's poor communication.

"I'm starting a new job. I already arranged my work schedule so that I could be there to get her on and off the bus. I can't change that now," Muraviou said. "They waited way, way too long to let people know. It's just not right."

Snyder, who was hired in July to fill a vacant position at Ypsilanti Public Schools, said pushing back and staggering the schools' start times permits the district to create what he called a "four-tier system." He said this means there are fewer buses doing more runs.

"Let's say you had three sets of runs and only two buses. That'd be six total runs, because three times two," Snyder explained. "But if you have those same two buses divided among four runs, that's eight total runs… It's more cost effective."

With the four-tier system, Ypsilanti can eliminate nine buses from its fleet, dropping from 26 general education buses in 2011-12 to 17 for the upcoming school year.

Snyder said he worked closely with officials at the Washtenaw Intermediate School District to get as close to $600,000 in savings as he could. That was the amount the district targeted to cut from its transportation budget as part of its deficit elimination plan, which the Board of Education approved in May.

The WISD had to create the new routes with new stops and pick-up times that the four-tier system required. Ypsilanti, Ann Arbor and Willow Run contract with the WISD for transportation services through a consolidated busing consortium.

Snyder said the intermediate school district completed the routes last week and the information was "fanned out" by building principals through their newsletters. He said Ypsilanti was waiting for the WISD to complete the routes before posting the new school start times on the website. The times went up on the site last week.

The new times are as follows:
Perry Child Development Center: Morning Preschool 9:11 a.m. to 12:24 p.m.
Perry Child Development Center: Afternoon Preschool 12:53 p.m. to 4:02 p.m.
Perry Child Development Center: Kindergarten and First Grade 9:05 a.m. to 4:07 p.m.
Adams School: 9:05 a.m. to 4:07 p.m.
Erickson and Estabrook Elementaries: 8:25 a.m. to 3:27 p.m.
Middle School: 7:15 a.m. to 2:17 p.m.
High School: 7:35 a.m. to 2:57 p.m.
New Tech: 7:45 a.m. to 2:47 p.m.
Forest School: 8:30 a.m. to 3 p.m.
RCTC Auto - Morning Session: 7:44 a.m. to10:10 a.m.
RCTC Auto - Afternoon Session: 11:30 a.m. to 2:06 p.m.
RCTC Culinary Arts - Morning Session: 7:44 a.m. to 10:15 a.m.
RCTC Culinary Arts - Afternoon Session: 11:30 a.m. to 2:05 p.m.
Superintendent Dedrick Martin said the new start times and tiered busing "really meets multiple objectives."
The school board and administration discussed the high school's start time in the past and thought it was too early based on numerous studies about teenagers' natural sleeping patterns, Martin said. So the district wanted to push back the high school start time, if possible.
Martin also said previously the high school started later and got out earlier than the middle school, which sometimes created discipline and behavior problems.
"Sometimes you'd have the high school kids wandering over to the middle school to cause trouble afterschool," he said, adding the new start times both will improve safety as well as generate savings.