Posted on
Tue, May 25, 2010 : 8 a.m.
Ypsilanti school board delays vote on countywide busing plan
By Tom Perkins
Ypsilanti school board members Monday night said they need more time to consider a countywide transportation plan.
After a lengthy presentation and question-and-answer session with Washtenaw Intermediate School District representatives, the board tabled a resolution authorizing Ypsilanti Public Schools Superintendent Dedrick Martin to enter into an agreement joining the plan.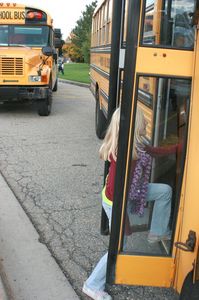 File photo
A special meeting to vote on the plan has been scheduled for June 7 at 7 p.m. in the board meeting room.
The county's 10 public school districts are considering joining the proposed county-wide busing organization the WISD is developing. Before Monday night's meeting, only Willow Run Community Schools had voted to join the organization.
WISD representatives told the board Monday night, that joining the transportation entity could save YPS $1.25 million annually. That figure constitutes approximately 34 percent of the district's $3.5 million in transportation expenditures.
Jim Regan, a consultant with Transportation Strategies LLC, which is helping WISD develop the consolidated busing plan, laid out how a the arrangement would look and where the district would realize its savings.
He underscored the district's transportation staff would largely remain in place.
"The intention is to maintain the cadre of drivers within the district," Regan said.
But the district's transportation staff - including drivers, aides and mechanics - would face significant wage and benefit cuts.
The drivers' salaries would drop to a $13 per hour base, plus an additional 25 cents for each year of experience. The district's drivers' average earnings would drop 17 percent from $18.16 per hour to $14.96 per hour. Mechanics and aides would face similar pay cuts.
Under the proposal, transportation employees would also begin paying a 30-percent medical premium and see their annual deductible rise from $400 to $2,000.
Ypsilanti Support Staff Association President Kevin Fortune said he didn't believe the proposal was fair to the transportation employees.
"We're not asking for handouts or charity, but I don't see how you can put that forward as a viable plan for them to live on," he said.
Regan said the proposed wage scale was developed after examining compensation for other counties' transportation departments.
He said concessions must be made if the plan is to yield the proposed savings and allow WISD to keep local districts' transportation departments intact.
"If you're looking to save more money and respond to the cost reductions from the state, you have to look at salary and benefits," Regan said
Board President David Bates pointed out that other staff and administration recently only took up to 5 percent wage reductions.
"That is a pretty significant number," Bates said of the proposed 17-percent cut.
Regan said optimizing routing would account for roughly 25 percent of the average countywide savings, though no figure was available on how much that would represent in Ypsilanti. The biggest savings would come in the elimination of "deadhead miles," a term for miles driven when no children are aboard the bus.
Next year's routes would be determined by the district, but handled by the WISD transportation department in subsequent years.
Regan said the projected figures don't include potential savings from having kindergarten and first graders walk up to a half-mile to their bus stop. He said a recent study revealed that it costs the district roughly $1000 annually to bus individual children a quarter mile from a main road to their front door.
Transportation representatives from all 10 districts are working to develop the operational infrastructure for a consolidated busing plan. Each representative is on a team addressing standardization issues related to routing, maintenance or administration.
"We have a vision to bring all those 10 operating systems together to operate as one system," Brian Marcel, a WISD representative, told the board.
Among the routing-related issues WISD must solve are standardizing GPS units, route optimization, inter-district routes and special needs transportation. Regan said optimizing special needs transportation would account for an average of one-sixth of the average savings countywide.
Maintenance issues include developing universal maintenance schedules and standards, bus specifications, maintenance facility organization and reducing the number of different fuels used. Countywide, transportation departments use five different fuel types purchased from 12 different vendors.
Should Lincoln Consolidated Schools join the transportation plan, its garage would serve as the main maintenance center in eastern Washtenaw County. Ypsilanti would house a smaller satellite garage. Marcel estimated 10 percent of the county's mechanics could be laid off under the proposal. WISD estimates it will need one mechanic for every 25 buses.
Regan said he districts would sell their buses to WISD for $1. Should a district later decide to leave the entity, the buses would be sold back for $1, but buses will largely be driven in their respective districts by each district's own drivers.
The biggest administrative hurdle is developing a labor agreement. The county's districts have 10 labor agreements among four unions and must develop a wage and benefit plan the districts can agree on. The countywide transportation entity would oversee labor relations and human resources and develop a uniform funding method.
Many of the teams' ideas have already been presented to and approved by the county's superintendents. Regan said ideas that received positive feedback from a March meeting with the superintendents have moved forward, though several key issues, like labor contracts and special needs busing, remain unresolved. The school boards' votes on whether or not to participate have been requested no later than the second week in June to provide adequate implementation time before next school year. Regan said the team has also drafted a plan only including five of the county's 10 districts.
Several board members said they need time to consider the plan.
"I'm not saying I'm for or against this, but I need more time to digest this information," Trustee Sarah Devaney said.