Posted on
Thu, Apr 15, 2010 : 1:45 p.m.
El Chupacabra photos in Ypsilanti Township? Expert says mangy dog
By AnnArbor.com Staff
Readers were split in their opinions on a strange-looking animal seen in Ypsilanti Township in 2008.
Of 1,810 votes, 28 percent said it was a mangy dog, 28 percent said it was a mangy coyote and 28 percent said it was a mangy fox.
Fewer said they thought the image was a El Chupacabra or perhaps a new species of unexplained beast.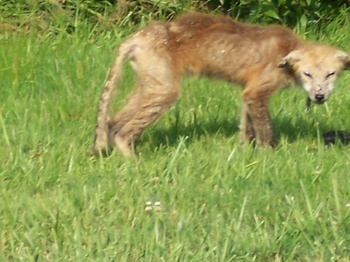 An expert's ruling: Mangy dog.
The debate over the photos - and chupacabras in general - was sparked earlier this month when a reader sent an e-mail about a strange animal he saw that he thought could be a chupacabra. El Chupacabra are storied dog-beast hybrids that suck the blood of goats.
AnnArbor.com investigated, and the story prompted many responses from readers, including two who sent photos of an animal they saw in Ypsilanti Township in 2008.
Jeff Allen, an Ypsilanti Township resident and the director of residential services for the township, pulled over on Bridge Road in the summer of 2008 to snap pictures of a strange-looking animal coming out of the parks along Ford Lake to snack on some roadkill. He thought it might be a mangy coyote.
Mange is a parasitic disease that attacks furry animals' hair follicles.
AnnArbor.com sent the photos to Philip Myers at the University of Michigan Museum of Zoology. He sent them to an expert in mange, Dr. Barry O'Connor.
His response? "Pretty classic sarcoptic mange. It's been running rampant in the red fox populations here the past couple of years."
As for what type of animal it is, Myers concludes: "I don't think the animal is a fox or coyote; the head shape is wrong. I think it is a poor, sad, sick dog."