Posted on
Wed, Oct 31, 2012 : 5:58 a.m.
Ann Arbor Municipal Center project wins Gold LEED certification from Green Building Council
By Ryan J. Stanton
Ann Arbor's recently renovated and expanded city hall at 301 E. Huron St. has been awarded Gold LEED status by the U.S. Green Building Council.
City officials announced the news on Tuesday, noting the award recognizes the entire Ann Arbor Municipal Center project, including the new Justice Center addition, landscaped municipal plaza rain gardens, green roof promenade and porous pavement in the parking lot.
The gold-level Leadership in Energy and Environmental Design award from the USGBC requires a construction project to achieve a minimum of 39 points for green building and site design, construction and operations. Ann Arbor's Municipal Center obtained 44 points.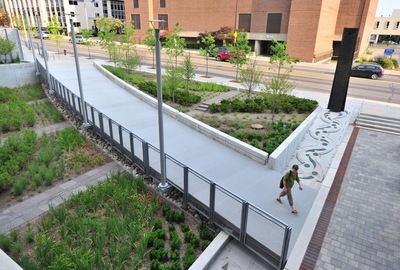 Ryan J. Stanton | AnnArbor.com
"Everybody worked really hard for it," said
Bill Wheeler
, who served as the city's project manager and is now retired. "I was really happy to hear we made it and we actually got several points more than we needed to get into the Gold, so it was very good — a very nice feeling."
The only higher certification is Platinum LEED, which requires at least 52 points.
The city provided the following description of project elements that led to the Gold LEED award.
Many of the Municipal Center's building materials were obtained from regional and recycled-content materials. Construction debris was recycled on site and sustainably harvested wood was used throughout.
Ann Arbor's Justice Center building, which houses the 15th District Court, Ann Arbor's Safety Services Administration and Police, and Information Technology Services, was constructed with highly-efficient exterior walls. More than three inches of super-rated insulation were used to keep the cold and heat outside while maintaining comfortable interior temperatures.
The thermal-sealed windows block the outdoor temperatures and allow for natural interior lighting.
The embedded ceramic window stripes serve as built-in blinds to soften incoming light. Many windows may be opened for natural air circulation.
The highly efficient Energy Star furnace and air conditioning systems are maintained via monitors to provide a comfortable thermal environment.
Rooftop solar collectors supply domestic hot water and preheat the boiler water.
Low-flow water fixtures are used throughout the building to reduce water waste.
Motion detectors adjust the lighting levels to match the building's actual usage to save energy. Sensors also monitor light levels to reduce interior lighting when natural sunlight supplies additional illumination.
More than 40 percent of the site's surface is covered with rain gardens or porous pavement. An open-grid pedestrian bridge allows rain water to enter directly into the largest rain garden. Nearly five inches of rain from a single storm can be captured on site. Urban planners label a 4.75-inch heavy rainfall in Southeast Michigan as a 1 percent annual chance event.
Many native plants and trees are used around the Municipal Center buildings. These hardy species thrive in typical Michigan weather conditions.
During the growing season visitors can enjoy the green roof on the second-story promenade. The green roof features more than 5,000, 12x24x4-inch vegetative trays, each planted with a variety of sedum plants, scattered with alium for color and height.
The vegetative trays cover 10,318 square feet of the promenade's total 18,000-square-foot roof surface. A green roof can save up to 25 percent on heating and cooling costs by providing additional insulation, which helps maintain a constant temperature inside the building. Water evaporation from the plants during the summer keeps the building cooler, too.
Quinn Evans was the architectural firm for the Ann Arbor Municipal Center. The landscape architects were InSite Design Studio Inc. with Conservation Design Forum. More details on the Municipal Center's LEED components are available online at www.a2gov.org/LEED.
Ryan J. Stanton covers government and politics for AnnArbor.com. Reach him at ryanstanton@annarbor.com or 734-623-2529. You also can follow him on Twitter or subscribe to AnnArbor.com's email newsletters.