Posted on
Sun, Feb 24, 2013 : 5:59 a.m.
Q&A with Ann Arbor's Eli Cooper: The push continues for a new train station
By Ryan J. Stanton
Editor's note: Eli Cooper, Ann Arbor's transportation manager, sat down with AnnArbor.com recently to talk about transportation initiatives under way in Ann Arbor, including what's happening this year with the city's push for a new train station.
Asked what inspired his chosen career path, Eli Cooper, the city of Ann Arbor's transportation manager, quickly recalls a memory from his childhood: His father stuck in traffic.
"My dad worked in New York, we lived in the suburbs, and as I was engaging in various activities, there were times when dad couldn't make it because he was stuck in traffic," Cooper said, recalling his response to the situation: "I said, 'Someone's gotta do something about that!' "
Cooper, who has degrees in both environmental science and urban planning, grew interested in transportation from an environmental perspective as well.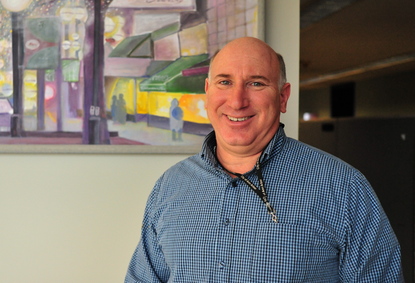 Ryan J. Stanton | AnnArbor.com
"I remember as a youngster, looking out the window in the morning, and the sky was blue, and by 11 o'clock it was just smog," he said. "And come to realize that transportation is a major contributor to the smog that formed in those days, so it's part of wanting to help society, help the planet."
Cooper came to Ann Arbor in 2005 after spending two decades honing his skills as a transportation planner in New Jersey, Delaware, Minnesota and Washington. He's worked on initiatives ranging from light rail to statewide transportation planning, and just about everything in between.
Cooper said he welcomes the recent news that the Michigan Department of Transportation, Federal Railroad Administration and Norfolk Southern Railway Co. have signed an agreement to transfer ownership of 135 miles of Norfolk Southern's tracks to MDOT for $140 million.
The line is part of Amtrak's Wolverine and Blue Water passenger rail services between Kalamazoo and Dearborn, and its biggest stop is in Ann Arbor.
Transferring the line's ownership to the state paves the way for track improvements to accommodate passenger train speeds up to 110 mph — knocking about 30 minutes off the travel time between Detroit and Chicago, and reducing the overall trip time to about five hours.
"So at this point, as we sit here, the first major change has just occurred, and that's the ownership," Cooper said.
Once the ownership transition is final, which is expected this spring, Amtrak will handle upcoming track and crossing upgrades to make higher-speed rail possible.
The $140 million used to purchase the line included federal High-Speed Intercity Passenger Rail Program grant funds, plus a state match of $37.5 million. The FRA also awarded $196.5 million to MDOT for the major track and signal improvements on the corridor.
"And it's my understanding that MDOT has been working on both planning and engineering design of the actual railroad system itself," Cooper said, "so what types of track improvements are necessary to both maintain the current service and increase the speed to something in the order of 110 mph from east of Ypsilanti all the way out to south of the lake in Indiana."
The promise of those upgrades is partly what has Ann Arbor officials moving full steam ahead on plans for a potentially $44.5 million train station to replace the Amtrak station on Depot Street.
MDOT
AnnArbor.com: What are we going to see happen this year with the push for a new Amtrak station in Ann Arbor? What are the city's next steps?
Cooper: At this time, we continue to work with MDOT and FRA — FRA obviously the funding authority and MDOT our contract partner on the project. We're looking at satisfying the planning requirements that FRA has in order to be eligible for the eventual construction of a train station.
We will have to outline the purpose and need, as well as address the environmental review requirements for whatever location is selected, so there's a planning process that has been funded by the FRA. They also are the administrative agency that has to review and approve all of the documents that we will produce. And so during the course of the first half of this year, we will be going through a process of developing the documents and engaging in a public process with those. And depending on what the technical data reveal and the citizen input we receive, we would like to be in a position by the end of this year to have completed the NEPA (National Environmental Policy Act) requirements.
If the Fuller Road site once again comes up as a preferred alternative, there is a section of NEPA called Section 4(f), which addresses additional requirements needed if a transportation project is going to be built either in a historic area or on recreational lands. Fuller Park, as a park, would require Section 4(f) analysis as well. And it's our expectation we should be able to complete both the environmental assessment and the Section 4(f) requirements during this year.
That will give all of us the clarity that we need — the basis, justification, purpose and need, and the ability of either the existing train station site (on Depot Street) or some alternative location to meet the federal agency approval for us to enter into preliminary engineering, which would be the immediate next phase of work once we have a concept plan and the environmental clearance.
AnnArbor.com: Will that cost more money?
Cooper: The grant that we have has sufficient funding in it to both complete the environmental process and the preliminary engineering. So we would anticipate once the site selection process, NEPA review, is authorized, we will immediately advance into procuring a contractor for the engineering work to begin, and that work should follow. It's hard to say whether we'll get into preliminary engineering yet this year in 2013. But if we're fortunate, we should be into the preliminary engineering phase, and that will then begin to signal our next steps and our next investments.
AnnArbor.com: Realistically, when could residents expect to see a new train station in Ann Arbor, assuming all the stars align perfectly?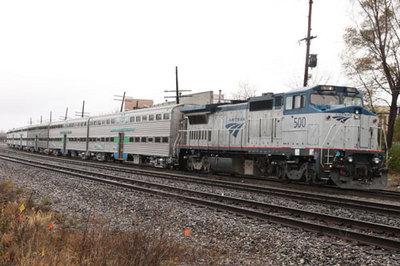 Photo by Steve Sobel
Cooper:
We're probably looking at a 2016 or 2017 timeframe.
AnnArbor.com: For people who might not have been following this project closely for the last three or four years, remind me why this is something the city is pursuing.
Cooper: It goes back to a simple visit to the existing Amtrak station. We look at that today and it has accessibility problems. If you're on Depot Street during the peak period, you'll realize you can't get there. The parking provided on the north side of the track is not directly attached to the station physically and it requires a lengthy walk, including grade changes that are difficult and almost impossible for someone who has mobility challenges. So it's an issue of accessibility and capacity.
We now know the state of Michigan is in the process of investing up to half a billion dollars to both acquire and improve the rail line that serves the Ann Arbor station. That station and the service that it has will change. I could use terms like 'dramatically increase.' MDOT and Amtrak have procured double-decker rail cars, so each train — even though it may be the same length — may bring twice as many people coming or going from the city. When you look at the loading and parking areas today and envision increased demand, just based on the size of the trains or the capacity, that's one level of pressure. The hundreds of millions of dollars that are being spent on the rails are intended to decrease the travel time between Ann Arbor and Detroit and Ann Arbor and Chicago, which will bring another increment of new ridership into our community. The question is how do we plan for accommodating the increased traffic that increased rail service will represent to us?
AnnArbor.com: I know the promise of commuter rail service between Ann Arbor and Detroit is another factor in all of this. Can you explain what's happening around that?
Cooper: We were out there on a recent cold night waiting for the test train to come through. The commuter train passed its testing and we, the city of Ann Arbor, working with SEMCOG and MDOT, continue to support and are enthusiastic about the potential for commuter rail service on that line. If the station is challenged to meet the intercity demands and you layer commuter service on top of that, that's additional pressure for a system that was designed back in the 1970s and early '80s and would not be an adequate transportation facility as a gateway for Ann Arbor.
Look out for Part 2 of AnnArbor.com's Q&A with Eli Cooper coming Monday. The second installment will focus on improvements being discussed for the North Main corridor, where the next roundabouts might be in Ann Arbor, and other non-motorized transportation issues.
Ryan J. Stanton covers government and politics for AnnArbor.com. Reach him at ryanstanton@annarbor.com or 734-623-2529. You also can follow him on Twitter or subscribe to AnnArbor.com's email newsletters.