Posted on
Tue, Feb 12, 2013 : 2:05 p.m.
$2.6M for train station design included in Ann Arbor's proposed capital budget
By Ryan J. Stanton
Ann Arbor officials are proposing tens of millions of dollars in capital improvements over the next two years, including final design of a new Amtrak station and more renovations to city hall.
City officials also are considering hundreds of thousands of dollars in upgrades to fire stations, even as City Administrator Steve Powers says closing some stations remains an option.
The city's staff presented its recommended capital projects budget for fiscal years 2013-14 and 2014-15 at a special work session of the City Council Monday night.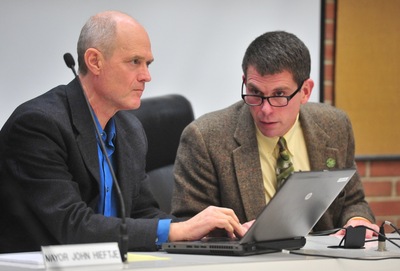 Ryan J. Stanton | AnnArbor.com
The plan shows $49.2 million in funding needs in the next fiscal year that starts July 1, and another $45.5 million in the year after that.
That includes nearly $28 million for a long list of street and bridge projects, and nearly $45 million for work related to the city's water, sewer and stormwater systems.
Nearly $7.4 million falls under the alternative transportation category, including $160,000 for a bike share program and $2.6 million for final design of Ann Arbor Station.
Train station costs
Ann Arbor Station is the name given to the new train station city officials have been talking about building on Fuller Road in front of the University of Michigan Hospital.
As part of the required planning phase, the city is taking a second look at using the site of the existing Amtrak station on Depot Street, but Mayor John Hieftje and the city's transportation program manager believe Fuller Road would better accommodate the growing demand for passenger rail.
The city's long-term Capital Improvements Plan anticipates construction of a new train station could cost $44.5 million, and the city is counting on federal funding to come through for that.
The city was successful in securing $2.8 million in federal funding for the planning work being done right now, but the city still has had to contribute hundreds of thousands of dollars from its general fund cash reserves. The capital budget presented Monday night suggests as much as $520,000 more might have to come from the city's general fund in 2014-15.
Ryan J. Stanton | AnnArbor.com
The costs related to the final design raised concerns among some council members who aren't sold on the idea of a new train station.
"This is quite a large item," said Council Member Mike Anglin, D-5th Ward. "I'm a little confused as to the direction that staff thought they had here from council."
Council Member Sumi Kailasapathy, D-1st Ward, said she's concerned about the city investing its money in a new train station. She said many uncertainties remain, including how the new Southeast Michigan Regional Transit Authority might connect Ann Arbor and Detroit with buses.
"We really need to pause and take a deep breath and figure out whether we need to be pouring more money into a railway station," she said, suggesting it could be a waste.
Eli Cooper, the city's transportation program manager, cited the council's 2009 adoption of a transportation plan update that include 20 years worth of transportation improvements that were reviewed by the Planning Commission and adopted as part of the city's master plan.
"We currently have a grant for the preliminary planning environmental study of Ann Arbor Station," he said. "We anticipate that work will be complete within 12 to 18 months. The logical sequence to that is a final design project. And looking at the adopted city transportation plan and the current funding strategy, we felt it was our responsibility to identify the next step within the CIP program."
Cooper said the city anticipates the Federal Railroad Administration's High Speed Intercity Passenger Rail Program will cover 80 percent of the overall costs for the train station project with the remaining 20 percent provided from local, non-federal funds.
"Recognizing the project is in the early phases of planning, the cost estimates are very preliminary, as are the anticipated non-federal funding sources," he said.
Commuter rail parking
The capital budget also shows $540,000 being spent over the next two years for temporary parking for a proposed commuter rail service between Ann Arbor and Detroit.
The Southeast Michigan Council of Governments and the Michigan Department of Transportation have been hinting at the potential launch of demonstration trains later this year.
Cooper said the plan is to use a portion of the MichCon site next to the Amtrak station for a temporary 100-vehicle parking lot for two to three years. He said the city would be looking to MDOT and SEMCOG to provide funding out of their demonstration project grant.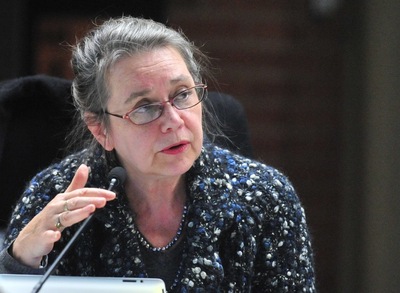 Ryan J. Stanton | AnnArbor.com
The capital budget also shows $2.5 million for rehabilitation of the Fuller Road/Maiden Lane/East Medical Center Drive bridges near the U-M Hospital and the potential site of the new train station. City officials said those are longstanding needs separate from the train station project.
Council Member Sabra Briere, D-1st Ward, asked why the bridge rehabilitation project, which was supposed to be funded in 2016-17, was moved up to 2014-15.
Nick Hutchinson, interim manager of the project management unit, said it was moved up after looking at bridge inspection reports that indicated doing the work sooner would be more cost effective.
"In addition, there's also a project in the works for the improvement of that intersection there and we wanted to get all that into the same year," he said.
The capital budget shows nearly $3.8 million being spent over the next two years for intersection improvements at Fuller Road and Maiden Lane/East Medical Center Drive.
Other transportation-related expenses shown in the capital budget include $800,000 over next two fiscal years for more solar-powered ePark pay stations downtown.
City hall and fire stations
Also contemplated in the budget is $2.7 million worth of work on city-owned buildings, including $600,000 for asbestos abatement on floors 2-5 inside city hall and $500,000 worth of renovations to the City Council chambers and other areas on the second floor of city hall.
City officials also are planning for more than $538,000 in upgrades to city fire stations, including a $150,000 renovation at Station 2 in the next fiscal year.
Station 2, located at Stadium and Packard, was closed more than a decade ago, but there are talks of bringing it back into service if the Ann Arbor Fire Department switches from a five-station model to a three-station model. The city's community standards unit is using it right now.
Powers acknowledged the placement of renovations to Station 2 in next year's budget is tied to the station restructuring plan. If the council decides not to go forward with the plan, he said, then the project could wait, but the city still should plan on putting a new roof on the building regardless.
The City Council ultimately will decide which capital projects get approved and which ones get put on the shelf when it adopts its budget for the next fiscal year in May.
Nearly $6.9 million worth of projects fall under the category of parks and recreation, including $400,000 for the creation of a greenway park with new trails at 721 N. Main.
The capital budget also shows $650,000 for the future re-use of 415 W. Washington, a city property where city officials hope to create another greenway park and arts center.
Airport runway expansion
The Ann Arbor Municipal Airport, which is located in Pittsfield Township, has $2.9 million worth of capital projects shown in the budget, including a $2.1 million runway extension next fiscal year. At least two residents opposed to the project showed up to Monday night's meeting.
Matt Kulhanek, the city's airport manager, said an environmental assessment done in advance of the expansion has been under review with the Federal Aviation Administration since September. It was expected to take up to six months and the city is still waiting to hear back.
Briere said she doesn't see how the council could approve a budget that includes going forward with the runway expansion without first hearing back from the FAA and seeing the assessment.
Wet weather mitigation
Council Member Stephen Kunselman, D-3rd Ward, noted the capital budget shows $2.5 million in costs linked to the city's footing drain disconnection program next fiscal year, but that zeros out in the years after that. A total of $2.5 million is anticipated to be spent in 2014-15 on long-term "wet weather mitigation," followed by $48 million worth of additional work in that area in future years.
The city's staff said there's potential to spend a significant amount of money on capital projects aimed at dealing with storm events. Systems Planning Manager Cresson Slotten noted the city's stormwater drainage system "just can't handle all of that rainwater" during heavier storms, and the result is surface flooding in some areas, which the city is actively studying right now.
The budget also includes $100,000 in the next fiscal year to study how to best replace 1930s-era infrastructure at the Water Treatment Plant, a project that could cost tens of millions of dollars.
Street construction
Some of the street projects included in the proposed capital budget for the next two years:
Stadium Boulevard (Hutchins to Kipke)
Stone School Road (I-94 to Ellsworth)
Ann Arbor-Saline Road (Oak Valley Drive to Eisenhower Parkway)
Geddes Avenue (Apple Way to Huron Parkway)
Pontiac Trail (M-14 to Skydale)
State Street (Eisenhower to I-94)
Forest (South University to Hill)
Pauline (Stadium to Seventh)
Fifth Avenue (Kingsley to Catherine)
Packard (Anderson to Eisenhower)
Scio Church (Main to Seventh)
South Maple (Jackson to West Stadium)
Washington (First to Fourth Avenue)
Division (Madison to Huron)
Liberty (First to Main)
Newport Road (Sunset to city limits)
Ryan J. Stanton covers government and politics for AnnArbor.com. Reach him at ryanstanton@annarbor.com or 734-623-2529. You also can follow him on Twitter or subscribe to AnnArbor.com's email newsletters.