Posted on
Tue, Aug 16, 2011 : 5:58 a.m.
'Egregious idling' harmful to children, Ann Arbor City Council told as draft ordinance is presented
By Ryan J. Stanton
Matthew Naud, the city of Ann Arbor's environmental coordinator, told council members Monday night an ordinance banning "egregious idling" could improve the community's health.
"Recently there's been a lot of data about elevated levels of benzene and particulate matter, especially at elementary schools," he said. "So you have parents waiting and idling to pick up their kids, buses idling right in front of the air intakes at these schools."
Naud said that means "young lungs" are getting exposed to unnecessary vehicle emissions, and the U.S. Environmental Protection Agency shares the same concerns.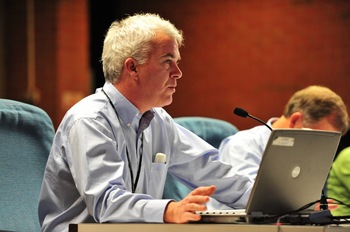 File photo | AnnArbor.com
The
Ann Arbor City Council
didn't take any action on the issue at Monday's meeting, but it did receive a
report and draft copy of an idling ordinance
from the city's Environmental Commission, which is recommending the ban on idling vehicles.
The proposed ordinance would make a $100 ticket the minimum punishment for a driver who leaves a vehicle running while unoccupied for any amount of time or running for five minutes while occupied. For commercial vehicles, that minimum fine increases to $500.
"There's probably 50 to 100 cities that have idling ordinances. We're not the first," Naud said. "D.C., Denver, Chicago. There's a wide range of ways that communities have regulated idling."
Council Member Margie Teall, D-4th Ward and a member of the Environmental Commission, said she's glad the council and the public are beginning serious discussions on the topic. She explained to council members what was before them Monday night.
"What you have is the resolution that the Environmental Commission passed, recommending that it be brought to City Council, and we didn't intend to do that this week," she said. "But we will be doing that in the near future and would welcome comments and discussion about it."
Teall suggested the City Council might have a working session to discuss the idling ordinance in more detail sometime soon.
She recalled it was in 2004 when the City Council originally directed then City Administrator Roger Fraser to develop an ordinance to reduce idling in the city. She said the idea was taken back to the city's legal department, as well as Naud and the Environmental Commission.
"Yes, it did take a long time, but we actually have quite a bit of good data and local data to support the recommendation to you," Naud told council members Monday night.
Naud said a major driver of the discussion around an idling ordinance was a complaint the city received about school buses idling at the Hands-On Museum downtown.
"The Hands-On Museum is a great resource, but there's not a tool in the community for the kind of egregious idling that we know happens occasionally," Naud said. "And so the idea was how do you look at what's happening in the community and create a way to regulate it? The Environmental Protection Agency has a model idling ordinance. We've looked at that."
Naud also said the Environmental Commission is fortunate to have two national experts on local source emissions and car pollution: John German and John Koupal. He said they took a look at actual data from Ann Arbor where there's an estimated 440,000 vehicle trips per day.
"And even though cars are as clean as they've ever been, when you add that up across the city, even a small reduction in the idling — which is the dirtiest part of a new car's operating, especially under 50 degrees — makes a big difference in our community," Naud said.
Of nearly 2,000 readers who took an AnnArbor.com poll earlier this week, about 77 percent said they think a local idling ban is unnecessary.
Read AnnArbor.com's previous coverage: Not an idle threat: Ann Arbor considers ban on idling vehicles.
Ryan J. Stanton covers government and politics for AnnArbor.com. Reach him at ryanstanton@annarbor.com or 734-623-2529. You also can follow him on Twitter or subscribe to AnnArbor.com's e-mail newsletters.