Posted on
Wed, Jul 3, 2013 : 6:43 p.m.
Fairy tale ending: Ann Arbor DDA bids farewell to 2 board members
By Ryan J. Stanton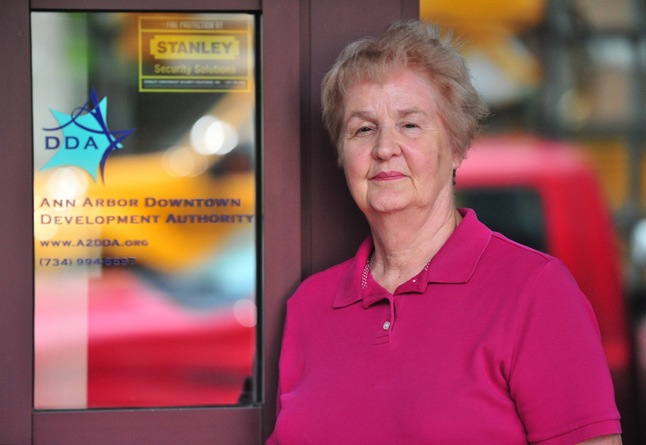 Ryan J. Stanton | AnnArbor.com
After more than two decades on the
Ann Arbor Downtown Development Authority's
governing board,
Leah Gunn
is stepping down.
Gunn, a former county commissioner who says she's ready to retire from public service, has been on the DDA board since 1991 and served as chairwoman in 1995-96 and 2012-13.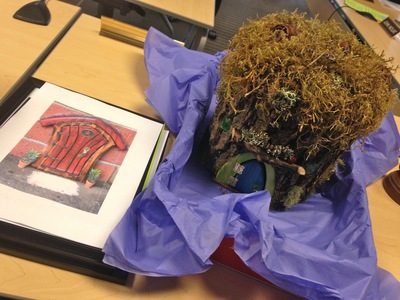 Ryan J. Stanton | AnnArbor.com
DDA Executive Director
Susan Pollay
read aloud resolutions Wednesday afternoon thanking both Gunn and another outgoing DDA board member —
Newcombe Clark
— for their service.
Clark, a recent MBA graduate from the Ross School of Business at the University of Michigan, is leaving his hometown of Ann Arbor for a career opportunity in Chicago. A longtime downtown resident, Clark has served on the DDA's governing board since 2009.
Gunn is a close political ally of Mayor John Hieftje. Her long tenure on the DDA board became a point of contention earlier this year during the debate over the DDA's growing budget. City Council Members Stephen Kunselman and Sumi Kailasapathy have pushed for term limits so future DDA board members could only serve up to two four-year terms.
In recognition of Gunn's "magical time" on the DDA, Pollay presented the outgoing chairwoman with a gift on Wednesday — her very own "fairy door" for her backyard. That will complement a fairy door installed at the Fourth and Washington parking garage.
The thinking, Pollay said, is the fairies of popular Ann Arbor folklore will be able to "teleport" between Gunn's house and the downtown. Gunn was appreciative of the whimsical gesture.
Pollay gave Gunn credit for working to solve a multimillion-dollar deterioration problem in downtown parking garages, for creating partnerships with the city, county and nonprofit agencies, and for pursuing projects such as the two-way traffic transition in the State Street area, the Fifth and Division improvement project, and the new Library Lane underground parking garage.
"Leah Gunn's remarkable passion for the DDA and its work will be sorely missed," Pollay said, adding Gunn's strength of character, decisiveness and willingness to do the work necessary to overcome challenges made her an invaluable leader and board member.
"And her commitment to the downtown and community is an inspiration to all who have had the good fortune to work beside her," she said.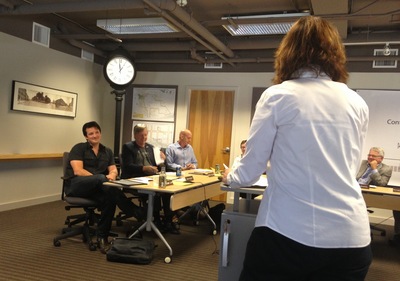 Ryan J. Stanton | AnnArbor.com
Pollay also gave thanks to Clark, saying he participated in many important projects throughout his tenure on the DDA, including the Connecting William Street Plan and the creation of a DDA brownfield policy that includes criteria for doling out grants like the $650,000 the DDA is giving for streetscape improvements in conjunction with the 618 South Main apartments project.
Clark brought great knowledge and insight to the DDA from his many years as a real estate professional and as a longtime downtown resident, Pollay said.
Gunn received another gift on Wednesday — a framed Cat in the Hat poster with a Dr. Seuss quote that DDA officials said fits Gunn, who has a reputation for telling it like it is: "Be who you are and say what you feel, because those who mind don't matter, and those who matter don't mind."
Gunn said her proudest accomplishment on the DDA board was hiring Pollay, whom she called a "remarkable and wonderful executive director."
The DDA board named former City Council Member Sandi Smith of Trillium Real Estate and the Jim Toy Community Center as its new chairwoman to replace Gunn. John Mouat is now vice chairman, Keith Orr is secretary and Roger Hewitt remains the board's treasurer.
The board also appointed four of its members to serve on a new joint committee of the DDA and the City Council — Bob Guenzel, Joan Lowenstein, Smith and Hewitt.
Previous story: Leah Gunn on the role of the Ann Arbor DDA: 'We've made it attractive to businesses to be downtown'
Ryan J. Stanton covers government and politics for AnnArbor.com. Reach him at ryanstanton@annarbor.com or 734-623-2529. You also can follow him on Twitter or subscribe to AnnArbor.com's email newsletters.