Posted on
Tue, Mar 27, 2012 : 9:44 a.m.
Family reading night planned for those who are hard of hearing; Miss Washtenaw County raises money for military care packages
By AnnArbor.com Staff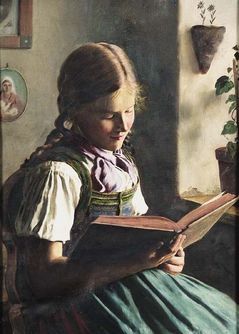 Painting by Emil Rau | Public Domain image from Wikimedia Commons
From a family reading program for those with hearing loss to Miss Washtenaw County raising money to send care packages to the troops, here's a roundup of some of the stories posted on AnnArbor.com's Community Wall over the last few days:
By: Chelsi: Deaf and Hard of Hearing Family Reading Night
The event will include a potluck spaghetti dinner, a story read and interpreted in American Sign Language, a craft project, and lots of socializing!
By: Natalie Paul: Miss Washtenaw County Raises Money for Troops
Lauren Brown, Miss Washtenaw County, along with junior titleholders, raised $552 for the Vietnam Veterans of America (VVA), Washtenaw County Chapter 310 to send care packages to actively deployed troops.
By: A2Parks: Construction timeline established for the Ann Arbor Skatepark
By: Janet Hawkins: Advanced Manufacturing Needs Technicians and WCC Cyber Team Finishes Second In State Competition
By: Geoff Larcom: Extreme politics, extreme fear, and acting out the angst of joblessness: Annual EMU Graduate Research Fair on March 26 features array of fascinating student projects and Prospective students invited to Explore Eastern open house event Saturday, March 31
By: Dawn Farm Education Series: Dawn Farm Third Annual Ride for Recovery coming April 29 - Register is open now! and Relapse Prevention - sustaining long-term recovery from addiction ...
By: Mary Kate Cartmill: UofM ONE Campus Chapter Presents: ONE Night Stand - Thirsty Thursday!
By: erin: INKART Gallery Showing and Art Sale March 31st-April 1st
By: City Pets Veterinary Clinic: Microchip Your Pet - Saturday, March 31st
By: unknown contributor: Hits of The Past in This Weekend's 'Red Mill'
By: State Parks Rock!: Rec 101: Intro to Pinckney State Recreation Area
Rec 101: Intro to Island Lake State Recreation Area
Rec 101: Intro to Maybury State Park
Rec 101: Intro to Waterloo State Recreation Area
Rec 101: Intro to Brighton State Recreation Area
Arbor.com's Community Wall is a spot for local people to post local stories, news and announcements. To post a story, sign in to AnnArbor.com, then go to www.annarbor.com/community and use the Got News? Tell Us function at the top to submit your news. If you have a photo to add, e-mail it to us at community@annarbor.com, and we'll insert it into your story.