Posted on
Wed, Sep 12, 2012 : 4:57 p.m.
Federal officials meet at U-M to call for tobacco-free college campuses nationwide
By Amy Biolchini
The University of Michigan's national clout and efforts to ban smoking on its campuses made it an apt setting for the federal government to announce Wednesday afternoon an initiative to ban smoking on college campuses across the country, officials said.
Howard Koh, assistant secretary for health at the U.S. Department of Health and Human Services, first thanked U-M for its leadership in creating a tobacco-free environment before launching into a description of the need for the Tobacco-Free College Campus Initiative.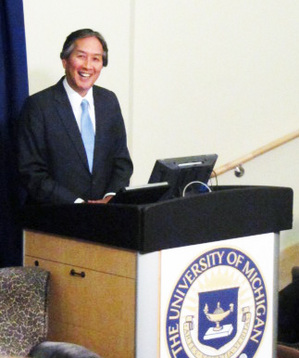 Amy Biolchini | AnnArbor.com
"This restores the smoke-free and tobacco-free campus as the social norm in our society," Koh said Wednesday, noting that the number of young people who have started smoking after the age of 18 has increased in the U.S.
About 774 — or 17 percent — of college campuses and universities have implemented smoking bans in the U.S. so far, and Koh said the momentum has been building particularly in the past year.
"We want the momentum to continue into the future," Koh said. "Let's make smoking history."
The federal initiative is something university officials across the country can use in efforts to push tobacco-free policies forward. While the government is urging campuses to ban smoking, Wednesday's announcement provided no description of incentives for doing so.
Dr. Robert Winfield, chief health officer for U-M, said it was important to have high-level support from university executives. The change was possible at U-M because of U-M President Mary Sue Coleman's 2004 initiative to create MHealthy, an organization for faculty and staff.
Coleman spoke briefly at the university's School of Public Health, where the event took place Wednesday. The university's deliberate decision to go smoke-free created cleaner, safer and healthier environments at its campuses, she said.
Martin Philbert, dean of the U-M School of Public Health, called the announcement by the federal department a momentous one.
"Smoking is the leading cause of preventable and premature death in the U.S. and the world, Philbert said, noting that U-M's smoking ban promises potential reduction in health care costs. "The reduction of tobacco use is the greatest public health accomplishment of our time."
All of U-M's campuses — Dearborn, Flint and Ann Arbor — went tobacco-free July 1, 2011, an effort that has drawn mixed reactions from administrators and students.
Winfield said the number of established smokers on staff has declined from 6.2 percent in 2009, to 5.6 percent in 2010, to 4.8 percent in 2011 — a change he called substantial.
Treating smokers with respect is important in breaking the cycle of behavior, Winfield said.
Amy Biolchini covers Washtenaw County, health and environmental issues for AnnArbor.com. Reach her at (734) 623-2552, amybiolchini@annarbor.com or on Twitter.