Posted on
Fri, Feb 22, 2013 : 6:30 p.m.
Federal budget cuts put Ann Arbor Municipal Airport's control tower in jeopardy of closure
By Amy Biolchini
Federal automatic budget cuts set to take effect next Friday could mean the closure of the control tower at Ann Arbor Municipal Airport in Pittsfield Township, according to media reports.
Sequestration -- or a number of deep cuts that would trim $85 billion in federal spending from March 1 to Sept. 30 -- would mean that the Federal Aviation Administration would have to cut about $600 million in expenditures and implement furlough days for its employees.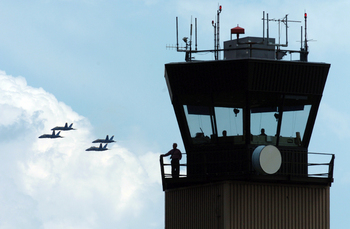 File photo | AnnArbor.com
The cuts would take effect if no congressional deal is reached.
The U.S. Department of Transportation released a list of smaller airports that could see their control towers close, which also include Coleman A. Young in Detroit, W.K. Kellogg in Battle Creek and airports in Jackson, Muskegon and Marquette, according to a report by the Detroit Free Press.
The budget cuts could also mean a number of larger airports, including Willow Run in Ypsilanti, may lose their midnight shifts in their control towers, according to the report.
Ann Arbor Municipal Airport is owned and operated by the city of Ann Arbor, but the control tower is staffed by about 20 FAA employees that the city does not pay for.
Amy Biolchini covers Washtenaw County, health and environmental issues for AnnArbor.com. Reach her at (734) 623-2552, amybiolchini@annarbor.com or on Twitter.