Posted on
Thu, Feb 21, 2013 : 4:44 p.m.
University of Michigan could lose $40M in research funds if federal policy takes place
By Kellie Woodhouse
University of Michigan head of research Stephen Forrest anticipates that the Ann Arbor school would lose $40 million in research funding if Congress follows through on a policy that would drastically reduce federally funded research.
Sequestration, a series of automatic federal spending cuts scheduled to begin March 1, would cut national federal research funding by $12 billion in 2013.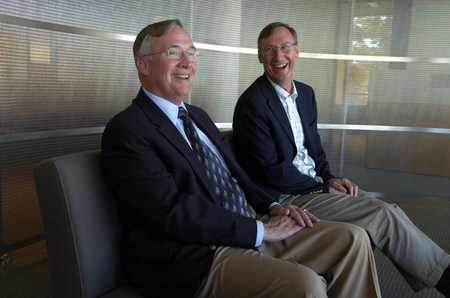 File photo | AnnArbor.com
"It is a meat cleaver-approach to solving budget problems," Forrest told U-M regents during a Thursday board meeting. "We don't know what the future's going to look like. It's certainly not going to be very robust."
Lawmakers in Washington D.C. are locked in a debate about whether to stop the policy, which is expected to cut defense and domestic discretionary spending by $1.2 trillion.
Forrest has been one of many higher education officials lobbying lawmakers to stop the cuts from taking place. He says whether or not the policy takes effect, federal research is likely to decline in coming years.
"We are one of the biggest players at the table in the federal funding portfolio. They listen to us," Forrest said.
U-M is heavily dependent on federal research funding. The federal government awarded U-M $825 million in research funds in fiscal 2011-12, amounting to nearly 67 percent of the school's overall $1.24 billion research budget that year.
"We are all watching very closely," said U-M President Mary Sue Coleman.
During a faculty meeting Monday, Forrest echoed his concerns before dozens of research faculty. He said sequestration, which overall represents a 5.1 percent decrease in domestic and defense spending, will cause U.S. research to slow while other countries are ramping up their efforts.
"The way I look at it is this puts a permanent dent in our research competitiveness forever, because we carry that 5 percent forward," Forrest said. "It seems clear that a pull back in government spending will really slow the economy, maybe to the point of recession."
During the Monday meeting, Forrest made a prediction about sequestration:
"I think it's going to probably happen, but I think it's going to be rolled back shortly thereafter because a lot of nasty things are going to happen."
Kellie Woodhouse covers higher education for AnnArbor.com. Reach her at kelliewoodhouse@annarbor.com or 734-623-4602 and follow her on twitter.