Posted on
Tue, Mar 8, 2011 : 2:25 p.m.
Felony drug charges filed against downtown Ann Arbor medical marijuana dispensary owner
By Ryan J. Stanton
Ann Arbor medical marijuana entrepreneur T.J. Rice is being charged with two felony drug counts on suspicion of operating a downtown marijuana dispensary in violation of state law.
"We have two felony warrants for him, and he's not been arrested yet," Det. Chris Fitzpatrick of the Ann Arbor Police Department said today.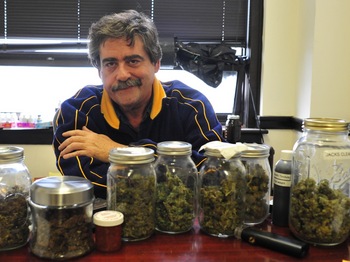 Ryan J. Stanton | AnnArbor.com
Fitzpatrick said the
Washtenaw County Prosecutor's Office
has decided to pursue charges against Rice based on an investigation by the city police department.
The charges stem from a March 14, 2010, incident in which city police investigated a complaint about Rice's dispensary and confiscated numerous marijuana plants.
Rice is being charged with one count of delivery or manufacture of a controlled substance, a four-year felony, and one count of possession with intent to deliver, also a four-year felony.
Additionally, Rice remains under investigation by the Livingston and Washtenaw Narcotics Enforcement Team, also known as LAWNET, police confirmed. A representative of LAWNET declined to comment, saying it doesn't comment on pending investigations.
Rice recently was featured in an AnnArbor.com article in which he talked about his dispensary being raided by city police last March. Authorities offered no clear reason at the time why Rice was not charged with a crime, even though his marijuana was seized and never returned.
Fitzpatrick explained why it took nearly a full year to bring charges against Rice.
"I think the department wanted to take a wait-and-see attitude with the current political state," he said, noting the law around medical marijuana dispensaries remains hazy. "The city and the state are still sorting out the law, so that was the reason. It was a wait-and-see."
The Ann Arbor City Council made amendments to a pending medical marijuana ordinance Monday night to say that drug felons are prohibited from operating dispensaries in Ann Arbor. Rice is considered a drug felon because he was convicted of growing marijuana in his backyard in the city of Manistique in Michigan's Upper Peninsula in the late 1990s.
Though the state law on medical marijuana says nothing about dispensaries, City Attorney Stephen Postema said it clearly prohibits drug felons from being caregivers, and so the city is extending that prohibition to dispensary owners.
Rice opened his dispensary in February 2010. Over the last year, nearby tenants have reported negative experiences with Rice in the building. He acknowledged he's now being evicted.
Police Chief Barnett Jones told AnnArbor.com in January that Rice was unable to produce paperwork indicating he could legally operate a dispensary when police visited his office last year. Rice acknowledged that he wasn't a state-registered medical marijuana caregiver or patient, but he was still smoking and distributing marijuana.
Rice said he stands behind voter-approved amendments to the city charter in 2004 that allow the use of medical pot — so long as someone has a doctor's note for it.
The charter states: "No Ann Arbor police officer, or his or her agent, shall complain and the city attorney shall not refer for prosecution any complaint, of the possession, control, use, giving away, sale or cultivation of marijuana or cannabis upon proof that the defendant is recommended by a physician, practitioner or other qualified health professional to use or provide the marijuana or cannabis for medical treatment."
A cancer survivor with a degenerative spine who lives on Social Security disability, Rice has more than one doctor's note recommending pot.
But local authorities say state law trumps the city's charter, and Rice is violating the law by not following the guidelines of the Michigan Medical Marihuana Act.
Rice said today he's seeking the advice of an attorney.
Ryan J. Stanton covers government and politics for AnnArbor.com. Reach him at ryanstanton@annarbor.com or 734-623-2529.