Posted on
Fri, May 25, 2012 : 2:59 p.m.
'Female lion' seen near Ann Arbor matches description of previous cougar reports
By Pete Cunningham
Cougar-mania has long since died down, but the so-called Ann Arbor Cougar may still be lurking in Washtenaw County.
A woman said she saw what appeared to be a "female lion" on the north side of I-94 near the M-14 interchange in Scio Township on Sunday.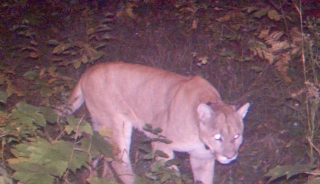 "I was just looking out the side (of the car) and (the animal) struck me as a female lion," said
Tara Vesprini
of Chelsea. "Its huge head, the (tan) color, and just the way it was walking, it didn't look like a deer or a dog or anything like that.
"It looked like a lion."
Vesprini said she and her husband, Norman, were traveling home from church on westbound I-94 around 11 a.m. Sunday when she spotted the animal in a clearing near a wooded area about 50 yards from the highway. She said she had a clear look at the animal for several seconds.
"It looked like an adult and the way it was moving, it was prowling," Tara Vesprini said. "My immediate reaction was that it was a female lion."
"I asked her what color it was and she said 'lion color!'" said Norman Vesprini. He did not see the animal.
What was described as a "possible cougar" was spotted March 22 near the University of Michigan's North Campus.
Though several similar reports were called-in in the immediate aftermath of the initial sighting, Ann Arbor police Lt. Renee Bush said the office has not received any calls in more than a month.
University of Michigan Department of Public Safety spokeswoman Diane Brown said no cougar sightings have been reported in "several weeks."
The Vesprinis did not call police on Sunday and had not heard of the cougar sightings until one of Norman's colleagues brought it up over coffee on Friday morning.
"It came up in conversation over coffee. (The co-workers) brought it up first and then I was like, 'oh my gosh that sounds exactly like what my wife saw,'" Vesprini said.
In the past four years, at least 11 cougar sightings have been verified in Michigan's Upper Peninsula, including one last week. None have been verified in the Ann Arbor area.
Contact Pete Cunningham at petercunningham@annarbor.com or by phone at 734-623-2561. Follow him on Twitter @petcunningham.