Posted on
Sat, Jun 30, 2012 : 5:59 a.m.
Final days of Ann Arbor police dispatch bring strong emotions
By Amy Biolchini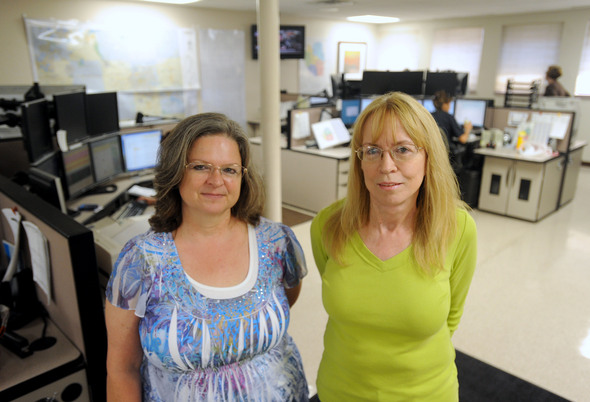 Angela J. Cesere | AnnArbor.com
For Ann Arbor
police dispatchers
, coming to work was more than an obligation.
It was like coming home.
The era of the city dispatch draws to a close Saturday. Beginning Sunday, the city will begin paying the county for dispatch duties - a debated agreement that was finalized in December.
Memories and emotions flooded some of the staff as the last week of operations came to a close.
The city of Ann Arbor agreed to pay $759,089 per year for the county to run the service. Both the city and county dispatch have been sharing the same space in a second-floor office above the Ann Arbor Fire Department since 2010 -- for which the county pays $12,520 per year to rent.
So far, delays in the implementation of the agreement have cost the county hundreds of thousands of dollars to date.
But with the move, the city is set to save about $500,000 per year by contracting the service out to the county - savings Ann Arbor city administrator Steve Powers has said would allow the city to hire more police officers.
The county dispatch has a staff of 17 and the city has a staff of 21. To fill out the department, the county has been hiring to fill out its ranks to 30 employees, including 10 part-time workers to take calls.
Of the eight city dispatchers the county is hiring, two are part-time and six are full-time positions. All of the city employees were given the opportunity to apply for the county jobs.
Lt. Spring Tremaine, who oversees the city's dispatch, will move into a new role Sunday as supervisor in the county-run dispatch center. She said she understands the strong emotions among her staff.
"You have people's lives in your hands more than you realize," Tremaine said.
For retired city dispatchers Anne Daws-Lazar and Bobbie Santure, both of Ann Arbor, they can only sum up their feelings about the transition in one word: "Sad."
Daws-Lazar worked as a dispatcher from 1979 to 1985, and then from 1993 to 2002. Santure worked in the department from 1984 to 2002.
"Either you would come in and wipe out in the early days, or stay for a long time," Daws-Lazar said.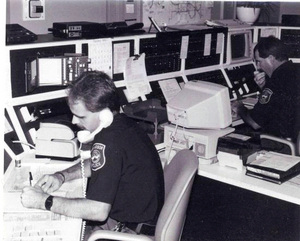 Courtesy photo
The city dispatch started in 1963 in the basement of city hall. Dispatch was located there until 2005.
The room had no windows, and had an elevated floor to keep the equipment off of the wires needed to power all of the equipment.
When the women started working there, there were no laws against smoking in the workplace. The close quarters made their clothes reek of cigarettes.
Daws-Lazar and Santure reminisced about the punch cards they would use to record information as they listened to calls. If it was particularly lengthy, they would keep scribbling from one card to the next.
At the end of the day, the cards would have to be transcribed.
At first, only officers worked in the dispatch room. Later, non-police officers were the primary staffers on the job.
"The skill set you need to dispatch is really different than what you need to be 'out there,'" Daws-Lazar said.
Officers would walk through dispatch on their breaks, and there was a constant stream of people through the office, Daws-Lazar said.
"The police department is like a family," Daws-Lazar said. "We all knew all of them."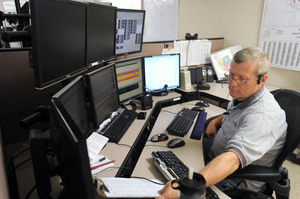 Angela J. Cesere | AnnArbor.com
Dave Williamson
has worked as a city dispatcher in Ann Arbor for the past 11 years. He's among the eight city dispatchers hired by Washtenaw County.
He doesn't expect a big change in his job.
"A 911 call is a 911 call," Williamson said. "A person screaming for help is a person screaming for help."
People "are never calling on a good day," Daws-Lazar said, and there's a fine line when listening to a caller's story.
There are some phrases that are burned into their memories - as well as some harrowing calls.
"We always said we were going to write a book," Santure said.
Daws-Lazar said she still says "check and advise," and Santure said there are badge numbers, phone numbers and codes will never go away.
A 151 meant there was a homicide or a gun. A 1-1 was a killing. Most of the dispatch codes have now been eliminated after 9/11 as a homeland security measure.
"It's the big things I remember," Daws-Lazar said, noting a 6 a.m. murder at a gas station convenience store on the busy Platt and Packard corner that got many calls from scared motorists.
Santure recalled a man who dialed 911 from his burning home. He couldn't find a way out of the room he was in - and then the phone went silent.
The man never mentioned he had children, Santure said, and firefighters had to carry their bodies out of the house.
For Williamson, his worst day was when a firefighter was killed on Jackson and I-94. The radio traffic was "hectic," he said. Those on scene kept asking for life flight - the helicopter wouldn't fly in the wintry conditions - and the ambulance had a difficult time traveling on icy roads.
"It still hurts," Williamson said.
As the number of police officers has decreased in the city, it's become increasingly challenging for the dispatchers to determine where to mobilize units.
"You have to be more selective with how you use your resources," Williamson said. "You have to think ahead, to what might happen."
Still, Daws-Lazar said she hasn't heard it all. The unusual, quirky callers also are particularly memorable.
There's a man who called every day - and still does, Tremaine said - to ask for the "word of the day."
Once, an elderly woman called because there was a giant snake in her apartment, Santure said. The woman managed to trap the snake under a trash can.
The dispatchers listen to people having heart attacks over the phone, and to families screaming in despair when they find their children dead, whether by suicide or from an accident.
Once the call is out of their hands, however, there's no resolution for the dispatchers. The disconnect is hard for new employees to grasp, Daws-Lazar said.
The stressful calls, combined with life's ups and downs, made the family-like relationships in amongst the city dispatchers even more important.
It did make dispatching officers to a potentially dangerous scene more difficult, Daws-Lazar said.
"You're sending in people that are your friends," she said.
There were potlucks, and special breakfasts on Sunday mornings at city dispatch. The road officers always knew they could get a good meal there, Santure said.
"You spend more time there than at home," Daws-Lazar said.
The dispatch team, Williamson said, was like "an extension of your own family."
Amy Biolchini covers Washtenaw County, health and environmental issues for AnnArbor.com. Reach her at (734) 623-2552, amybiolchini@annarbor.com or on Twitter.