Posted on
Sat, Apr 3, 2010 : 8:30 p.m.
Fire that killed 22-year-old EMU student one of four considered 'suspicious' near U-M campus
By Stefanie Murray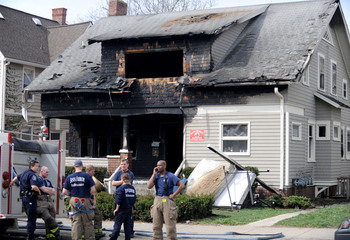 Angela J. Cesere | AnnArbor.com
A 22-year-old Eastern Michigan University student died of injuries suffered in a suspicious early morning fire Saturday that gutted a rental home in the 900 block of South State Street in Ann Arbor.
That blaze - which injured two other people - was one of several overnight fires considered suspicious. Although officials have not said the fires are arson, the University of Michigan Department of Public Safety issued a warning Saturday, urging students to be careful and report suspicious activity to police.
The EMU student killed in the fire was identified as Renden Lemasters of Dexter, described by his stepmother as a fun-loving young man who enjoyed golf and U-M sports. He was attending EMU in preparation for a career in the computer science field and was a senior in the College of Technology.
"He had a zest for life - he lived life to the absolute fullest in all of his 22 years," Deanna Lemasters said.
Renden Lemasters was one of three people treated for injuries in the fire. Another man was released from the U-M Hospital on Saturday and a woman was in critical condition Saturday afternoon. An updated condition was not available Saturday evening.
Neal Woolf, a senior at EMU who attended Dexter High School with Renden Lemasters, remembered him as someone who had a great sense of humor and "always had a smile on his face."
"Renden had that unique quality about him were you knew he'd go out of his way to help any of his friends," Woolf wrote in an e-mail to AnnArbor.com. "He was a great guy to be around because he was also positive and optimistic. Never a cynic. People simply gravitated towards him."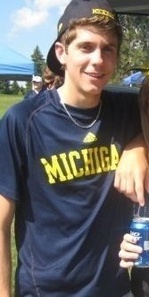 The 5:30 a.m. blaze at 928 S. State St. started on the porch of the home but quickly spread and engulfed the structure, officials said. When firefighters arrived, one person exited the home on fire, another person's legs were on fire and someone jumped from a second-story window. Firefighters rescued two people off the back porch roof.
Ann Arbor Assistant Fire Chief Greg Hollingsworth said it appears seven people - all in their early 20s - were inside the home when the fire started.
"When a fire starts on a porch, it gets so intense by the time it breaks into the home," Hollingsworth said. "The stairwell acts as a chimney, and there's no way to easily get out."
That fire was one of four to occur overnight near the University of Michigan Central Campus.
The three other fires involved cars and trash cans, including one that consumed three cars in a parking area underneath an apartment building on Church Street, officials said. Those fires all remain under investigation.
Ann Arbor Fire Marshal Kathleen Chamberlain said residents should remove combustible items from porches, such as trash, sofas or lighter fluids for grills, and be careful to safely extinguish cigarettes and grills.
The residents displaced by the fire on South State Street were being moved into another rental home owned by the landlord, officials said.
A team of seven Red Cross volunteers assisted five of the residents, according to a statement from the Washtenaw County chapter of the American Red Cross. Representatives from the U-M Dean of Students' office were at the hospital to provide assistance.
Alex Beeker, an engineering student, lives across the street from the house on State Street.
"I woke up when my roommate across the hall saw it. I heard screaming, his girlfriend was freaking out because she saw somebody run out of the house on fire," Beeker said. "At that point, we all came down stairs and sat on our front porch and saw the whole thing."
Anyone who has any information about any of the fires is asked to call the U-M Department of Public Safety at 734-763-1131 or the Ann Arbor Police Department tip line at 734-794-6939 or email tips@a2gov.org.
AnnArbor.com News Director Amalie Nash and freelance writer John Garcia contributed to this report. Reach the news desk at news@annarbor.com or 734-623-2530.