Beth Fitzsimmons appointed new regent at Eastern Michigan University
Posted on Mon, Feb 14, 2011 : 5:09 p.m.
Gov. Rick Snyder appointed Ann Arbor resident Beth Fitzsimmons to the Eastern Michigan University's Board of Regents.
Fitzsimmons replaces Mohamed Okdie, who resigned last week after AnnArbor.com reported he hadn't been to a Regents meeting in nearly two years.
The Regents are scheduled to meet Tuesday.
"(Fitzsimmmons), a successful entrepreneur and businesswoman, will be an excellent contributor to Eastern Michigan University's Board of Regents," Roy Wilbanks, the chairman of the Board of Regents, said in a statement. "My colleagues on the board join me in welcoming her."

Fitzsimmons founded Information Strategists, LLC, which provides information services to high-tech businesses, according to a press release issued by Snyder's office.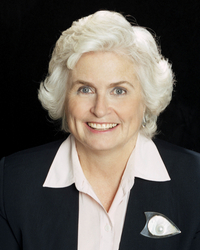 She served on the Department of Commerce National Technical Information Services Advisory Board and on the School of Information and Library Science at the University of North Carolina at Chapel Hill Board of Visitors. She previously served five years as chair of the National Commission on Libraries and Information Science.
Fitzsimmons is president of the Rotary Club of Ann Arbor.
She earned a bachelor's degree in chemistry from Simmons College, a master's degree in library science from the University at Albany, State University of New York, and a doctorate in public policy from George Mason University.
"Beth Fitzsimmons is interested in seeing every Eastern Michigan University student succeed," Snyder said in the release. "Her background and expertise in business consulting will be an asset to the university's efforts and work in ensuring a world-class, affordable education."
Fitzsimmons will serve the remainder of Okdie's term, which expires Dec. 31, 2016.
EMU's eight regents all serve eight-year terms and do not receive compensation.