Posted on
Mon, Feb 4, 2013 : 5:57 a.m.
Stormwater study: Ann Arbor starts 2-year project that could lead to system improvements
By Ryan J. Stanton
The city of Ann Arbor has launched a two-year initiative to monitor and evaluate stormwater behavior throughout the city, and residents are invited to get involved.
The so-called Stormwater Model Calibration and Analysis Project now under way is a continuation of efforts the city began in 2007 with a stormwater GIS data collection and hydraulic model project.
Prior to 2007, the city didn't have a complete and accurate inventory of the stormwater management systems within the city.
Completing a comprehensive stormwater inventory and calibrated model, city officials said, will give city staff a fuller understanding of how the system functions during significant weather events.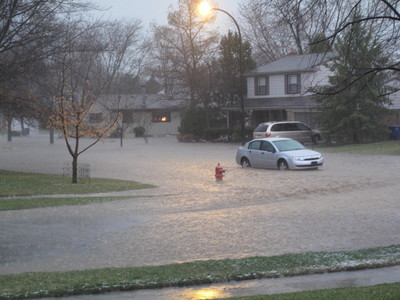 Photo courtesy of Laura Ent
Some of the heavier storms in Ann Arbor in recent years have left some neighborhoods badly flooded, and residents have
complained loudly and publicly
to city officials about what they perceive as deficiencies in the stormwater system —
especially on the southwest side of Ann Arbor.
During the next two years, the city plans to do intensive data gathering to fine-tune or calibrate the existing stormwater model, allowing it to simulate real-world conditions.
The calibrated model will then be used to develop recommendations for consideration by City Council and the community regarding opportunities to improve the city's stormwater system.
City officials plan to reach out to residents in neighborhoods where known stormwater issues or complaints exist. Neighborhood meetings will be held in February and March to gather information from residents. Meeting schedules are available at www.a2gov.org/storm.
Jennifer Lawson, the city's water quality manager, said if residents have any information to share about stormwater issues — whether it's an anecdote, photos or videos — the city welcomes input at any of the upcoming meetings or via email at stormmodel@a2gov.org.
In addition, the city is asking residents to participate in an online survey that can be found at https://www.surveymonkey.com/s/A2storm.
The city's website lists three meetings that are being held Tuesday, Wednesday and Thursday, and it includes materials handed out at a Jan. 29 meeting at Lawton Elementary School.
"We were extremely pleased with the feedback and quality of information that we received," Lawson said of the most recent meeting at Lawton. "This information will be used to guide the city in the calibration of a citywide stormwater model that will ultimately aid the city in the planning and implementation of future stormwater capital projects."
The purpose of the meetings is to validate and verify stormwater concerns specific to each neighborhood, collect additional information about areas of concern that city staff might not know about, and share information about the stormwater modeling and calibration project.
Public engagement is a key part of the process, and city officials are looking for residents interested in volunteering for a "Storm Corps," a group of citizens who will assist with gathering data.
The city also is assembling a Stormwater Advisory Group (SWAG), which will include interested citizens, stormwater professionals and other stakeholders.
Residents in the flood-prone Lansdowne neighborhood have been particularly active in the debate around stormwater and flooding issues in Ann Arbor. They started a blog in September called Ann Arbor Underwater. Neighborhood activists Irvin Mermelstein and Judy Hanway are using the site to rally support as they lobby city hall to take action to address their concerns.
Mermelstein recently sent letters to city officials raising more concerns about the city's footing drain disconnection program, which was temporarily suspended by the City Council in September.
Flooding problems have existed in Ann Arbor for decades. A series of old Ann Arbor News articles maintained on the Ann Arbor District Library's "Old News" website tells the story of a particularly bad flood in June 1968 that caused the Huron River to flood its banks, causing massive damage.
Ryan J. Stanton covers government and politics for AnnArbor.com. Reach him at ryanstanton@annarbor.com or 734-623-2529. You also can follow him on Twitter or subscribe to AnnArbor.com's email newsletters.