Posted on
Tue, Jun 8, 2010 : 3:55 p.m.
Stormwater runoff swamps Ann Arbor neighborhoods
By Brian Vernellis
For years, residents on Village Oaks Court and Chaucer Drive have tried getting the attention of Ann Arbor city development officials and engineers to address a growing concern.
Homeowners say nearby residential development has created a mess as stormwater runoff from neighborhoods north of their homes collects in a drainage trough bisecting their backyards.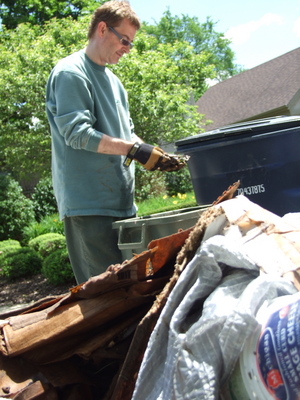 Brian Vernellis | AnnArbor.com
When heavy storms hit the area, as they did Saturday night and early Sunday morning, the drainage system is overwhelmed. It creates a raging river through their yards and threatens their properties.
"The city designed it to flow over the ground to some extent, but not like this," said resident Mae Herold, pointing to the water-line marks along her home's foundation.
Jerry Hancock, the city's stormwater and floodplain program coordinator, said there's little the city can do.
"In the last couple of years we did a detention basin inventory, and we didn't find anything to be out of compliance out there," Hancock said. "That's why I don't think there's a lot the city can do because the developments went in, they followed their site plan, they put in their detentions."
The massive storms that dumped nearly 2-½ inches of rain in some parts of the city created flooding problems for many commercial and residential areas.
The Service and Program Center of the Great Sauk Trail Council of the Boy Scouts of America had nearly 2 feet of water in its offices. Council officials estimated the damage to be extensive to the floor and walls, computers, servers and files.
Residents of the Pittsfield Village condominiums at 2220 Pittsfield Blvd. also experienced significant damage due to flooding.
And condo owners Ingrid and Jeremy Zeigler at Walden Hills II on Pauline Boulevard had 6 inches of storm water swamp their low-level unit, seeping through their windows and bursting through a wall.
"We haven't been contacted by the condo association that's supposed to be dealing with us," Jeremy Zeigler said. "We're trying to figure out who's going to take care of what. It's been all through the building maintenance guy.
"We've repeatedly told them about issues, and it's been more of a Band-Aid repair. We feel we deserve a little more than new carpeting and new walls."
Larry and Linda Fingerle also are looking for answers. The Fingerles moved into their house on Chaucer Drive in 1986, but didn't begin to see problems with their backyard until development started north of them.
By the time Mae Herold and her husband Art moved into their house in 2002, the rising backyard water had become more frequent.
"With the first flood, we thought something was wrong, and the city engineers came out and explained to us that this is intentional," Art Herold said. "The water is supposed to flood on the top when the piping underneath gets maxed out.
"But what doesn't figure into this, and for which they have no answer and for which they have been unresponsive, is that there are times when this gets so overwhelmed that the water doesn't stay in this trough. It comes up to people's houses. People's houses act as the barriers, the levees."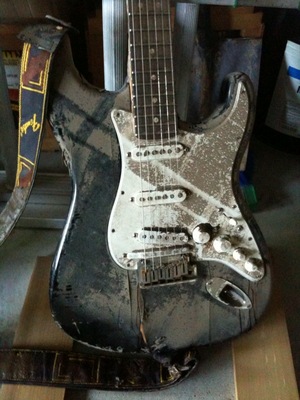 Courtesy of Art Herold.
Larry Fingerle said he feels lucky he escaped his basement alive. As the storms raged, Fingerle was in the basement checking his sump pump to ensure it could handle the rising water.
Shortly after midnight, the water covered his backyard and reached his house. The water pressure built against a low-level window, causing it to shatter and pour gallons of rainwater into his basement. Fingerle dashed for the stairs, fearful of getting hit by debris or being electrocuted.
"It's surreal," Fingerle said. "It's like the port windows exploding in the Titanic movies. You're sitting there minding your own business or attending to whatever issues you have, and then the problems are a million times worst than what you thought they were because your life is in danger at that point."
The water rushed in and came within four steps of reaching the Fingerles' living area. By Sunday morning, 7 feet of water was in their basement.
The first pump crew they called wasn't equipped to handle the huge volume of water. A second crew arrived and pumped out 70,000 gallons in about six hours.
Fingerle estimated he lost several thousands of dollars of audio and video equipment he stored in his basement.
"If their basement holds 70,000 gallons of water, there are several hundred thousand that flow through our yards," Mae Herold said. "It's not always this bad, but it's frequently bad, and we've raised this issue with the city a number of times."
In the eight years since moving in, the Herolds estimate the backyards have flooded three or four times, but nothing as serious as what happened over the weekend.
Their frustrations mount, but Hancock asserts the developments aren't the cause of the problem.
"Their belief was that these developments that are upstream of this house have caused the problem," Hancock said. "While I think those developments would contribute to the problem, the cause of the problem is the location of the house."
View a map of local storm water damage and add your own details:

View June 5/6, 2010 storm water damage around Ann Arbor in a larger map