Posted on
Mon, Feb 20, 2012 : 5:59 a.m.
Former Ann Arbor administrator Roger Fraser talks about new role overseeing emergency manager program
By Ryan J. Stanton
Roger Fraser served nine years as Ann Arbor's city administrator before stepping into a new role as deputy state treasurer in Gov. Rick Snyder's administration.
He now oversees the state's emergency manager program, which Snyder has championed as a way to prevent cities from slipping into financial disasters, including bankruptcy.
Signed into law in March, Public Act 4 gave state-appointed emergency managers controversial powers such as the right to slash union contracts, replace local elected officials and sell off assets in an effort to return local governments to financial sustainability.
Ryan J. Stanton | AnnArbor.com
Drawing from his experience in local government, Fraser said unfortunately "extreme changes" — even if controversial — are needed to help struggling cities and school districts get turned around.
"Now I understand, and if I were in the position of organized labor, I'd be whining about this, too," Fraser admitted. "It's clearly a threat to the kind of control and the kind of ability that labor unions have had. On the other hand, there are units of government that just simply cannot be successful living with the terms that they agreed to in better times."
Fraser spoke with AnnArbor.com about the work he's doing, including his predictions for what might happen in Detroit, a city whose finances are now under review by the state.
AnnArbor.com: It's been almost a year since you announced your resignation to take a new job as deputy state treasurer for local government services under Gov. Rick Snyder's administration. Describe your new role in Lansing and the work you're doing.
Fraser: I'm responsible for the local government services bureau, which has a number of activities on behalf of local government. We do a lot of work with assessing of properties. We provide support for the state tax commission. We deal with review and consideration of applications for personal property exemptions. And each local government unit has to, on an annual basis, file their audit reports with the state. The people in the local government bureau review those reports and enter the data into what are known as F-65s. We review that data to try to determine any local unit of government that may be in financial difficulty. That's one of the indicators that we have where we may begin to start looking at action under P.A. 4, the emergency manager act. I'm responsible for administration of that program, and to the extent that we have emergency managers assigned to cities, those people are under my supervision.
AnnArbor.com: So you're essentially the head of the state's emergency manager program then? Is that correct?
Fraser: While the governor appoints an emergency manager, the state treasurer is for the purposes of P.A. 4 the state financial authority, and most of the administration of that program is delegated by the state treasurer to me.
AnnArbor.com: What's your role in what's happening in Detroit right now? Are you're overseeing the Detroit review team?
Fraser: In that particular case, the treasurer has retained his responsibilities with respect to that program and he is chairing that team. I'm part of the work that we do in treasury in support of that program, and as we're dealing generally with strategies with respect to Detroit, I'm certainly still involved with that. But in terms of the actual process of the review team, Fred Headen, who is the director of the local government bureau, is providing the support.
AnnArbor.com: We all know Detroit faces deep-rooted financial problems. From your perspective, how bad is it? Is an emergency manager the only solution?
Fraser: Their circumstances are very, very deep and very difficult. They have been borrowing money for a number of years to try to remain solvent. They have a very deep debt load. That's true for the general fund. It's true for other funds. The general fund winds up supporting their transportation department. It doesn't generate enough revenue on its own to be self-sufficient and that's a major drain on the general fund. The number of issues in terms of the functioning of the city and the money that's coming into the city and how it's being used are just enormous. I can't tell you that an emergency manager is the only way that can be fixed. I wouldn't say that, and I have my own personal opinion that it's not likely that this review team will make a recommendation for an EM.
AnnArbor.com: What leads you to that belief?
Fraser: First of all, there's a great unwillingness on the part of this current state administration to put an EM in without trying first to see if there's not some sort of way that we can work out an agreement and a process that would enable the locals to be able to fix things themselves, and under P.A. 4 that notion is a consent agreement. And I think there's a significant desire to work out a consent agreement in which there would be a number of expectations that the state and city would agree to that the city would need to accomplish in order to get their act squared around. And the consent agreement typically has multiple requirements.
AnnArbor.com: Would bankruptcy be a worse fate?
Fraser: If you look around the country at cities that have gone through bankruptcy, it's been a horrendous process that has devastated the cities in many ways. We've talked to a couple of the communities that have gone through that and their assessment is, if they had it to do over again, they would avoid it somehow.
AnnArbor.com: What do you see as the likely outcome for Detroit? Is there light at the end of the tunnel?
Fraser: I don't know how to answer that. I think it's fixable but is going to take a hell of a lot of work and I don't have all those answers.
AnnArbor.com: There obviously has been a lot of controversy surrounding the emergency manager law. Some see it as undermining the democratic process. You hear concerns about union busting. How do you respond to those criticisms? And what misconceptions are there about Michigan's emergency manager law that you wish you could clear up?
Fraser: One of the reasons I was hired, and probably the principal reason I was hired, was because of my experience in local government. The governor has had as part of his campaign the notion of healthy cities as a key element to the future of the state — that we have to have healthy cities and foremost among them is Detroit. On the other hand, leaving things the way they've been has not resulted in improvement in some of these critical communities. And the observation has been that the cities that are in the deepest trouble don't have the capacity internally to do it themselves. And without making significant changes in the decision-making process, you couldn't expect the major fixes to be accomplished that need to be accomplished.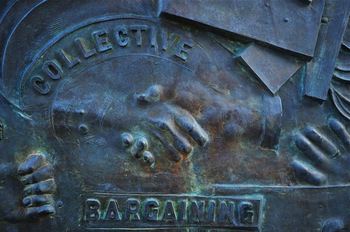 Ryan J. Stanton | AnnArbor.com
We have a history in Michigan of some great prosperity and at least reasonable economic times. And particularly in Southeast Michigan, a history of collective bargaining that's been shaped by what's happened in the auto industry. The auto industry was able to basically walk away from the terms of employment practices that they had previously when they went through bankruptcy, and it was a fairly quick and facilitated process. They could go out of business, but local units of government can't. They're there to serve their communities and they're locked in both in law and in practice. So the ability to make the kinds of changes that are necessary that were done in the private sector are very difficult to do in the public sector without some sort of extreme changes.
Now I understand, and if I were in the position of organized labor, I'd be whining about this, too. It's clearly a threat to the kind of control and the kind of ability that labor unions have had. On the other hand, there are units of government that just simply cannot be successful living with the terms that they agreed to in better times. And they haven't had a good success rate at getting the unions to negotiate the kinds of things that are needed. So I think from both a policymaking standpoint, and from the position of personnel costs, which typically are 80 to 90 percent of every local unit's costs, there's got to be some means of effecting change, and to do it in relatively short order because these communities are just out of money.
AnnArbor.com: Explain for the benefit of those who don't know the steps that must happen before an emergency manager is appointed. What's the process there?
Fraser: In the act itself, there's a list of nearly 20 different ways that the notion of fiscal difficulty can come to the attention of the state that would provoke the state sending an auditor into that local unit of government. And that auditor can come back say, 'OK, we think there's a problem here but we think they're on the right track to fix it.' Or they could say, 'We think there's financial distress and they need some form of assistance,' and there could be something then there. Or they could say, 'These are dramatic financial concerns and we believe that a review team ought to be assigned,' and that recommendation could go to the governor. Then it's up the governor to decide whether a review team will be assigned. If he makes that determination, then a review team is appointed and goes in and they, too, have the ability to make a variety of recommendations. Essentially it ranges from 'no we don't believe this is a financial emergency,' or they could recommend and actually negotiate a consent agreement, or they could recommend the appointment of an emergency manager. In any of those cases, the ultimate decision is in the hands of the governor.
AnnArbor.com: Remind me which communities and school districts are under emergency management currently and, in your view, what successes we've seen from that.
Fraser: Ecorse, Benton Harbor, Flint, Pontiac, the city of Detroit school district and the Highland Park schools all have emergency managers now. The Highland Park schools and the city of Flint are the only two that have been appointed since the adoption of P.A. 4.
River Rouge is under a consent agreement. Ecorse, its neighbor, has an emergency manager and I think Ecorse is a great example of some of the positive things that can be done through this act. Joyce Parker is in Ecorse. She's been there since 2009 and she's done a nice job of turning that community around. Joe Harris is in Benton Harbor. Benton Harbor has had a very difficult history in terms of public management, and he has made substantial gains in the year and a half or so that he's been there in balancing their budget and getting some improvements to the facilities that exist in that community. But he's not accomplished that without some contention. And if you take a look at Pontiac right now, the forecast is that the 2013 fiscal year could be balanced and that's in the face of just some enormous pitfalls financially.
But it's also the case that we've had some EMs that haven't done well. And up until P.A. 4 was adopted and until I was hired, there wasn't somebody who was actually monitoring this program who also knew how local governments function. And I'd like to say that we're making a difference because we're spending a lot of time working with each of these EMs.
AnnArbor.com: Are there any municipalities or school districts in Washtenaw County being watched by your office right now that could come under emergency management?
Fraser: Not that I'm aware of.
AnnArbor.com: A judge ruled this month that Detroit's emergency manager review team must open its meetings to the public under the Open Meetings Act. State Treasurer Andy Dillon argued the team should be allowed to meet in private and it sounds like the state is appealing the judge's decision. Why fight to hold these meetings behind closed doors?
Fraser: One of the things that the review team does is try to evaluate what the opportunities are for the local unit of government to fix itself. And to that end, they spend a lot of time interviewing staff and elected officials regarding how the organization works. And just as an example, if we're going to talk with professional staff in the finance department or a manager in the finance department who has been appointed by the mayor, we believe that what we may get in the way of information out of a closed door session is different than what we are likely to get in an open session where that same person is asked to respond to these questions where the mayor or a mayor's rep might be in the room. That's the kind of thing that has been a part of the process even under Act 72. These folks who are doing the review process are not making policy decisions. They're in a position to make a recommendation to the governor who has to decide for himself whether there's going to be some action taken based on the research that was done by that review team. So from that standpoint, I think there's justification for having at least a portion of that conversation in closed doors.
To the extent that there is a deliberation that goes on and the team tries to decide what recommendation it's going to make, I don't see that as something that can't be done in open session. But there's a significant part of the process that I think is going to be compromised if this review team is not able to talk confidentially with the people they need to interview.
Ryan J. Stanton covers government and politics for AnnArbor.com. Reach him at ryanstanton@annarbor.com or 734-623-2529. You also can follow him on Twitter or subscribe to AnnArbor.com's email newsletters.