Posted on
Mon, Feb 28, 2011 : 9:41 p.m.
Ann Arbor City Administrator Roger Fraser resigns to take job in state treasurer's office
By Ryan J. Stanton
(This story has been updated multiple times.)
City Administrator Roger Fraser publicly announced his resignation at tonight's Ann Arbor City Council meeting, telling council members he'll be taking a new job as deputy state treasurer for local government services starting in May.
"I have the opportunity to join the administration at the state level to work with the treasurer's office," Fraser said, describing his new role with the Michigan Department of Treasury.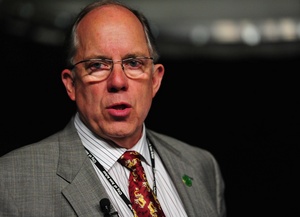 Ryan J. Stanton | AnnArbor.com
"The local government operation there really has a lot to do with overseeing how cities are doing with their finances. The most particular thing they do on an annual basis is to look at debt load and whether or not you have appropriate budgets to pay for debt."
Fraser has been Ann Arbor's city administrator since 2002. He said it's with mixed feelings that he's leaving the city, but he plans to stay on long enough to deliver his administrative budget recommendations to the council in April.
He said he won't be around for debates on the budget in May, though.
"This is a bittersweet kind of thing for me because this has been a great ride for me in Ann Arbor. I love this place," he said. "I love the folks who work here, and it's going to be very hard to walk away from that."
Fraser said he'll continue living in his home in Loch Alpine, off Huron River Drive in Webster Township, and make the commute to Lansing.
He said he was tapped for his new position by state Treasurer Andy Dillon. The area he'll be working in is involved with the administration of the state's emergency financial manager program, which has been a hot topic in Lansing lately.
Fraser said he couldn't say how closely he would work with the emergency financial manager program, because it's in what he described as "a state of flux" at the moment.
"What I did basically is say, look, here's my background, here's the financial load that you're taking on, you don't have a whole lot of people in your organization that have the local government experience, and they determined that they liked what I had to offer," he said. "So there's a whole lot of stuff that's really up in the air."
Ann Arbor Mayor John Hieftje, who has been in office the entire time Fraser has been city administrator, said Fraser's leadership will be missed.
"I was here when Roger came onboard, and I believe he's done a great job for the city of Ann Arbor," Hieftje said. "You don't need to look any farther than the fact that we wouldn't want to trade budgets with any city in the state. You know, we have our challenges, but we've reorganized, and we haven't had to raise taxes. Those are good things."
A native of Oakland County and a political science graduate of the University of Michigan at Dearborn, Fraser worked for 11 years in Michigan counties as a labor negotiator and human resources director before moving to Colorado, where he managed multiple cities.
He then took a job in Blaine, Minnesota, as city manager in 1996, and stayed there until accepting his current position in Ann Arbor in April 2002.
Hieftje called Fraser a "high-quality city administrator." But he said the city also has some "very able" senior administrators who can step up and fill his shoes in the interim.
"I think council will need to get together and pick someone to serve immediately and then we'll make some decisions about the longer term," he said, acknowledging Sue McCormick, the city's public services area administrator, is one of the people the council likely will consider.
The city's charter states that the City Council must fill the city administrator's vacancy "as promptly as possible." During the vacancy, the charter states, "the council may appoint an acting city administrator to act until the new appointee assumes his duties."
Fraser currently receives a base salary of more than $145,000 as city administrator. No information about what kind of pension he will receive was immediately available.
He'll make $131,000 in his new position.
Fraser said he's proud of his accomplishments over the last nine years. He cited efficiencies in how the city is run and capital projects the city has taken on.
"The council, when I was hired, had a number of agenda items for me to take care of," he said. "First and foremost was to get our financial health in order, which we did in a fairly short order — only to have it constantly challenged from year to year."
Fraser also cited the fact that the city's work force has been reduced from more than 1,000 full-time employees to somewhere around 700.
"I believe that today — with a more than 30 percent reduction in staffing we have in the city of Ann Arbor — we're still doing a remarkable job in providing services," he said.
He pointed to the construction of the Wheeler Service Center at 4251 Stone School Road and the Ann Arbor Municipal Center — a.k.a. police-courts building — at 301 E. Huron St. as two capital projects he's proud to have worked on.
"Those were both on the council's agenda when I was hired in 2002 and I'm pleased to be able to say that one is obviously up and running and very healthy, and the other one is getting near to completion," he said. "And we'll be having a grand opening on that in the months to come."
But some remain upset that Fraser pushed the construction of the $47.4 million police-courts building at a time when the city is making deep cuts and laying off employees. In some union circles within the city, the new building is referred to as the "Raj Mahal."
The city of Ann Arbor has seen its total primary government debt more than double from $107.6 million to $248.2 million while Fraser has been city administrator, city records show. On a per capita basis, the city's debt has gone up from $943 to $2,199.
Hieftje gives credit to Fraser for helping reorganize the city over the last decade.
"We've gone from a period when there were over 20 department heads and we have five now," he said. "That's some of the reorganization we've done. So good things have happened with Roger here, and it does not surprise me that he has been tapped to move up to a higher level."
Ryan J. Stanton covers government and politics for AnnArbor.com. Reach him at ryanstanton@annarbor.com or 734-623-2529.