Posted on
Mon, Oct 31, 2011 : 9:10 a.m.
Former assistant AG Andrew Shirvell sues lawyer representing Chris Armstrong
By Cindy Heflin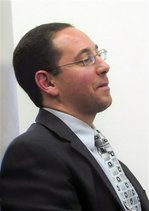 Marissa McClain | The Michigan Daily
Former assistant Michigan Attorney General Andrew Shirvell has sued the lawyer representing the gay University of Michigan student who alleges Shirvell stalked him and harassed him with posts on Facebook and a blog, the Detroit News
reported
.
The lawsuit was filed Friday in U.S. District Court against Deborah Gordon, the Bloomfield Hills attorney who represents Chris Armstrong, the openly gay former U-M student body president.
Shirvell was fired for using state resources for his campaign against Armstrong and for lying to investigators during his disciplinary hearing, Attorney General Mike Cox said last November.
His lawsuit alleges Gordon interfered with the attorney general's internal investigation and that she made false statements against him, the newspaper reported.
Gordon, in a statement e-mailed to AnnArbor.com, said the lawsuit against her is no surprise given that she filed a complaint against Shirvell with the Attorney Grievance Commission and sued him on behalf of Chris Armstrong. "The allegations in this complaint are truly absurd and without any legal or factual basis," she wrote.
Shirvell kept a blog accusing Armstrong of pushing a "radical homosexual agenda" and appeared at several Michigan Student Assembly meetings to protest Armstrong, holding signs — including ones with a rainbow with a swastika drawn over it. Shirvell was at one time banned by university officials from stepping foot on campus but the order was lifted.
Armstrong sought a personal protection order against Shirvell in September, which he later dropped before asking the state bar association to disbar Shirvell. Washtenaw County prosecutors also denied a request for stalking charges to be brought against Shirvell.
Armstrong filed a lawsuit against Shirvell in April, seeking more than $25,000 in damages.