Posted on
Wed, Nov 28, 2012 : 7:25 p.m.
Former EMU football player sentenced to anger management, 2 years probation
By John Counts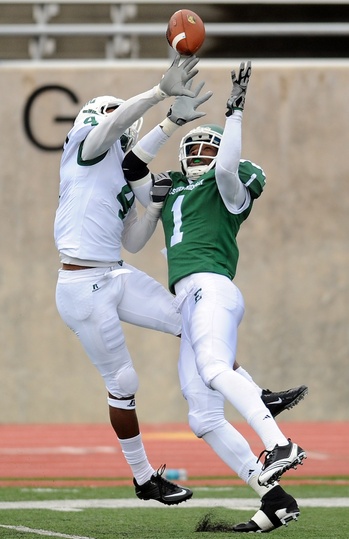 Melanie Maxwell | AnnArbor.com
A former standout wide receiver for the Eastern Michigan University football team was sentenced Wednesday in the Washtenaw County Trial Court to serve two years probation and was ordered to take an anger management class.
Kinsman Thomas, 22, was sentenced on assault charges stemming from a 2011 attack on an EMU student.
After hearing from the prosecution and defense, Judge Archie Brown decided on the prosecution's request of the two-year sentence.
Thomas' court-appointed attorney, Steven Tramontin, had argued for one year of probation.
"He certainly made a big mistake," Tramontin said about Thomas. "He allowed his anger to take over."
While dealing with the police, however, Thomas "conducted himself with honesty and integrity," Tramontin said.
Assistant Washtenaw County Prosecutor Dianna Collins "somewhat begrudgingly" requested Brown follow guidelines and sentence Thomas to two years of probation.
"His actions were without reason," she said.
Collins also asked that Thomas be required to take anger management classes, something Brown did order. Earlier this month, Thomas' former teammate, Eric Jones, 23, was sentenced to one year of probation. In September, the two men both pleaded guilty to two counts of aggravated assault, a misdemeanor punishable by up to one year in jail and a $1,000 fine.
Thomas and Jones were both originally charged with unarmed robbery and assault with intent to rob while armed. Those charges were dismissed.
A third man, Jalyn Massenberg, 20, also pleaded guilty in connection with a Dec. 14 robbery near the Pease Auditorium. Police said an EMU student was walking alone at 4:40 a.m. Dec. 14, 2011 near the south side of the auditorium when he was struck from behind. A bag containing a laptop was stolen.
Thomas led Eastern in receiving yards (473) and touchdown receptions (4) as a sophomore in 2010, AnnArbor.com previously reported. He was suspended for the Eagles' first two games of the 2011 season because of what head coach Ron English at the time called "violation of team rules." Thomas saw action in six of the team's 12 games last season including the season finale.
Jones was listed as a redshirt freshman on the official EMU football team roster for the 2010 season, but did not record any statistics. Neither man remains on the team.
John Counts covers cops and courts for AnnArbor.com. He can be reached at johncounts@annarbor.com or you can follow him on Twitter.