Posted on
Thu, Aug 12, 2010 : 6:04 a.m.
Former Willow Run building supervisor files lawsuit, says he was harassed and fired for being white
By David Jesse
Former Willow Run Superintendent Doris Hope-Jackson forced district building and grounds supervisor Todd LaPrairie to work in an unheated building with no working bathrooms or water as part of an attempt to rid her administration of white men, LaPrairie alleged in a lawsuit filed this week.
"(LaPrairie's) reassignment and eventual termination by Dr. Hope-Jackson were both motivated by race," the suit says. "Dr. Hope-Jackson also removed and/or pushed out other white employees from their positions with the Willow Run school district and created a hostile working environment for employees based on race."
LaPrairie is white. Hope-Jackson is black.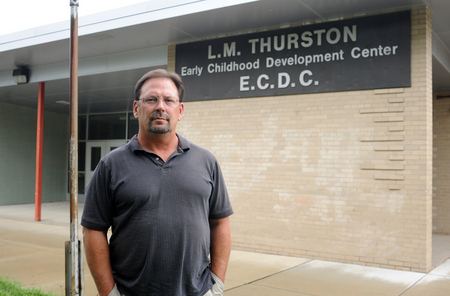 Melanie Maxwell | AnnArbor.com
The lawsuit names both Hope-Jackson and the school district as defendants. Hope-Jackson didn't respond to requests for comment on Wednesday.
Hope-Jackson and the current administration spent all of Wednesday at Willow Run High School for due process hearings in which Hope-Jackson is charged with multiple violations of district policies and her contract.
The school board is attempting to fire her for, among other things, allegedly misappropriating district and federal funds. She was demoted in December and has been on paid administrative leave since February. LaPrairie earlier testified during the closed hearings, which are scheduled to last until the end of the month.
Hope-Jackson has sued the district, alleging she is being fired in retaliation for reporting a confrontation between herself and board President Sheri Washington to police. Washtenaw County sheriff's deputies took an informational report, but deemed the allegations non-criminal and closed the case, police records show.
Washington said she hasn't seen the lawsuit and hadn't been aware it was filed until a reporter requested comment. She declined to say whether she believes LaPrairie was fired because he's white, citing the ongoing hearings against Hope-Jackson and the multiple lawsuits.
"I know Todd was a good person," she said. "He knew how to do his job. He knew Willow Run. He had respect from other employees. You took a 30-year veteran and reassigned his duties to a green rookie."
Washington said she and fellow board members talked after LaPrairie was fired about the slip in maintenance at the buildings, including grass that wasn't mowed and snow that wasn't removed over the winter.
LaPrairie's attorney, Jennifer Salvatore, said he has lost hundreds of thousands of dollars in salary and retirement because of his firing in 2009. She said the date of his firing made him ineligible for an early retirement incentive from the state.
"He has been a loyal Willow Run employee for 30 years and doesn't want to see the district hurt anymore," she said. "All he is asking is that this injustice is rectified."
Parent Malek Lockwood, who had two sons graduate from Willow Run and has a child currently in the district, called it "one more example of how (Hope-Jackson) ruined this district."
"The district is broke and now we're going to lose this case and have to pay money we don't even have," Lockwood said.
The allegations
LaPrairie spent the first 20 years of his Willow Run career working in a variety of positions in the maintenance department before becoming interim supervisor of transportation in January 1998. He was promoted to the position of supervisor of buildings and grounds in September 1998.
LaPrairie got good marks from five different superintendents and business managers over the years, he said in his lawsuit, including one in June 2007 from then-Superintendent Ron Ciranna.
But that began to change in the fall of 2007 when the district hired Hope-Jackson, LaPrairie alleges in his suit.
READ THE LAWSUIT
The lawsuit accuses Hope-Jackson of harassing, scrutinizing, and treating LaPrairie and other white employees poorly.
"Within a year of her coming to the district, she had pushed out or fired three of the four white men on the administrative council," the lawsuit says. "When (LaPrairie) refused to resign his position, Dr. Hope-Jackson engaged in a campaign to drive him out of his job."
In April 2008, Hope-Jackson evaluated LaPrairie as "sub-par," the suit says.
"One of the reasons cited by Dr. Jackson is that the hot water did not reach the faucet quickly enough in the administration building," according to the lawsuit.
Later that year, LaPrairie took time off under the Family Medical Leave Act for shoulder surgery. When he returned on Oct. 28, 2008, he was told his job was eliminated, and he received a "special assignment" in Thurston Elementary School, a closed building with no heat, water or bathroom facilities, the lawsuit says.
From December 2008 until mid-April 2009, LaPrairie's work consisted of organizing and taking inventory of furniture and supplies, distributing the supplies to teachers and eventually arranging for the remainder of the supplies to be auctioned off.
On June 30, 2009, LaPrairie was terminated and was told by Hope-Jackson that his position was eliminated, the lawsuit says.
"In fact, his position was not eliminated," according to the suit. "Rather, (LaPrairie's) responsibilities as supervisor of buildings and grounds were given to a less qualified, African-American male."
And LaPrairie was far from the only white Willow Run employee to suffer racial discrimination at the hands of Hope-Jackson, his suit alleges.
He names eight other employees he says were discriminated against. In several of the cases, the lawsuit alleges, white employees were demoted and replaced by less qualified black employees or were treated unfairly by Hope-Jackson.
Examples alleged in the lawsuit included a school nurse who quit, a teacher who was demoted and various administrative assistants who were written up.
The district
In addition to suing Hope-Jackson personally, the lawsuit names the school district, asserting that it should have known Hope-Jackson was engaging in "racial discrimination, FMLA retaliation and harassment of employees."
LaPrairie's lawsuit accuses the district of failing to properly investigate and address a pattern of discipline and terminations that suggested illegal discrimination and harassment.
Washington carefully sidestepped placing direct blame on Hope-Jackson for the situation, but said someone - perhaps even the school board - should have listened to LaPrairie and acted.
"For his cries to go unheard is poor district management. This is the fallout," Washington said. "I knew this day would come."
David Jesse covers K-12 education for AnnArbor.com. He can be reached at davidjesse@annarbor.com or at 734-623-2534.