Posted on
Tue, Feb 19, 2013 : 6:07 p.m.
Fraternity suspends University of Michigan chapter over semi-nude photos
By Kellie Woodhouse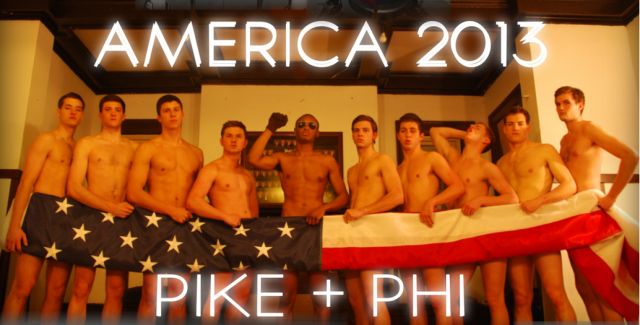 The national Pi Kappa Alpha office has indefinitely suspended its University of Michigan chapter after semi-nude photos of fraternity members were leaked online, gaining national attention.
The pictures, which show many Pi Kappa Alpha fraternity members clad in nothing but an American flag, and an accompanying email were sent to U-M sorority Alpha Phi prior to a joint party and eventually posted on brobible.com.
Justin A. Buck, the executive vice president of the fraternity, commonly known as PIKE, called the photos "inappropriate and offensive" and said the email made "claims which are in violation of fraternity standards."
"I am thoroughly disappointed in the choices ... and regret any issues this has caused the Michigan Greek Community," he said in statement. "Countless undergraduate and alumni members throughout our organization have contacted the office voicing their displeasure and the Fraternity is taking this situation very seriously. Pi Kappa Alpha does not condone this behavior, the image it portrays, or the claims which have been made by the Chapter."
Meanwhile, U-M told AnnArbor.com Monday that its Office of Greek Life is looking into the fraternity's behavior. The office, along with the school's Interfraternity Council, will consider whether further disciplinary actions are appropriate.
"We need to let the office of Greek life deal with it," U-M spokesman Rick Fitzgerald said Monday.
Added Buck: "The Fraternity's staff is committed to working with the university and the Interfraternity Council to implement appropriate punitive and educational conditions for the chapter. Failure to comply with this indefinite suspension or the subsequent conditions may result in additional action, including charter suspension."
According to the post on brobible.com, the fraternity's social chair said he didn't expect "every frat and sorority to get their hands" on the email.
The fraternity has blocked access to its Flickr account, where the images were posted. A student contact for the fraternity has not returned an email requesting comment.
The fraternity's email, posted on brobible.com, told sorority members if "you count yourself a red-blooded, God-fearing American girl who has a specific spring-time gym routine to accommodate her summer-time jean shorts, come to Pike this Friday night" for an America-themed party. The photos attached to the email showed men covered with nothing but a flag, keg or, in one image, a sandwich.
Kellie Woodhouse covers higher education for AnnArbor.com. Reach her at kelliewoodhouse@annarbor.com or 734-623-4602 and follow her on twitter.