Posted on
Thu, May 10, 2012 : 2:55 p.m.
Pay comparison: Full University of Michigan professors average $149K per academic year
By Kellie Woodhouse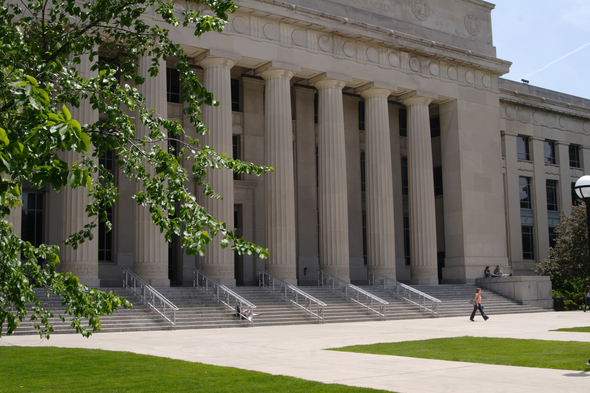 Steve Pepple | AnnArbor.com
The average full professor at the
University of Michigan
makes $148,800 per academic year, or roughly 31 percent more than the average pay earned by professors at other universities offering doctoral degrees.
An Association of American University Professors survey of 2011-12 pay rates shows U-M's full professor salaries are in the 87th percentile of doctoral universities nationwide.
U-M associate professors on average earn $98,200 per academic year and assistant professors earn $85,800. Non-tenured instructors earn $65,000.
The average full professor at Eastern Michigan University earns $93,200.
U-M faculty pay rates are above the national average. For example, the national average for a full professor salary is $113,200, the AAUP survey shows.
AAUP adjusted all rates to reflect a nine-month term for overall survey consistency; however many U-M professors work during the summer and earn full 12-month salaries. The average full-year salary for a full professor is slightly more than $200,000, according to U-M data. Additionally, medical school faculty are excluded from the AAUP data.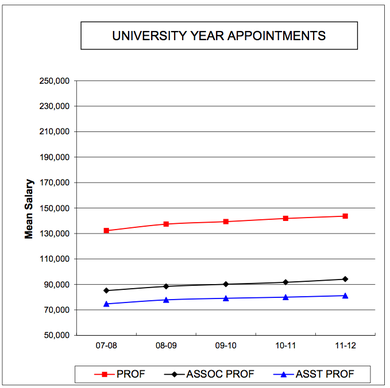 Chart courtesy of U-M.
U-M Provost Phil Hanlon has said that keeping salaries on par with peer institutions is key to remaining competitive.
"The quality and reputation of the university depends on the strength of the faculty and staff. Maintaining competitive salaries is an important component of our ability to retain the best faculty and staff," he said in December.
U-M faculty have received an average $47,900 in pay raises since 2000, compared with the national average of $36,400. Faculty at public institutions averaged a 2.8 percent merit raise this year, according to AAUP data.
U-M is right on par with the national average in that regard. Faculty this year averaged a 2.8 percent increase, while administrators received 2.7 percent merit raises on average, and staff received a 2.2 percent increase, according the the university's salary report.
"There have been no decreases or furloughs" in recent years, said AAUP U-M Chapter President Dan Burns, a mathematics professor. "U-M hasn't done that. There's always been a little bit of a raise. Sometimes there's been very good raises: 3 percent at a time when the rest of the country seems to be bleeding."
AAUP data suggests a gender gap still exists in pay.
Fully tenured male professors at U-M make roughly $14,400 more per year on average than female professors, forming a 10.4 percent pay difference, which is on par with the national average. Female associate professors at U-M earn, on average, $5,500 less than their male counterparts and female assistant professors earn an average of $6,100 less than males in such positions.
"I think it's closing," U-M Law School professor and head of the faculty tenure committee Reuven Avi-Yonah said of the gender gap. "It's just a question of seniority. We have many more younger women faculty (than we used to)."
Out of the 1,251 colleges surveyed by AAUP, Harvard University offers the highest pay rate at an average of $198,400 per fully tenured professor. University of Chicago, the third-highest compensator, pays full professors $197,800.
According to the data, at $162,600 per year, the University of California at Los Angeles offers the highest full professor salary of any public university. University of California at Berkley full professors earn $154,000 on average.
Avi-Yonah, former Harvard faculty, said he's "not surprised" Harvard topped the list. "It's Harvard," he said, adding that often prominent scholars choose to work at a public school like U-M because "you feel you're at a place that is (accessable to the) public and you are helping the public."
Other universities U-M considers peers offer similar, but lower, full professor rates as the Ann Arbor school. The average rate at University of North Carolina at Chapel Hill is $144,000 and at University of Virginia is $141,600. Michigan State University pays full professors $128,600 per year on average.
Although U-M is in the top 40 universities as far as pay offerings, private institutions as a whole generally pay more than public schools, according to the AAUP data.
U-M employs 3,374 full time faculty and 815 part time faculty. Of the school's full time faculty, 1,427 are tenured, 419 are on the tenure track and 1,528 aren't on a tenure track, according to U.S. Department of Education reports.
Nationwide, the median base salary of a president of a public university offering doctoral degrees is $390,321. The median for such private institutions is $582,700, according to AAUP data. At U-M, President Mary Sue Coleman's base pay is $585,783 and her total compensation package is $910,700 per year.
This article has been revised to note that $113,200 is the national average salary for full professors. Kellie Woodhouse covers higher education for AnnArbor.com. Reach her at kelliewoodhouse@annarbor.com or 734-623-4602 and follow her on twitter.